Ajit Agarkar was on Tuesday named the captain of Mumbai's One-day team for its forthcoming West Zone one-day campaign to be held from February 22 to 26 in Mumbai.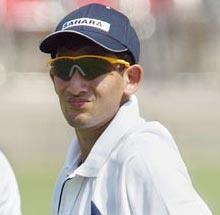 Agarkar made himself available to represent Mumbai recently, after having walked out of the squad for being left out of the playing XI in the earlier part of the season.
The former India pacer, who has represented the country in 26 Tests, 191 One-day Internationals and four T20 matches, replaced Wasim Jaffer who had led Mumbai to Ranji Trophy semifinals before losing to Tamil Nadu.
Jaffer has been named to play under Agarkar as Mumbai selectors pruned the probables list to the final 15-strong squad.
Ajinkya Rahane has been named Agarkar's deputy.
Agarkar had apologised to MCA for his behaviour, which saw him walk out of the squad in a huff after being dropped from the playing XI in Cuttack against Orissa, before he was named in the probables list, according to association sources.
Mumbai squad: Ajit Agarkar (capt), Ajinkya Rahane (vice capt), Wasim Jaffer, Ramesh Powar, Suryakumar Yadav, Dhawal Kulkarni, Abhishek Nayar, Iqbal Abdullah, Sushant Marathe, Ankit Chavan, Kshemal Waingankar, Balwinder Singh Sandhu (Jr), Siddharth Chitnis, Shoaib Shaikh, Anup Revandkar.
Coach: Sulakshan Kulkarni.