'I have been to different places. Most of them have been cricket-playing nations like England and Australia. This was a one of a kind (visit) in the US'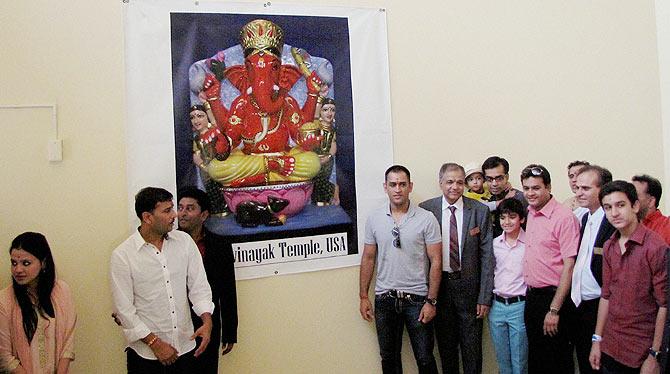 IMAGE: Indian cricketer Mahendra Singh Dhoni (centre) and his wife Sakshi (left) with devotees at Sidhhivinayak Temple in New Jersey on Sunday. Photograph: PTI
Making a rare public appearance in the United States, India's One-Day International cricket captain Mahendra Singh Dhoni interacted with the Diaspora in New Jersey, calling on them to support the transitioning Indian cricket team.
"Keep supporting us. We have a good side, we have a good team. We are in a phase where we are going through a lot of changes, but, with all due support of yours, we will keep doing well," Dhoni said, during an interaction at the Siddhivinayak Temple at Toms River, New Jersey, on Sunday.
Accompanied by his wife, Sakshi, and former Deputy Chief Minister of Jharkhand Sudesh Kumar Mahto, Dhoni performed puja at the temple, which is under construction and will open to the public later this year.
Dressed casually in jeans and T-shirt, Dhoni said it is "a first of a kind" visit to the US for him.
"I have been to different places. Most of them have been cricket-playing nations, like England and Australia. This was a one of a kind (visit) in the US," he said, referring to his public appearance at the temple.
He said it was an "eye-opener" for him to see how the Diaspora has embraced US culture, but still held on to their Indian heritage.
"This is something that is really appreciable. Having immigrated to the US many years ago but to still be 200 per cent Indian and still acknowledge and respect the traditions of the country you are in, I feel, is something that everybody needs to learn," he said.
Thanking the gathering for the "warm welcome", Dhoni, who did not interact with the media, said it is an honour for him to be present at the temple.
He noted that cricket is not very popular in the US and on his visits to the country he often has to explain to those who don't know about the game that is similar to baseball.
Talking about his home city, Ranchi, Dhoni shared an anecdote, saying when he made his cricket debut in 2004 not many foreign cricketers knew about his city.
He recalled that once while touring outside India, a person mistook Ranchi for "Karachi."
He said he had to explain to the person that Ranchi was a city in the mineral-rich state of Jharkhand.
Young children performed cultural dances during the two-hour event, which was attended by about 150-200 people, including the elderly and young children who were visibly excited to meet their cricketing hero.
The gathering cheered Dhoni as he arrived at the venue and jostled to take selfies with him.
Special mementos were presented to Dhoni and his wife by the Sri Siddhivinayak temple of USA chairman, Avinash Gupta.