'For so many years, I did whatever I wanted to do and the camera captured that.'
'But then suddenly I was asked to do particular things and then the camera captured that, so it was a bit different for me, a big change.'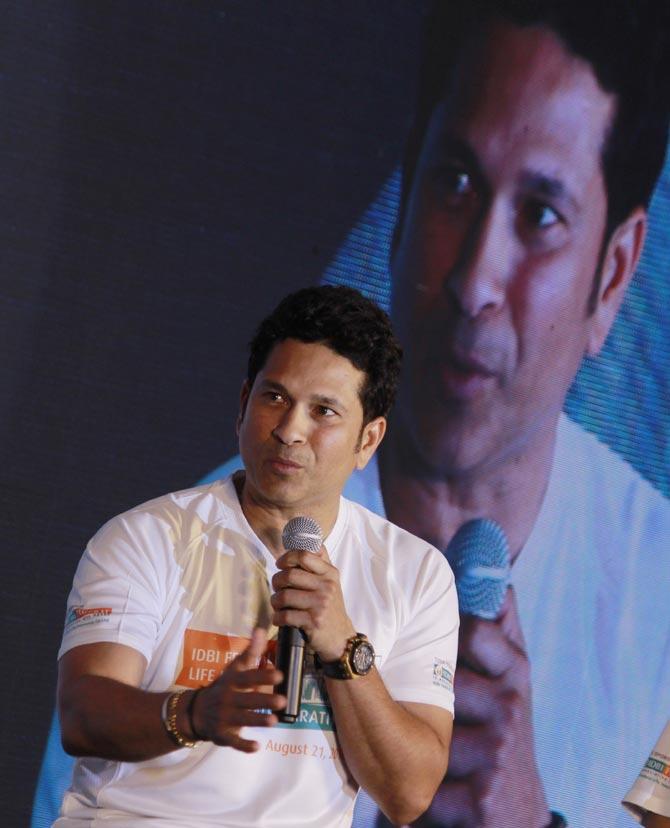 IMAGE: Sachin Tendulkar speaks at the launch of the IDBI Federal Life Insurance Mumbai Half-Marathon in Mumbai, April 14, 2016. Photograph: Hitesh Harisinghani/Rediff.com
On the day the teaser for his biopic released, batting legend Sachin Tendulkar declared he was more comfortable facing a fast bowler than facing the camera.

"Acting is not something that I dreamt of. Without any doubt, acting was more challenging than playing cricket," Tendulkar said in Mumbai at the launch of the IDBI Federal Life Insurance Mumbai Half-Marathon to be held this August.

The teaser for Sachin: A Billion Dreams has already gone viral on the Internet. The movie traces the life of the batting genius, with the teaser referring to him as a 'wild child' who went on to become a 'virtuous hero' who 'united his country.'
The docu-drama is directed by James Erskine, while another legend, A R Rahman, has worked on the music.
"For so many years, I did whatever I wanted to do and the camera captured that. But then suddenly I was asked to do particular things and then the camera captured that, so it was a bit different for me, a big change. And believe me, the first option was a better option," Sachin, who will turn 43 on April 24, said.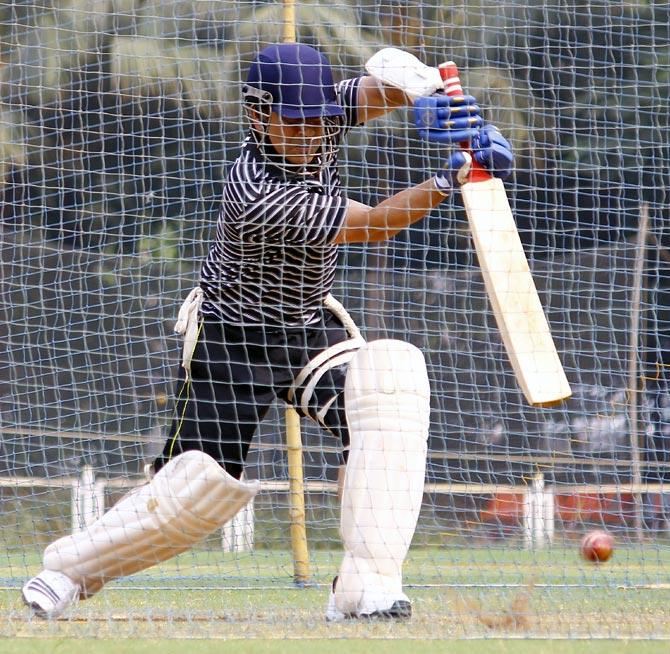 IMAGE: Sachin Tendulkar in the nets at the Mumbai Cricket Association's Bandra-Kurla Complex stadium, October 2015. Photograph: Hitesh Harisinghani/Rediff.com
Talking about modern-day cricketers spending more time in the gym to work on their fitness rather than hone their skills on the ground, Tendulkar said he was someone who improved his fitness standards by playing cricket all through the day.

"Fitness is from within, it is not about how you look, but what the body is actually able to do. In my case, if I have to talk about fitness, I am just sharing what happened 30 years ago at Shivaji Park. I was only 12, 13 years old and I had started playing cricket."
"My coach [Ramakant Achrekar] would start my practice session in the morning at around 7 am, I would practice till 9.30 in the nets and then have a break of 30 minutes, then start a match at 10 am and play till 4.30 pm, have a break of half an hour and then from 5 pm I would play till 7 pm, till it would get dark."

"That's where those Re 1 coins would come up, the coach would place the coin on the stumps, and I had to save my wicket. If I was able to do that, I was asked to take a couple of laps around the group with my cricketing gear on."
"There were occasions when I asked Sir if I could remove my pads and could keep the bat aside so it would be easier. But Sir told me that if you feel that you can go out and score runs without your pads or bat then run, but if you don't think so, then run with your cricketing gear."
"All I want to tell you is that my coach was instrumental in making me realise that fitness is going to be a key factor, but he made things enjoyable for me. I never once felt why am I doing this. At the end of the day the coach had to literally interrupt the net sessions and asked me to get it done because it was getting too dark," he added.

In his long career Tendulkar said he was hurt many times while batting, but he never expressed his pain openly, which he believes may have boosted the bowler's confidence.

"The season ball hurts, believes me. The first thing is not to show the opposition your weakness and even if you are feeling the pain, not to make the fast bowlers believe that they are having the upper hand," he said.

The genius that Tendulkar was, he had very early on in life started working on this key aspect, wherein he used to get himself deliberately hurt by the cricket ball which he says was an important part of his preparation.

"I remember as a kid I used to practise differently, I used to throw the season ball up and take it on my chest and get my body used to that pain, so when you get hit it shouldn't come as a shock to you," he said.
"It is like being a boxer, you want to box, but you don't want to be punched, it will never happen that way. If you play cricket, and if you play with a season ball you are going to break bones here and there. I keep telling my son that you have decided to take it up and no one forced you. You prepare yourself mentally and you start performing differently, you will get fearless."
"I remember on one tour I got injured. I came back just to do my scans. The doctor told me I had broken a rib. I had gone for some other scans and then I realised that for the last three months I had played with a broken rib," the legend said.
"This is what all sportsmen go through, we all go through pain, sometimes physical, sometimes mental. And that only makes us tougher and better human beings."