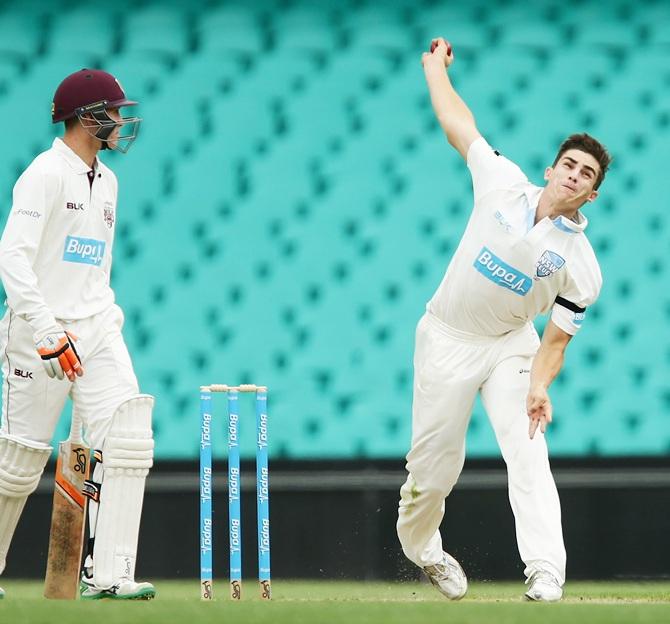 Image: Sean Abbott of the Blues bowls during day one of the Sheffield Shield match between New South Wales and Queensland at Sydney Cricket Ground. Photograph: Matt King/Getty Images
Australian paceman Sean Abbott took two for 53 for New South Wales on Tuesday as cricket returned to the Sydney Cricket Ground (SCG) two weeks after Phillip Hughes was fatally injured in freak accident during a match.
Adelaide celebrates life of Hughes, Australia's '13th man'
Abbott, whose bouncer hit Hughes on the back of the head and caused the catastrophic injuries that killed the batsman two days later, helped his state dismiss Queensland for 268 in the four-day Sheffield Shield match.
The 22-year-old was devastated by the death of his former team mate on November 27 and received of a wave of support from fellow players in Australia and around the world.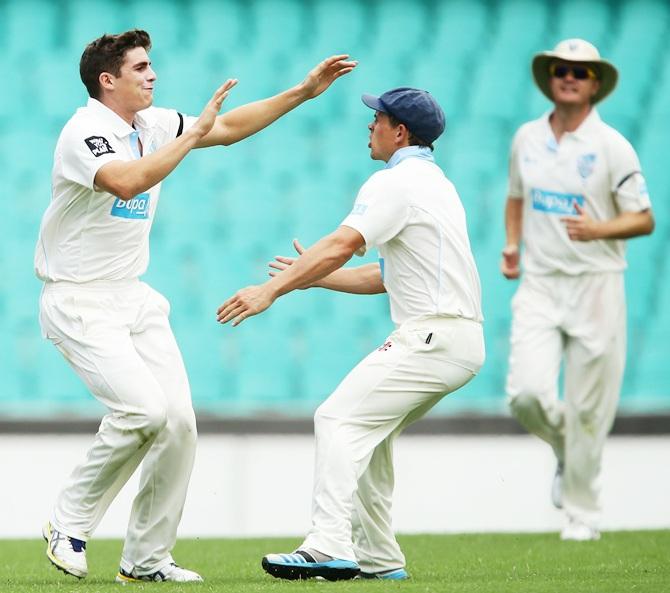 Image: Sean Abbott, left, of the Blues celebrates with Stephen O'Keefe after taking the wicket of Nathan Reardon of the Bulls. Photograph: Matt King/Getty Images
On Tuesday, the hosts lost the toss and fielded first, giving Abbott an early opportunity to get back into his stride.
Abbott was warmly applauded by the sparse crowd when he bowled his first over and with his fifth ball delivered a bouncer that flew over the head of Queensland batsman Joe Burns.
Abbott got his first wicket when he bowled Nathan Reardon with a yorker soon after lunch and had Ben Cutting caught behind in the following over for his second.
The New South Wales players wore wear black armbands in memory of Hughes and will have 'PJH 707' stitched onto their shirts for the remainder of the season, a reference to the batsman being the 707th player to play for the state team.
Hughes played 37 first class matches for his home state before moving to the Adelaide Oval, where the first Test against India also began on Tuesday, to join South Australia.