Just like his swashbuckling batting, the memories of A B de Villiers' stunning one-handed catch against the Sunrisers Hyderabad will be etched forever in the memories of Indian fans.
Harish Kotian salutes the legend.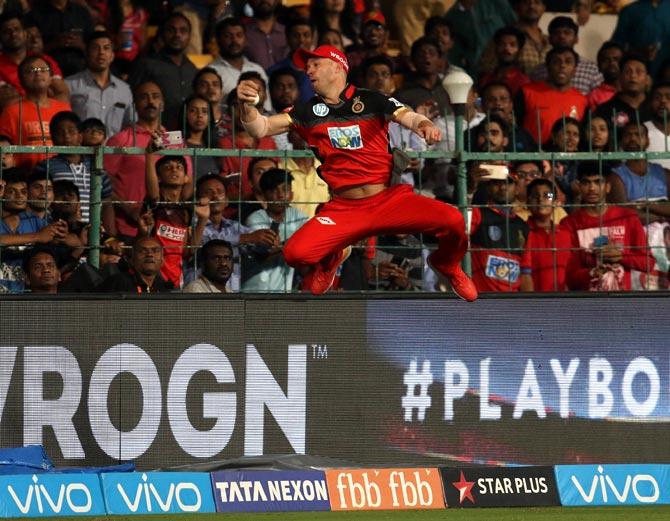 Without question, the most loved overseas player in India, A B de Villiers was a huge hit with Indian fans.
No matter whether he was playing in the IPL or if he was representing South Africa, Indian fans always greeted him with chants of 'AB, AB' whenever he stepped onto the field even when he was playing against their own team.
His exploits for the Royal Challengers Bangalore was majorly responsible for his huge fan following in India as he commanded the same adoration as Indian stars like Virat Kohli and Mahendra Singh Dhoni.
De Villiers lived up to everyone's expectations in IPL-11 as he scored 480 runs from 12 games at an average of 53, with a strike rate of 174, hitting six half-centuries.
Overall, de Villiers amassed 3,953 runs in 141 matches at an average of 39, inclusive of three centuries and 28 fifties, in the 11 seasons of rhe IPL.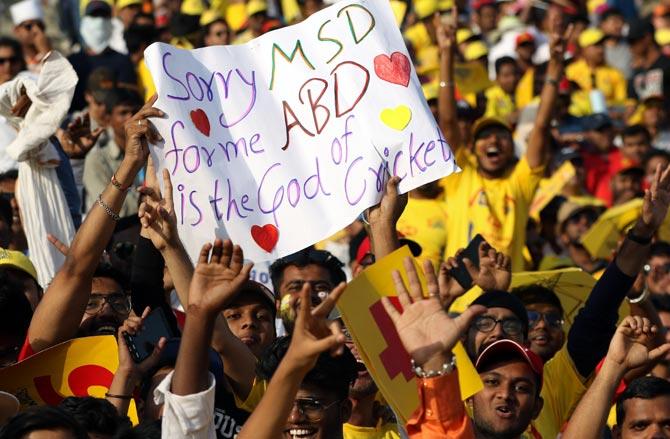 Though he has retired from international cricket, de Villiers may play the IPL for the duration of his RCB contract -- that's two years more, thank heavens! -- so we can hopefully all savour more memories of the fine cricketer and man he is.
Of course, memories of that stunning one-handed catch against the Sunrisers Hyderabad will be etched in everyone's memories forever.
'Saw #SpiderMan Live today!' a stunned RCB Captain Virat Kohli tweeted after witnessing that piece of sheer magic on the field.
AB also played his part with the bat. Out of his 6 fifties this season, 4 of them resulted in wins for RCB.
His amazing strokeplay during his whirlwind 90 from 39 balls against the Delhi Daredevils was one of the best performances in IPL-11.
'Sudden but we're confident there was immense thought and contemplation behind the decision. You have to come back to Bengaluru in 2019,' RCB tweeted after AB announced his farewell from international cricket.
'It's not about earning more somewhere else, it's about running out of gas and feeling that it is the right time to move on,' AB said.
'Everything comes to an end. To the cricket fans around South Africa and the world, thank you for your kindness and generosity, and today, for your understanding.'
'I have no plans to play overseas, in fact, I hope I can continue to be available for the Titans in domestic cricket. I will continue to be the biggest supporter of Faf du Plessis and the Proteas.'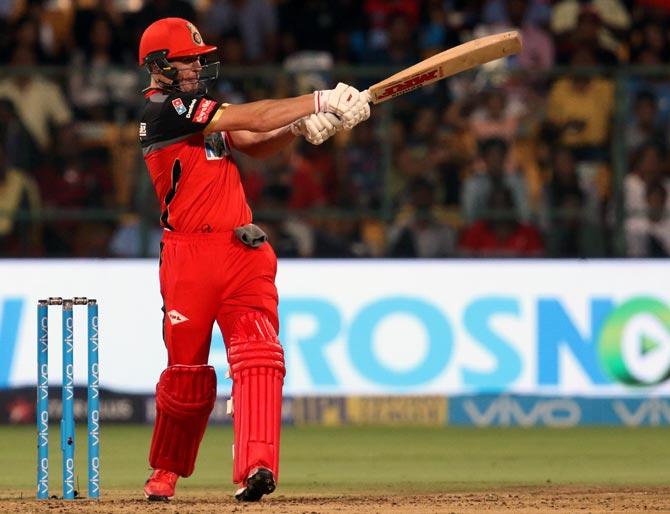 De Villiers retires with a Test average of 50.66. He was the fourth highest run getter for South Africa with 8,765 Test runs.
He scored 22 Test centuries and took 222 catches and five stumpings, having spent part of his career in the role of wicket-keeper.
In ODI cricket, he holds the records for the fastest 50 (16 balls), 100 (31 balls) and 150 (64 balls).
Even the best have a shelf life as is evident by AB's statement.
'After 114 Test matches, 228 one day internationals and 78 T20 internationals it is time for others to take over. I have had my turn and to be honest I am tired,' the South African legend said.
The cricketing world will miss him.
Please share your favourite memories of AB in the message board below: