More runs from Virat Kohli. India winning the World T20 at home. A controversy-free IPL and more is what Harish Kotian/Rediff.com wants this year.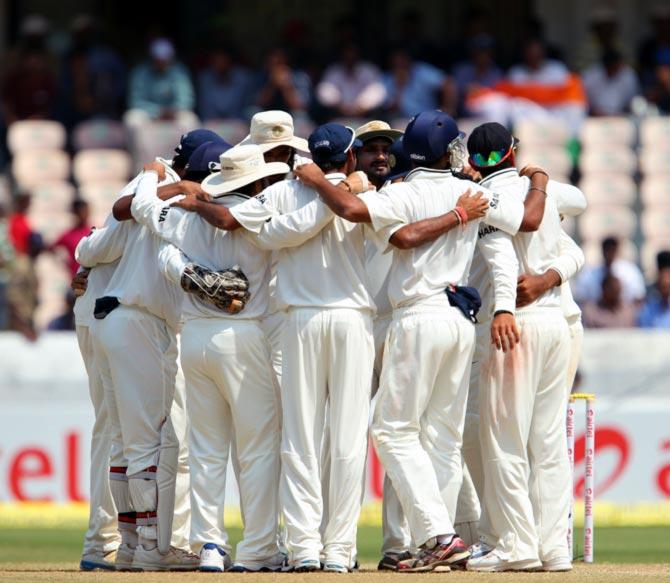 IMAGE: Team India in a huddle. Photograph: BCCI
2015 was a topsy-turvy year for Indian cricket.
While Team India failed to defend the World Cup crown and was beaten in ODIs and T20s at home by South Africa, a good showing in the Test arena saved the blushes.
India also suffered its first-ever ODI series defeat to Bangladesh in June, going down 1-2 in the three-match series.
Virat Kohli brought the smiles back on Indian fans' faces when he led India to its first Test series victory in Sri Lanka in 22 years and followed it up with a crushing 3-0 rout of the World No 1 Tes side, South Africa.
The Indian Premier League continued to generate its fair share of off field drama as the Rajasthan Royals and Chennai Super Kings were axed for two years from the cash-rich T20 extravaganza by the Supreme Court-appointed Justice Lodha Committee and replaced by new franchises from Pune and Jaipur.
The Board of Control for Cricket in India also witnessed a change in guard when Shashank Manohar was forced to return to the helm to restore the BCCI's credibility.
As 2016 takes its first steps, here's a wish-list for Indian cricket.

Kohli back among the runs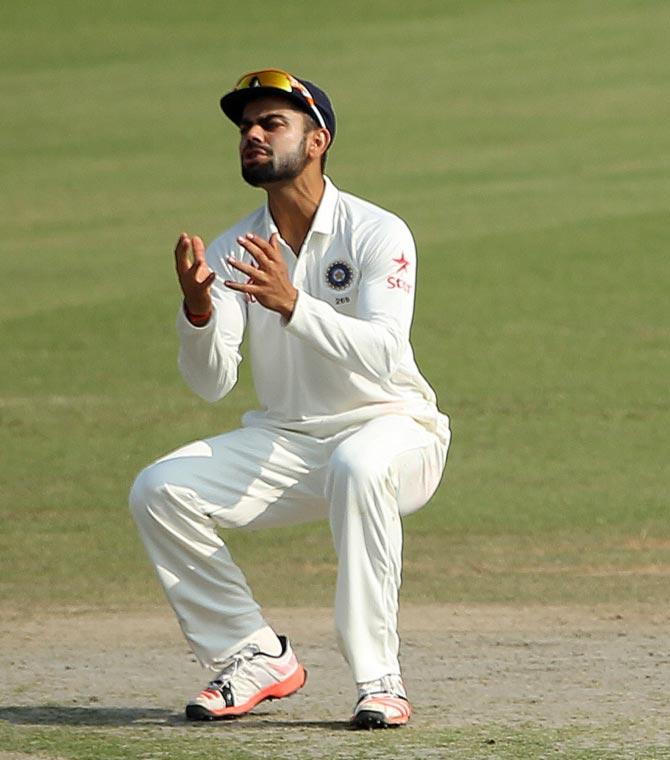 IMAGE: India Test captain Virat Kohli. Photograph: BCCI
Virat Kohli getting back to his run-scoring form is top priority for every Indian cricket fan.
In 2014, he scored 1,054 runs in 21 ODIs, inclusive of four centuries, but failed to match those lofty standards last year, aggregating only 623 runs, including just two hundreds, from 20 games, at an average of 36.
In Tests, he struggled to make an impact in the home series against South Africa.
After starting the year with a century (147) against Australia in Sydney, and a good knock of 103 against Sri Lanka in Galle, India's Test captain lost his touch somewhat for the rest of the year and ended up with with a meagre 640 runs from nine Tests, at an average of 42.
Let's hope the runs flow over the next 12 months.

Dhoni to continue playing till the 2019 World Cup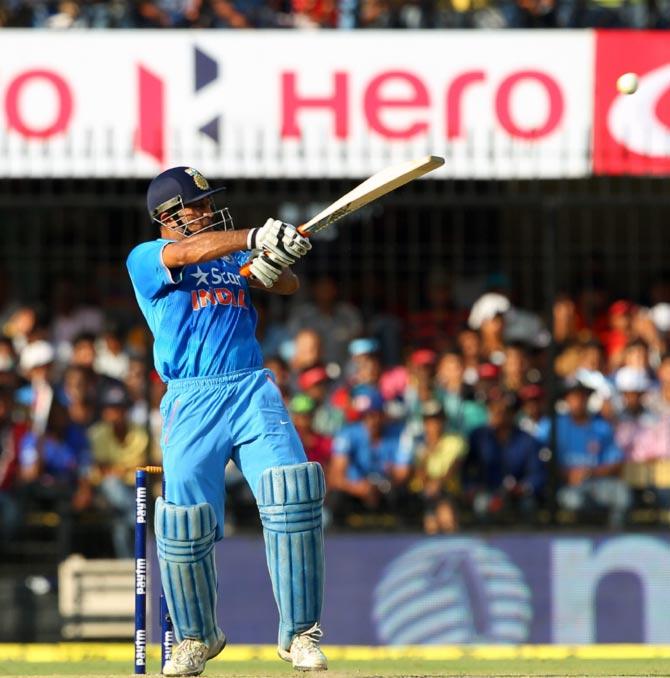 IMAGE: Mahendra Singh Dhoni. Photograph: BCCI
There is a strong possibility that Mahendra Singh Dhoni could quit all formats of cricket in 2016.
The selectors have named him captain till the World T20 to be played in India in March-April, and it remains to be seen if he will be keen to continue donning national colours after that competition.
After India's loss to Australia in ODI World Cup semi-final last April, when asked if he would play another World Cup, Dhoni replied: 'I'm not sure. I'm 33, I'm still running, I'm still fit, but I'll have a year's time, maybe close to next year, during the T20 World Cup, will be the time I would like to decide whether I'll continue till the 2019 World Cup or not.'
With Suresh Raina axed from the ODI team, India is struggling to find a good batsman lower down the order who can score quick runs in the final overs.
Dhoni is one of those rare batsmen who is not only capable of batting through the overs, but also getting the big hits when needed. MS needs to continue till the 2019 World Cup, else the selectors will have a problem finding a replacement for the great man before the next ODI World Cup in three years' time.

India winning the World T20 at home
IMAGE: Mahendra Singh Dhoni and his teammates celebrate beating Pakistan in the ICC World T20 final at the Wanderers stadium in Johannesburg, September 24, 2007. Photograph: Duif du Toit/Gallo Images/Getty Images
It is a golden opportunity for India to lay their hands on another World title when they host the World T20 at home in March-April.
India's triumph in the inaugural World T20 in 2007 was a boon for the shortest format of the game and majorly responsible for the birth of the now hugely popular Indian Premier League.
With the IPL throwing up a host of confident youngsters ready to take on the world in T20 cricket, India certainly ranks as one of the favourites.
The team will go into the tournament with a lot of practice, three T20 games against Australia followed by three against Sri Lanka.
Winning the Asia Cup 2016, to be staged in Bangladesh and played under the T20 format, involving the hosts, India, Pakistan, Sri Lanka and one ICC associate member, should be a formality.

Controversy-free IPL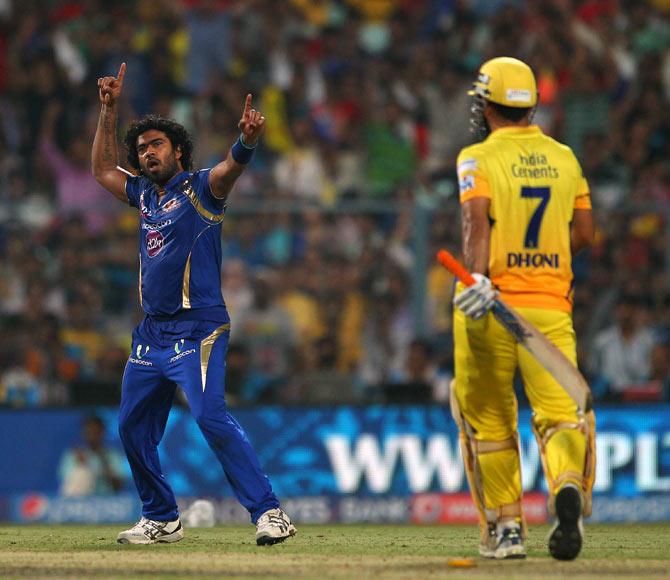 IMAGE: Mumbai Indians fast bowler Lasith Malinga celebrates Chennai Super Kings Captain Mahendra Singh Dhoni's wicket in the IPL final in Kolkata, May 24, 2015. Photograph: Duif du Toit/Gallo Images/Getty Images
The IPL, as popular as it is, has also attracted a fair share of controversies.
Right from scrapping teams to spot-fixing and betting, a new controversy crops up every IPL season.
Despite all the muck, the IPL continues to be the most widely followed cricket tournament in the world. Not only the fans, but every top player wants to be a part of the cash-rich league.

The new BCCI regime, under Shashank Manohar, is confident of getting the IPL back on track and restoring much-needed credibility.
With Pune and Rajkot replacing the Chennai Super Kings and Rajasthan Royals for the next two IPL seasons, one hopes that, for once, we will have an IPL, free of controversy.

India-Pakistan series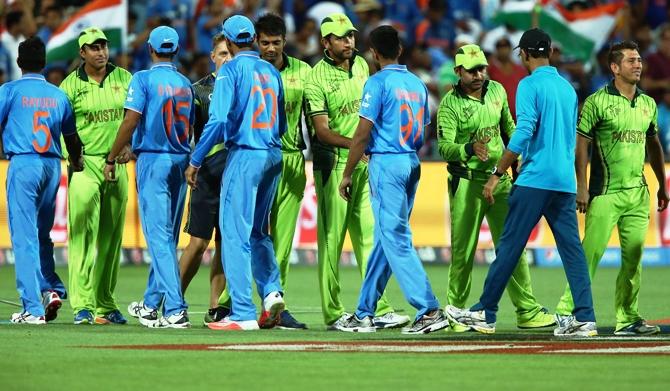 IMAGE: The India and Pakistan teams after the 2015 Cricket World Cup game. Photograph: Getty Images
India's prime minister visited his Pakistani counterpart in Lahore on Christmas, but the India-Pakistan cricket series didn't get the green signal from the government. And it seems less and less likely after the Pathankot terror attack.
India and Pakistan last played a series in 2007 before cricketing relations were snapped after the Mumbai terror attacks in 2008.
It will be every cricket fan's dream come true to watch an India-Pakistan Test series, be it in India or in any neutral country, but not in the current circumstances.
Pakistan, its govgernment and military, have to prevent terrorists from attacking India before the two teams come out to play.
Hopefully, 2016 proves a good year for India-Pakistan relations on the political front, which could pave the way for resumption of cricketing ties.

Finding a pace bowling all-rounder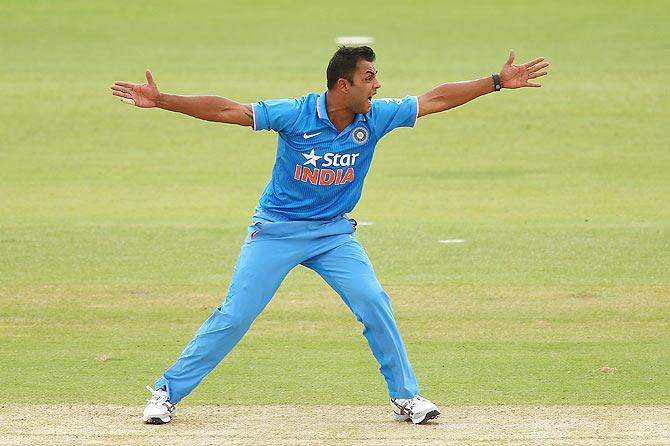 IMAGE: Stuart Binny appeals for a wicket. Photograph: Paul Kane/Getty Images
Stuart Binny's axing from the ODI and T20 teams for the Australia tour means India's search for the elusive pace bowling all-rounder continues.
Binny made his ODI debut in January 2014, but failed to find a permanent slot in the team, playing just 14 matches.
India are experimenting with its team ahead of the World T20 and several players have been given a chance to showcase their potential at the international level.
Himachal Pradesh's Rishi Dhawan was a shock inclusion in Binny's place.
Indian cricket certainly needs a player who can contribute with both bat and ball across all formats.

More balanced wickets for home Tests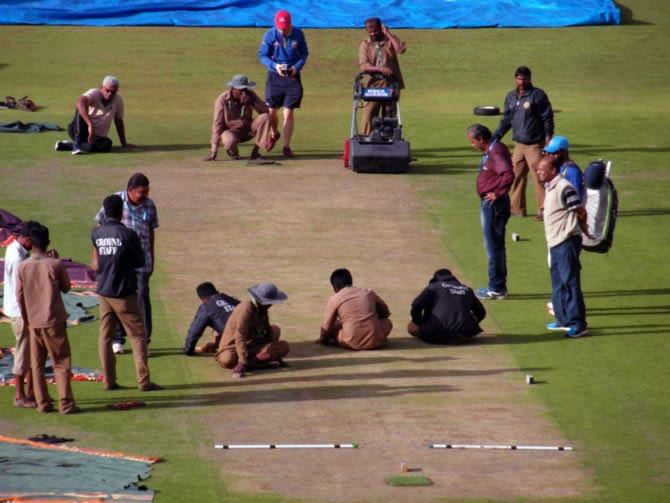 IMAGE: The ground staff works on the pitch at the M Chinnaswamy stadium in Bengaluru. Photograph: Harish Kotian/Rediff.com
It all started with Mahendra Singh Dhoni asking for turning pitches for the home Test series against England in 2012.
Though India were beaten by England in that contest, India continue to play on turning tracks, many of which start turning from the first session of the Test.
While there are no complaints about India making use of the home advantage, it is not a pleasant sight to see Tests finishing in three days and batsmen clearly handicapped.
The Test series against South Africa, which India won 3-0, attracted more headlines for the nature of the pitches than the performances of the players.
With India set to play a lot of home Tests the next year-and-a-half against New Zealand, England and Australia, it would make sense to produce more balanced wickets.