India's mental approach key to South Africa tour, says Kohli
'You have to embrace the local culture to be able to do well there. The excitement is very important to be able to do well'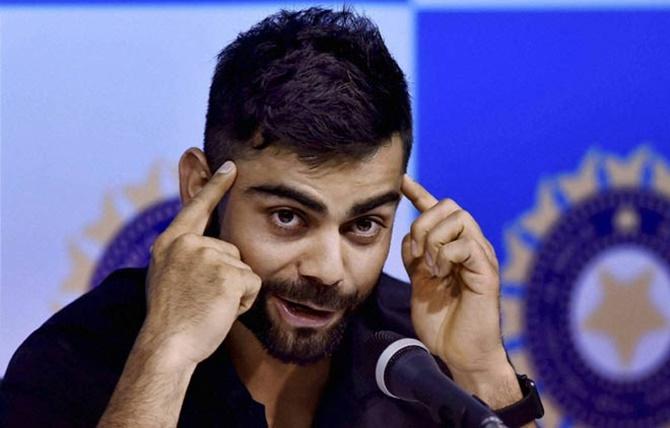 IMAGE: IMAGE: Virat Kohli interact at a media conference. Photograph: PTI
India will need mental toughness as much as consistent performances with bat and ball if they are to record their first Test series victory in South Africa, captain Virat Kohli said on Wednesday.
Kohli, who was rested during India's Twenty20 series win against Sri Lanka earlier this month, urged his team to embrace the Testing conditions they will experience on tour, which are traditionally more suited to the fast bowlers.
"You need to play cricket for long period of time to win abroad," Kohli told a news conference.
"The hunger this time is the same. We want to do what we couldn't the last time around.
"Cricket is played with bat and ball and if you are there mentally, every condition seems like a home condition. You have to embrace the local culture to be able to do well there. The excitement is very important to be able to do well, he added"
India have retained their number one spot in the Test rankings on the back of a formidable home record, but Kohli reckons his team have the opportunity to improve further during trips to South Africa, England, Australia and New Zealand over the next 18 months.
"You need to take up the challenges while travelling to places like South Africa, England and Australia because you go there once and then you won't travel there for a long time because of the way scheduling is done," the 29-year-old added.
"The conditions would be Testing but this one-and-a-half-year will define this Indian team and the whole team is aware of this."
India have played 17 Tests against the Proteas in South Africa, winning two and losing on eight occasions. Seven Tests ended in draws.
India will play three Tests beginning on January 5 in Newlands, Cape Town. They also face South Africa in six One-Day Internationals and three Twenty20 matches.