Australia's Brad Haddin tells Bikash Mohapatra he's content with both his batting and wicketkeeping.
Blame it on Adam Gilchrist.
Gilly's dominance, in the role of a wicketkeeper-batsman, for a significant period meant some of the calibre of Brad Haddin spent years on the sidelines, sometimes as his country's second choice keeper and sometimes even demoted from that status.
The New South Wales player has played in just 76 ODIs thus far in his career despite having made his debut way back in January 2001.
It is only after Gilchrist's retirement from the game, in March 2008, that Haddin secured the promotion he had so long deserved.
To say he accepted the responsibility with elan will be akin to stating the obvious.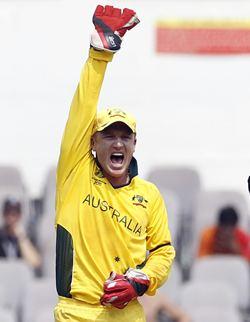 Though not getting younger at 33, Haddin is now not only Australia's first choice wicketkeeper, but has also assumed the role of predecessor Gilchrist -- that of a flamboyant opening batsman.
In this World Cup, his first, Haddin has performed both the roles with aplomb. Asked if it was difficult to juggle the two, Haddin's answer surprised to an extent.
"It is enjoyable, especially here in the subcontinent," he said, adding, "The weather is obviously tough.
"However, opening the innings is the best time to bat on with the new ball, using the pace of the ball. It is a role that I quite enjoy doing."
Having donned the role for his state team had helped.
"I spent a lot of my early career opening for New South Wales and am pretty content with my role as an opener with the Australian team," explained Haddin.
The fact that he has over a period of time formed a formidable opening partnership -- something that Australia was lacking since Gilchrist and Matthew Hayden retired in succession -- with Shane Watson has provided his team the solidity it required.
"Yeah, Watson's obviously been in outstanding form for a year-and-a-half and it is great to bat at the top with him," explained Haddin, adding, "We have formed quite a good opening partnership with two different players, both of whom can score big.
"It is pretty difficult for the opposition to contain us once we get going."
Haddin's above point is best explained by the fact that in the last three innings they have opened together, he and Watson put together significant partnerships -- 71 against England at Sydney, 61 against Zimbabwe at Ahmedabad and 133 against New Zealand at Nagpur.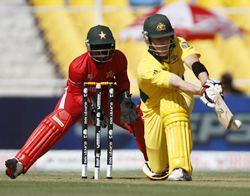 "I am pretty happy with my game at present and content with both my batting and my wicketkeeping," continued Haddin.
Asked if it was different keeping wickets in subcontinental conditions, the stumper made a pertinent point.
"The only difference is you have to stand a lot closer to the stumps as you want the ball to carry to you," he explained, adding, "Rest, all factors, like watching the ball hard et al, remain the same."
The stumper also laughed off rumours doing the rounds in the Australian media that he and his opening partner are being investigated by the ICC on charges of spot-fixing -- following their win over Zimbabwe in the World Cup.
"It's quite a laughable story," said Haddin, adding, "It's a joke.
"We just got off the mark a bit slowly. There was no case of spot-fixing."
The three-time defending champions have made a good start to the tournament and Haddin said there is more to come.
"For us it would be important to prepare the best we can," he said Haddin, adding, "Australia will make sure we get better with every game we play."
Photographs: Reuters