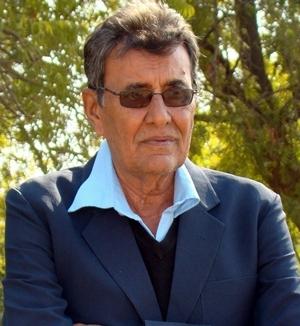 Salim Aziz Durrani was one of those enormously gifted cricketers who could change the complexion of a game in a jiffy with either bat or ball.
A genuine all-rounder, he was an attacking, elegant left-hand batsman and deceptive left-arm orthodox spinner in the classical mould. His key wickets of Gary Sobers (0) and Clive Lloyd (15), at a crucial juncture in the second innings at Port of Spain in Trinidad in 1971, paved the way for India's historic, maiden Test as well as series triumph against the West Indies.
Irrespective of his fairly impressive Test record, his amateurish approach never really allowed his talents to blossom. Both moody and maverick at times, he strongly believed in enthralling spectators, and could hit sixes on public demand, always giving the impression of being an unpredictable genius. 
Tall and devastatingly handsome, he was equally popular off the field, too. Why, he even worked in a 1973 Bollywood flick, Charitra, as a hero opposite Parveen Babi. Like Imran Khan, he was a ladies' favourite, and stories of how many of them had a crush on him abound.
Haresh Pandya spoke with Durrani, who blew 75 candles on his birthday cake on December 11.
The craze for Twenty20 cricket is amazing, isn't it? Considering your own aggressive batting style, you would surely have loved to play it. How do you look at this latest and shortest version of cricket?
It looks very interesting. The players as well as public seem to be enjoying it. But, then, it's pure entertainment, nothing else. It hardly tests a bowler's skills, because of so many restrictions imposed on him. It's crueler to the bowlers than even one-day cricket. But people always love to see fours and sixes being hit. And cricket administrators, as well as sponsors, know it. They allow the batsmen to make merry out there in the middle. But it isn't true cricket. Of course, I'd have loved to play it just as I'd have enjoyed playing one-day cricket.
Dazzled by the rapidly increasing popularity of Twenty20 cricket, certain influential people across the world have begun suggesting making drastic changes in Tests, including reducing them to four days. There is also a move to reduce the number of Tests in the global cricket calendar in order to accommodate more and more Twenty20 games. Don't you think Test cricket is being given a raw deal, or even slow poison for that matter?
I'm neither against Twenty20 cricket or one-dayers. They've their own importance. But they aren't more important than Test cricket. Test cricket is the cricket and nothing can beat it. Both the players and the serious students of the game still passionately love Test cricket; it speaks volumes for its value and importance.
I'm not sure or aware about the move to make drastic changes in Tests or reducing their number. But I'm convinced there is really no need to make any changes in Test cricket. Despite the popularity of one-dayers, Test cricket has always maintained its own dignity, status and appeal.
The craze for Twenty20 will also not affect Test cricket in any way. No, I don't think Test cricket is dying a slow or a fast death. It will never die regardless of efforts from certain quarters to kill it.
Tests continue to be as exciting and thrilling as ever. And don't forget that you can judge a player's true class and calibre in Tests only, not in one-day or Twenty20 cricket.
The Ferozshah Kotla wicket in Delhi for the fifth One-Day International between India and Sri Lanka came in for a lot of criticism. So much so the match had to be abandoned after 23.3 overs. What, in your opinion, is an ideal pitch? 
I think the Sri Lankan players were right in objecting to continue playing on such a dangerous wicket after some of their batsmen were hit hard on their bodies. It appeared to be an unprepared wicket and quite unplayable. I'm not sure whether the groundsman and his assistants were given special instructions by the DDCA officials. Sometimes the groundsmen have to follow instructions from even the home captain. So you can't be sure. But the Delhi pitch was just unfit to play any kind of cricket on.
Though there was probably no other option but to abandon the game, you can't help feeling sorry for the spectators. The BCCI has done the right thing by disbanding the entire Grounds and Pitches committee. But they've to be careful when forming a new committee to look after wickets across the country.
You have to pick experts who are genuinely knowledgeable about the difficult art of pitch making. There is no harm even in hiring experts from abroad. If you've a foreign coach and a physio, why can't you have a wicket expert from abroad?
In my view, the ideal wicket for any kind of cricket is one which gives equal chances to batsmen as well as bowlers to prove their talents. It's as simple as that.
You are from Jamnagar. Ravindra Jadeja also hails from Jamnagar. Like you, he is also a left-handed batsman and orthodox left-arm spinner. How do you rate him?
He is a very exciting young cricketer with great potential to make a name for himself in international cricket. He is a genuine all-rounder and he has already proved his ability as a batsman and as a bowler in the limited number of matches he has played for India so far. He is a batting all-rounder. He is capable of playing brilliant innings against any opponent anywhere in the world.
The best thing is he isn't afraid of playing his shots and just plays his natural game in any situation. He is still in the initial stage of his career, but, the way he is progressing, he will soon become a very vital member of Team India.
How do you find Jadeja as a bowler? Where does he have to still improve as a spinner?
There is no doubt he is very impressive as a bowler, too. He is also capable of maintaining his line and length even when hit by the batsman. But he has to bring in more variations in his bowling. Being an orthodox left-arm spinner, he must not be afraid to flight the ball. He would be better off mastering the arm ball and using it as one of his potent weapons. I'm sure he'll learn all the tricks of the trade with more and more experience and guidance from senior players. He is always willing to learn and experiment. And he is a good listener.
Do you think Jadeja deserves to play Test cricket, too? Does he have the makings of a successful Test all-rounder as well?
Yes, he deserves to play Test cricket. He knows how to adjust his game to different types of cricket. He has adapted himself well to both one-day and Twenty20 cricket and there is no reason why he can't do it successfully when it comes to Test cricket also. And do we have any good, world-class all-rounders in our Test team? I think a bright future beckons Jadeja in Test cricket, too. 
Many have begun hailing the present Indian team as the best in our cricket history. What do you think about this team?
Well, it's their view. But I think it's debatable whether this is the best ever Indian team. No doubt, we've a solid batting line-up featuring some of the world's most exciting and experienced batsmen. But do we've good bowlers barring one or two? Do we have have world-class fielders?
Of course, I'm highly impressed by Yuvraj Singh, Suresh Raina and Ravindra Jadeja. When you say this is the best team, you have to take into consideration many important factors. In the 1970s, we had the world's best spinners and fielders. But we did not have good new-ball bowers. And the batting tended to revolve just round Sunil Gavaskar and Gundappa Viswanath more often than not almost throughout the whole decade.
How do you rate Mahendra Singh Dhoni as a captain?
He has been very impressive as a captain in all forms of the game. His win-loss record speaks for itself. I'd like to say he is leading from the front and by example as well. Neither his batting nor his wicketkeeping has been affected a wee bit under the weight of captaincy. In fact, he seems to relish batting while leading the side. Dhoni has played no insignificant role, both as a player and as a captain, in turning Team India into a match-winning force. I think if India wins the World Cup 2011 under Dhoni's captaincy it would be like icing on the cake, so to say. Of course, it's still a long away, but I've a feeling that India will achieve something more remarkable under Dhoni in the next couple of years. He has earned love and respect of all his players, and it's very vital in a team sport like cricket.
Don't you think excessive money and equally excessive media hype are spoiling some of our cricketers? Aren't some of them more concerned about their off-the-field activities than their actual performance on the field?
Not really. I think they're mature enough and know what's good and what's not good for them. They're aware of their status as well as social responsibilities. You may have an odd unpleasant instance of a player being spoilt or indulging in what you are calling off-the-field activities. But you can't form a judgement on the basis of one single incident. As for money, or excessive money, they deserve it. Though there was hardly any money during my playing days, I'm happy about present-day cricketers. Rather than being spoilt, I feel the money and publicity have made today's cricketers more focused and more responsible.
Sachin Tendulkar has completed 20 years in international cricket. How do you assess his career?
It's been phenomenal. What more can I say? You don't come across geniuses like Tendulkar that often. His achievements are just mind-boggling; they're in keeping with his extraordinary talents. He could be a role model, not just for cricketers but for any other sportsperson. What I like more about him is that even today he is as enthusiastic and hungry for success as he was when he appeared on the cricket firmament.
Photograph: Haresh Pandya