'The call-up from Rahul Dravid was the turning point for Sarfaraz.'
'I would like to thank Virat Kohli for the trust he has shown in Sarfaraz.'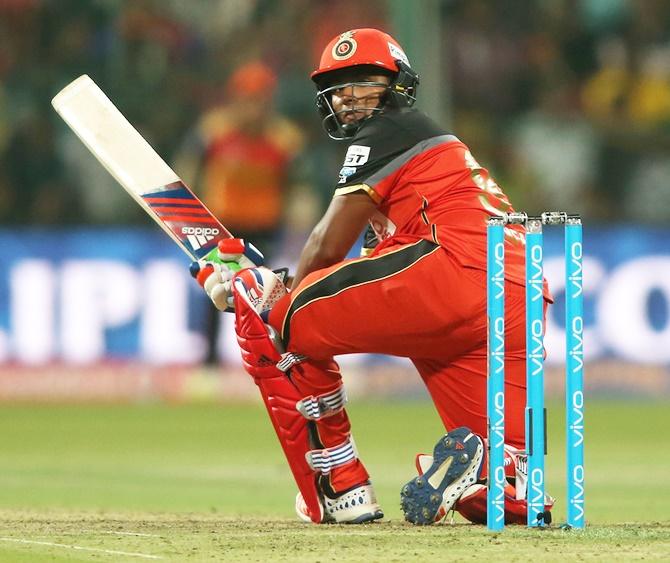 IMAGE: Sarfaraz Khan in action for Royal Challengers Bangalore during IPL 8. Photograph: BCCI
The biggest surprise of the player retentions for the Indian Premier League's 11th edition was a youngster from Mumbai, Sarfaraz Khan.
The youngster, who plays for Uttar Pradesh in domestic cricket, was out of action for nearly six months after injuring his knee during last year's IPL.
Royal Challengers Bangalore stunned observers by retaining the 20 year old ahead of Chris Gayle, K L Rahul and Yuzvendra Chahal among others.
Sarfaraz was retained for Rs 1.57 crore (Rs 15.7 million) along with Captain Virat Kohli and A B de Villiers.
Sarfaraz, then 17, was bought by RCB for IPL8 for Rs 50 lakh (Rs 5 million). The youngest player to feature in an IPL game, the teenager impressed many with his attacking batting.
Sarfaraz had broken Sachin Tendulkar's schools cricket record in 2009 when he scored 439 runs off 421 balls in an inter-school game.
His father Naushad Khan, who is also his coach, spoke to Rediff.com's Hitesh Harisinghani about RCB's surprise decision to retain his son.
Were you surprised by RCB's decision?
I was in Mumbai when the news broke. Sarfaraz is in UP where he's playing the (Syed) Mushtaq Ali Trophy.
It was very surprising for him to make the cut in a team which has stalwarts like Virat Kohli and A B de Villiers.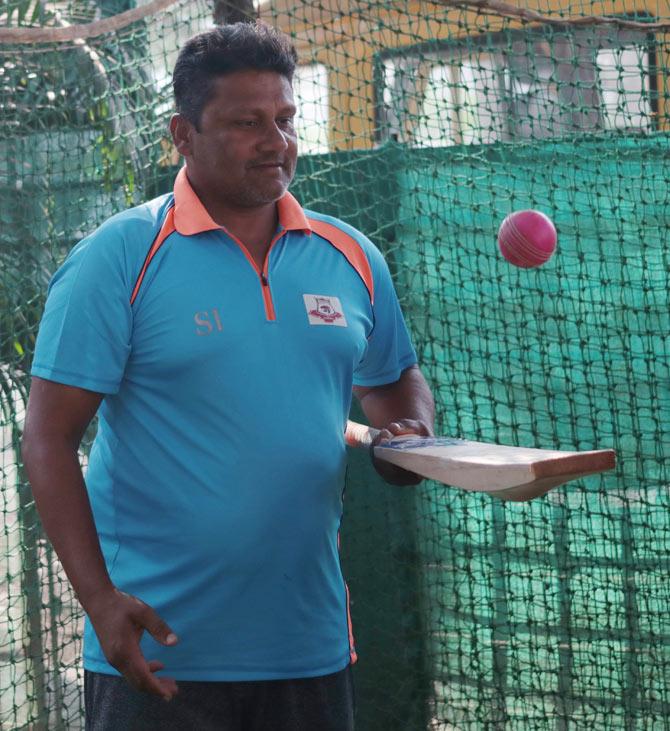 IMAGE: Naushad Khan, Sarfaraz Khan's father. Photograph: Hitesh Harisinghani/Rediff.com
What does this do for Sarfaraz and his career?
The biggest thing about his selection is that he will get to share the dressing room with players like Virat, AB.
How they play, how they practice, how they think, all this he will get to learn.
If you want succeed in life, it is important to surround yourself with people who have achieved a lot. It also gives you the scope for improvement.
How did you motivate Sarfaraz when he was out of action for nearly six months with an injury? It must have been tough for him.
I would like to thank the RCB team management not only because they retained him, but also supported him all throughout his injury and recovery.
Avinash Vaidya, the RCB manager, was in touch with me for everything. They were like family.
I would like to thank Virat Kohli for the trust he showed in Sarfaraz.
Why does Sarfaraz play for UP when he could have played for a top team like Mumbai?
This is a very emotional story which I don't want to talk about.
Jahan bhi jayega bas roshni lutayega, kisi chirag ka koi apna makan nahi hota. Chirag ka kaam hai roshni dena chahe usse mandir mein rakho ya masjid mein, woh roshni dega.
Sarfaraz cricket khel raha uske naseeb mein jahan se likha rahega wahan se aage ayega Inshallah (Safaraz is only playing cricket, it will be his destiny wherever he makes it big from).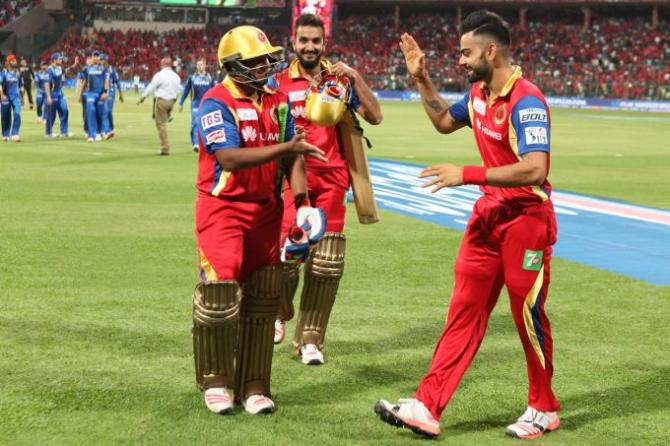 IMAGE: RCB Captain Virat Kohli congratulates Sarfaraz after a good showing with the bat during IPL 8. Photograph: BCCI
How big a stage has the IPL been for Sarfaraz?
IPL has been a boon not only for cricketers, but also ex-cricketer who are getting to work as support staff with the franchises. Players have become trend setters with kids.
It's a great platform where youngsters are getting opportunities.
Sarfaraz recently got some advice from Rahul Dravid when he played practice matches against the India Under-19 World Cup team. What was Dravid's advice for Sarfaraz?
After recovering from injury, he was depressed seeing his mates play for different teams. That was when we got a call from the BCCI. Sarfaraz was asked to play for the NCA (National Cricket Academy) Under-19 team.
Rahul Dravid wanted to have a match between last year's World Cup (under-19) team and this year's team.
That call-up from Dravid was the turning point for Sarfaraz.
In the first two matches he scored 132 and 70 respectively.
Dravid got Sarfaraz to share the experience of last year's World Cup with the players who will play this year's Under-19 World Cup.
Your other son Musheer is doing well in schools cricket and age group cricket. How do you see his career growing?
Musheer has been playing good cricket. His confidence is high. I'm doing what we have been doing since the very beginning.
One can't predict the future, but one thing that we can do is work hard which he has been doing.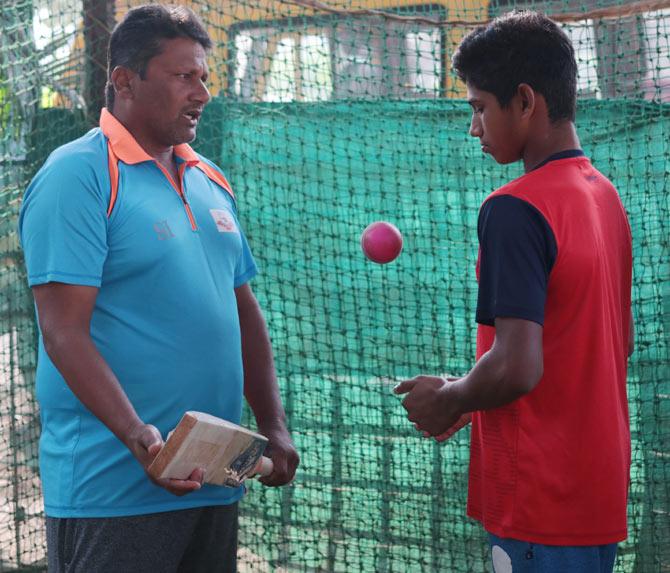 IMAGE: Naushad Khan with his younger son Musheer. Photograph: Hitesh Harisinghani/Rediff.com
Is it difficult playing the dual roles of coach and father?
These kids are fortunate and unfortunate at the same time. They get a coach's scolding more than the love that a father gives.
You can't get a beautiful bride and dowry at the same time.
I have made a strict schedule for both of them, sometimes I even have to snatch their phones away.
When will we see Sarfaraz playing for the Indian team?
Whoever starts playing cricket their dream is to play for the country.
There is a long gap between where we are and playing for the national team.
The only way for us to fill the gap is by doing hard work. Rest, as they say, is destiny.