'I just need to go back and bat at my old position at No 3.'

'In the IPL, captaincy is just for namesake. You just need to go out there and play well.'

Suresh Raina tells Harish Kotian/Rediff.com about the challenges that lie ahead as he leads the Gujarat Lions and how much he will miss his beloved Chennai Super Kings and under his favourite skipper Mahendra Singh Dhoni.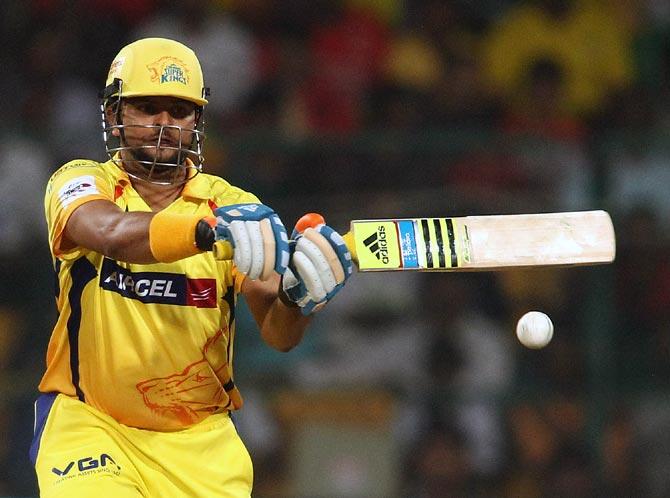 IMAGE: Suresh Raina in action for the Chennai Super Kings during IPL 8 in 2015. Photograph: BCCI
Suresh Raina faces one of the biggest challenges of his career when he leads newcomers Gujarat Lions in the ninth edition of the Indian Premier League, which kicks off on April 9.

The last few months haven't gone well for the left-hander. He aggregated just 41 runs in the World T20, after losing his place in the ODI squad during the Australian tour.

As critics demand his exit from the national side, Raina hopes for a turnaround in the IPL. After all, he has asserted himself with the bat over the last eight IPL seasons.

The 29 year old is the only player to score over 400-plus runs in the first seven seasons of the IPL, achieving the feat with Chennai Super Kings.

The first Indian batsman to hit a century in all three formats of the game, he boasts of a superb IPL record, having aggregated 3,699 runs in 112 games, at an average of 35 and an impressive strike rate of 141.

The World T20 didn't go well for you. Are you confident of bouncing back in the IPL?

We made it to the semi-finals as a team, so I think we did well in the World T20. I think I did well in Australia and in Bangladesh, but the T20 format is such that you sometimes get out or sometimes you get difficult wickets.

Having said that, I am looking forward to meeting my teammates at Gujarat Lions and having a good time in the IPL.

Will the extra responsibility of captaining the team add some pressure on you?

It will be good. It will be exciting to captain the team.
It was not long ago that I led Uttar Pradesh to the Syed Mushtaq Ali Trophy T20 title. I would like to repeat that with Gujarat Lions.
I have got the responsibility after doing so well in the IPL in the last eight seasons.
When you know that you are the senior player in the team and have already captained your country, your job gets easier.
I know I just need to go out and express myself.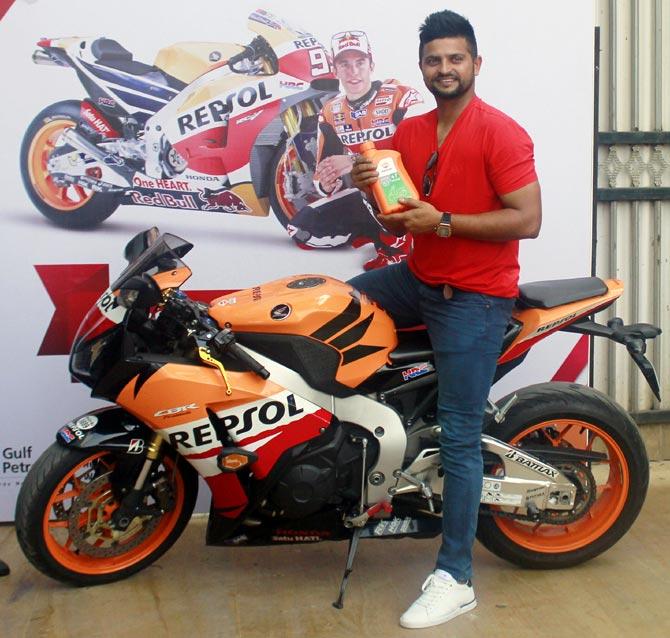 IMAGE: Raina at the launch of Gulf Petrochem Group's lubricant business 'Repsol' in Mumbai, April 5, 2016. Photograph: Hitesh Harisinghani/Rediff.com
Before the IPL in 2008, you were going through a tough time, but bounced back with the Chennai Super Kings. Now, again, you have not had the best of times in international cricket.
Does this again feel as a fresh start for you?

I am looking forward to playing for the Gujarat Lions. This format brings positivity around the players; that is why we have a lot of young players from around the world doing well in T20 cricket.

We have a very good coach in Brad Hodge, who has been a very consistent batsman in the T20 format and he has done well as a coach too. He has played in a lot of T20 leagues, like the IPL, Big Bash, so he has good knowledge of the game.

I think I just need to go back and bat at my old position at No 3 and look to swing the bat really hard.

I will look to play my natural attacking game at No 3 because I haven't batted at No 3 for the last six months, probably, I would say one year.
I have played so many matches lower down the order, sometimes I have got 15 balls, sometimes I got 10 balls, sometimes I got 20 balls.

I just need to see myself playing 20 overs and then I can take one ball at a time.

If you have decided on batting at No 3, who will open the innings for the Gujarat Lions?
You have three very dangerous openers in Aaron Finch, Brendon McCullum and Dwayne Smith.

Yes, we have three very good openers in Finch, Brendon and Smith. I will sit with the coach and see how we can get the best of the three most dangerous openers in the world.
On their day, all of them are capable of destroying any bowling attack.
We will have to see the mindset and then take a decision when I sit with the coach.

How much will you miss playing for the Chennai Super Kings?

Definitely, I will miss playing for the Chennai Super Kings. I have played so much for CSK in the last eight years, I have got used to everything there, including the food, religion and a lot of other things.
I have a lot of fans in the south. A lot of CSK fans around the world shower a lot of love on me.
We have had a lot of success in the IPL and the Champions League T20 for CSK which will always stay with us forever.

It will be exciting to come back to CSK after two years. Right now, it will be difficult for all CSK players at the start to turn out for other teams.
If you see, all the CSK players got a really high price at the auction this year, so it shows how good our players were.

But we need to go out there and play as professional cricketers.
The feeling will not be the same as we had in Chennai and this will be a new environment for many of us in the IPL this year.
Gujarat never had an IPL team before, so we never played there. Right now, I am just looking to turn out for my team and enjoy my time in the IPL.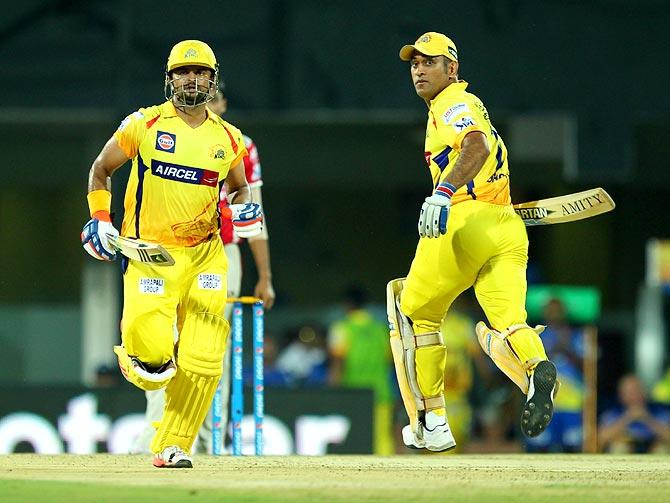 IMAGE: Raina, left, with Mahendra Singh Dhoni during an IPL game for the Chennai Super Kings. Photograph: BCCI
This will be perhaps the first time in your career when you are pitted against Mahendra Singh Dhoni. How different an experience will that be for you?

It will not be easy for me, honestly, playing against him.
It will be difficult definitely. He also feels the same because he told me this in Australia. We have played so much together, for Team India and also in the IPL for CSK.
We have a strong bond. But that is life. You are up against each other now after playing together for such a long time.

He was telling me how different he would feel playing in a new jersey, playing with a new team, playing in a new state.

Our CSK team was like a family. We were like brothers to each other. We were united both on and off the field.
That is why the credit goes to Dhoni and Stephen Fleming, who was our coach.

But it is important to note that I am not playing against him. It will be my team against his.
In my team, we have Dwayne Bravo, Ravindra Jadeja, Dwayne Smith, Brendon McCullum, Shadab Jakati, while they have Dhoni, Ravichandran Ashwin and Albie Morkel and a few other players, who all have played for the Chennai Super Kings.

How much of a role has Dhoni played in your career in the last 8, 10 years? He is one of your closest friends.

His role was important. He was very helpful. He always believed in me as a batsman and gave me a lot of confidence.
Dhoni and I have batted together so much at No 5 and No 6 for the last so many years. We had a good record chasing down targets. Our strike rate was also very good.

Would you be using some of the things you learned from Dhoni as captain against him in this IPL?

Hahaha, maybe...

I think it is important for people to realise that it is not me versus Dhoni, but the Gujarat Lions vs Rising Pune Supergiants.

It will be a different challenge for me, Dhoni, and all the other CSK players who will be turning out for different teams this season.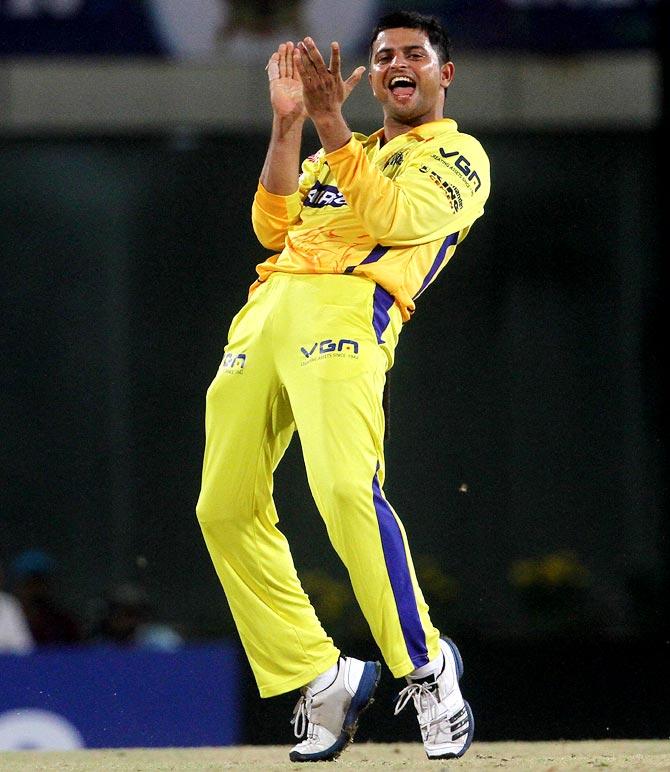 IMAGE: Raina celebrates a wicket in IPL 6 in 2013. Photograph: BCCI
How a big role do you expect Brendon McCullum to play for your team? He was a great captain for New Zealand. Will you approach him for advice when the going gets tough?

Definitely, I will approach him. Not only that, I also have Dwayne Bravo, James Faulkner and other Indian players who have done well in first class cricket.

I was very close to Brendon at CSK. He is one of the greatest captains I have seen, a great batsman too, and also a great human being. He will be the first option and the second will be Bravo.

In the IPL, captaincy is just for namesake. You just need to go out there and play well. I will look to break free and play my natural game, that's my mantra for this IPL.

You have a 44-year-old leg-spinner in Pravin Tambe. Seeing how much success leg-spinners had in the World T20, do you see Tambe being a vital component of your bowling attack?

I played against him in the Syed Mushtaq Ali Trophy in Cuttack. I am excited to see him in our Gujarat squad.
Hopefully, he will maintain his fitness and be a regular member of our playing eleven. Hopefully, he can repeat his success at Rajasthan Royals for us this season.