'If you want to be a successful cricketer you need to figure out yourself, both on and off the field.'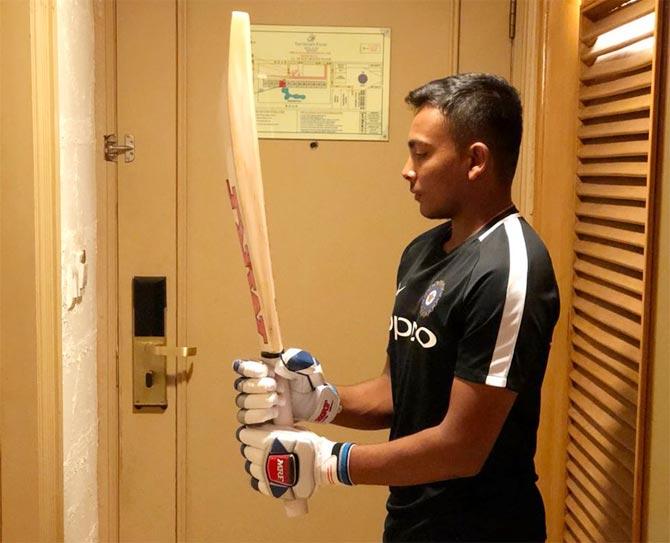 IMAGE: India Under-19 captain Prithvi Shaw. Photograph: Kind courtesy, Prithvi Shaw/Twitter
India's young guns are on a mission!
After their shock loss to the West Indies in the Under-19 World Cup final in 2016, the Boys in Blue will hope to live up to their top billing this time around.
The Indians are led by Mumbai batting sensation Prithvi Shaw who stunned spectators with his impressive showing in domestic cricket last season.
India are placed in Group B along with Australia, Zimbabwe and Papua New Guinea. The first game of the World Cup will be a tough encounter against Australia on Sunday, January 14.
Ahead of the tournament, cricket legend and India's Under-19 Coach Rahul Dravid, who turned 45 on Thursday, January 11, spoke to the International Cricket Council on what the challenges young cricketers face and the one piece of advice he thinks all young cricketers should take on board.
How would you sum up India's preparations for the 2018 ICC Under-19 Cricket World Cup?
It's been good. We started the process almost a year ago in terms of identifying a core group of 35 to 40 kids that we wanted to give exposure to.
We've had a few series, a couple of Asia Cups where we've had the opportunity to see a large group of talent, and just in the build up to this tournament as well they've been playing a lot of domestic Under 19 cricket as well.
We've been here (in New Zealand) for a week before the start of the tournament, played three good games against Central Districts.
We feel happy and we feel that we've given the boys enough exposure and opportunities to grow.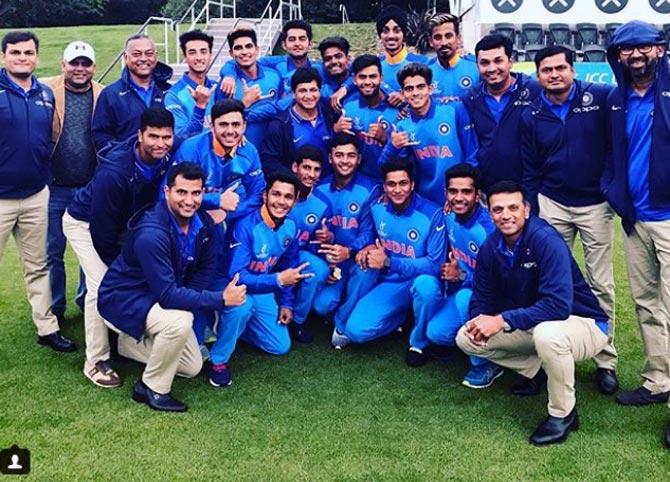 IMAGE: India's Under-19 team. Photograph: Kind courtesy devraj_raut/instagram
What are some of the main differences between now and your day in terms of being an Under-19 cricketer?
We never played this tournament in my day!
After 1988 they didn't hold the tournament for 10 years, so I've no exposure of playing and being part of this tournament.
I tell a lot of these boys that I think it's a terrific opportunity for them to be a part of this tournament.
Irrespective of if we win or lose, I think just to be part of it and experience it all is something that's invaluable for them at this stage in their careers.
India Under-19s' loss in the 2016 ICC Under-19 World Cup final was hard to take at the time, but they've since recovered from the disappointment.
Are there any Indian players in particular you think could have a lot of success at this tournament?
We don't like to focus too much on the individuals.
We believe we've got a very good squad together and the opportunities for us to play well as a team are there.
We've been playing some very good cricket of late, so rather than focusing on individuals and naming a few people, at this age we really believe that every one of these kids is talented and they've got the ability to go on and do well in this tournament, and not only in this tournament but also to go on and play professional cricket and do well there.
Some of the guys are a little bit more experienced than others at this level because they mature and grow a bit quicker, but it doesn't mean that the others can't catch up in a year or two.
How do you view your role as India Under-19 coach?
My job is to look after India Under-19s and also India 'A', and we see that as a really good pathway process in terms of some of these boys hopefully going on to represent India 'A' in a few years' time.
It's an exciting age to be a part of and I've really enjoyed being part of it -- just putting some structures in place and ensuring that we give enough opportunities to a lot of young players at this age.
There is an obvious talent, it's just a question of them getting the opportunities and the exposure to get the best out of it, and to learn more and more because the more we do that at this age, the better we give ourselves a chance of some of them going on to be professional cricketers.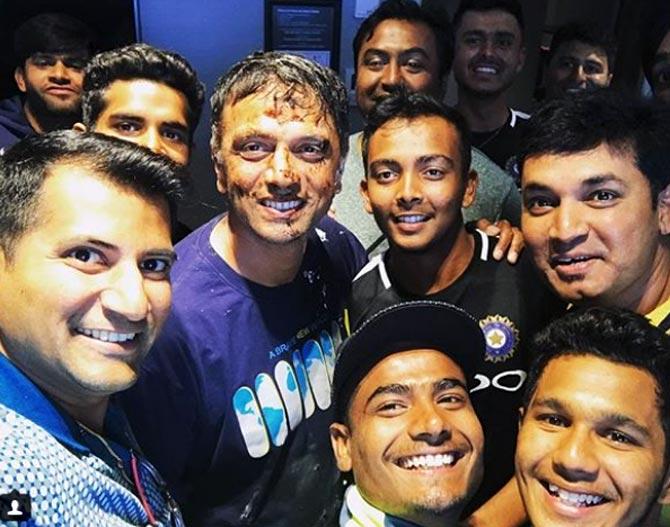 IMAGE: Dravid celebrates his birthday with the team. Photograph: Kind courtesy devraj_raut/instagram
Is the work as a coach you do mostly mental or technical?
I think it's a combination of both. They are really at an exciting age in their careers, the opportunities ahead of them are exciting and the future for them is bright, but there's also a lot of uncertainty and doubt at this kind of age.
So a lot of it is about having conversations around the mental side of the game, sharing some of my experiences of what it felt like to be a young cricketer at this stage of my career.
I think that's the part I find quite exciting, because having been through some of that myself it's nice for me to just to share my experiences with them and some of the things that I've learned over the last 20, 25 years.
There is technical advice, and that's a process as well, we have that in our camps and at various stages throughout the year.
What are some of the challenges an Under-19 cricketer will face as they move into professional cricket?
I think a lot of these kids at the Under-19 level, by the very nature of the fact that they are here, are probably a lot more talented and just have better skill sets than some of the other kids who they compete with.
And then suddenly as they leave this level they compete with people who have better skill sets than them, more experience, and it's just the adjustment of having to deal with that kind of thing is something we find is a big challenge.
They go from being stars in their team and consistent performers at the Under-19 level to men's cricket where not all of them have that level of success straight away.
Having to deal with that is one of the great challenges for a lot of these boys.
It's something we constantly talk to them about, that sometimes it does take them a few years from the Under-19 level to actually get to know themselves better and understand their game and that's fine, that's just part of the process.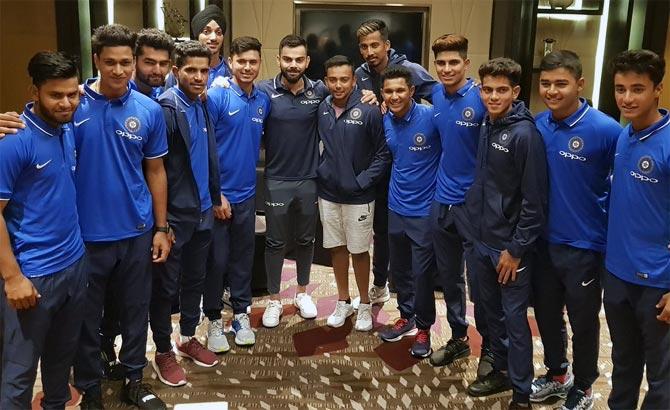 IMAGE: India Captain Virat Kohli interacted with the Under-19 team ahead of their departure for the World Cup. Photograph: Kind courtesy BCCI
Does that mean you'd rather the World Cup was close rather than you dominating?
At this level it's generally quite hard fought, and the skill levels of most teams are pretty much even and equal.
You want close games, but you want to win those games.
But generally I find with Under-19 World Cups it gets competitive, it gets quite tight especially towards the back end of the tournament.
From that point of view, there isn't much disappointment left after losing in the final of the 2016 ICC Under-19 Cricket World Cup.
I think just the experience of playing in Bangladesh is from our perspective more important than the actual winning and losing.
Yes, it would have been nice to win and we played very good cricket until then and had a disappointing final, but the West Indies played better than us and deserved to win, and there's no shame in that.
But I think we see this as more than just that. From our perspective while it would be nice to win I think the more matches we play in these conditions, and outside of the subcontinent itself, is a rare opportunity for a lot of these kids.
I think what we learn out of this tournament is invaluable whether we win or lose.
If you could pass on one lesson to all the young cricketers in this tournament what would it be?
I think the quicker you start learning about yourself and how you tick, and the quicker you start taking responsibility for the way you carry yourself as a professional cricketer both on and off the field, the better.
If you want to be a successful cricketer you need to figure out yourself, both on and off the field.