'I was actually appointed captain for the West Indies tour (in 1971).'
'But Mr Vijay Merchant (the then chairman of the selectors) didn't like me nor did he like 'Tiger' Pataudi. He thought we were far too flamboyant.'
'He made Ajit Wadekar captain.'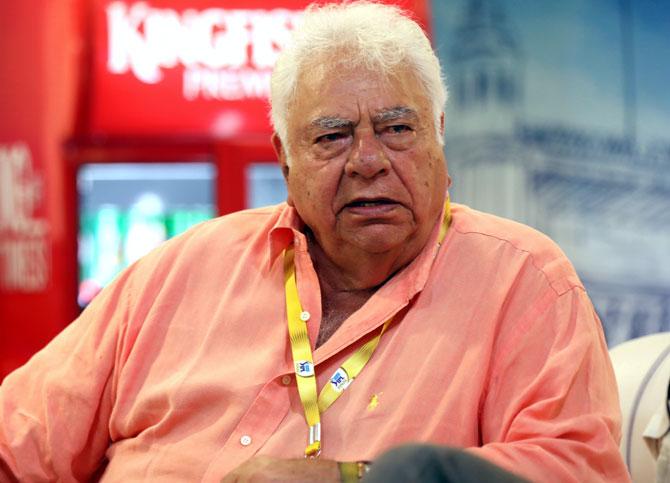 Even at 80, Farokh Engineer remains an entertainer.
Just as he was when he played cricket for India, Lancashire and the Rest of the World.
The last Parsi man -- Diana Eduljee played for and led the Indian women's team -- to play Test cricket for India, Engineer is unhappy that youngsters from his community have lost interest in the game.
He fondly recalls how during his playing days there were four Parsis playing together in the Indian team -- Polly Umrigar, Nari Contractor, Rusi Surti and himself.
The first Indian to play as a professional in English county cricket, when he signed up for Lancashire in 1968, he believes young Parsis have become "lazy".
Engineer, who played 46 Tests and 5 One-Day Internationals for India and was known for his flamboyant batting, is bitter that he is yet to be awarded the prestigious C K Nayudu Lifetime Achievement Award.
In Mumbai to launch the 1886 Trophy between the Parsees and an English team at the Parsi Gymkhana, Engineer is entertaining as always.
Rediff.com's Harish Kotian listens in.
No Parsi man has come close to the Indian team after you. Why is that so?
It makes me wonder that during my time out of a population of around 50,000, 60,000 we had four Parsis in the Indian Test team, but now nobody is not even near the Test team.
I think they have become lazy. They have just had it too good or they are just not interested. We are a nation that supports sports or follows sports, but we should be a nation that should play sports.
Sachin Tendulkar made a good comment in the newspaper that we should be a nation that should be playing sports and not just supporting sports. Someone like Sachin, a great cricketer and an intelligent person, he should be in administration.
We want to see more youngsters playing. There are two Parsi teams in Mumbai -- the Parsi Gymkhana and Parsi Cyclists and hardly a Parsi makes it to the team. I am not being communal here, cricket is being played by all, but it is a sad state of affairs (for Parsis), especially in Mumbai which has such a huge Parsi population.
Since I was a kid cricket was in my system. My brother, a good cricketer, and my father -- who was a doctor and mind you, he was called Dr Engineer; only in Parsis can you get that -- were very keen on cricket and encouraged me from a young age.
In the Parsi family, the mom will feed the kids Malido, Papri and Dhansak and all that. They have become spoilt and lazy and don't want to work hard. This is why I don't think we have Parsi cricketers now.
How was it when four Parsis played together for India -- Polly Umrigar, Nari Contractor, Rusi Surti and you?
It was very good because Parsis are known to have a sense of humour. Ajit Wadekar used to come in the slips instead of Sunil Gavaskar because we were laughing and joking all the time.
It was lovely because our idea was to concentrate when the ball was bowled and then to relax till the next ball is bowled. In the meanwhile, we were always cracking a joke.
We had Rusi Surti, his English was very weak. In fact, it was so weak that he thought that non-metric was a higher qualification than metric. His favourite words were 'Uska baap ka kya gaya?'
I remember one Test match at the Brabourne stadium when Bill Lawry was batting. (Erapalli Ananthrao Srinivas) Prasanna bowled a full toss down the leg side. Lawry tried to hit him, missed the ball and cursed himself.
Surti was taking evasive action initially. The next thing we saw was that he was squaring up to Lawry and asking 'Why are you swearing at me?'
Lawry turns to me and says 'Tell this idiot, I am not cursing him, I am cursing myself for having missed four runs off a full toss.'
I told Surti in Gujarati that Lawry was not cursing him, but he had to come out with his favourite words and so he looks at Lawry and says, 'Whose father what goes.'
I could not keep wickets for the rest of the afternoon. He didn't try to be funny, that was his natural way of talking. (Editor's Note: Rusi Surti, arguably the finest Indian fielder of his time, was the first Indian to play Sheffield Shield cricket in Australia; he played for Queensland and settled down in Brisbane where he passed away in 2013.)
Four Parsis in a Test team from a community now -- we are now about 60,000 in the world and diminishing by the minute -- I think it was very creditable then.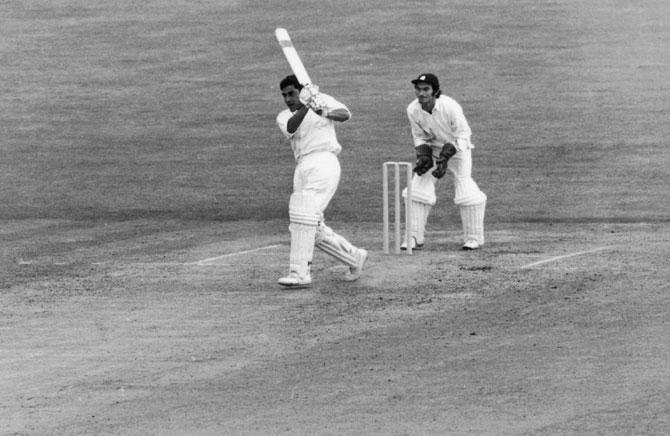 On being the first Indian to sign up for professional county cricket and his long stint thereafter:
I was the first Indian to be invited to play professional county cricket. After me, Bishan Bedi, Sunil Gavaskar, Kapil Dev and Sachin Tendulkar and a few others played county cricket.
In my time, Polly Umrigar, Bapu Nadkarni, G S Ramchand, Vinoo Mankad, they all played in the Lancashire League which is completely different. The team had one professional and the rest were butchers, waiters, farmers and all that.
That was league cricket, whereas in county you had 11 professionals against 11 professionals.
I would love to see more Indians play county cricket because playing county cricket is the best form of education any cricketer can have.
You get a chance to play against the best bowlers and on different pitches. In my time, we had uncovered pitches. All the best bowlers in the world plied their trade in county cricket in that time.
We also had the best batsmen playing so you were against some real competition, very high standard of cricket.
In England, they love to see Indian cricketers playing. I am vice-president of the Lancashire Cricket Club. We are hosting the India-Pakistan match in the World Cup next year and everybody is asking me for tickets to the game.
The tickets were actually sold within 5 minutes, they were around 2 billion enquiries for a capacity of around 28,000. Can you imagine that?
What it meant to win the series 1-0 in England in 1971, the first-ever for India in England.
Wadekar and the rest of the boys flew to Mumbai after the Oval victory after a lot of champagne.
I had to drive back to Manchester from London. In those days, you didn't have chauffeurs in London so I had to drive myself.
I reached home at 3 in the morning and at 10 in the morning I was opening the innings with David Lloyd for Lancashire against Yorkshire.
As I stepped out of the pavilion onto the field of play I got a standing ovation from about 30,000 people -- all of them British.
I had a tear in my eye because I had just been part of the team which beat their team the day before and here they are giving me a huge hand. That show the sporting nature of the British public and the Lancashire people.
I am Lancashire through and through. Clive Lloyd and myself were the two overseas professionals. Gary Sobers and me were initially invited by Lancashire, but he could not agree to the terms with them so I recommended Clive Lloyd. He was my room mate for 12 years.
I was offered the opportunity by four counties to play for them, but I selected to play for Lancashire.
It was a fantastic moment to beat England in England and we also won in the West Indies.
I would like to think that we set the platform for the Tendulkars, Dhonis and Kohlis of this world.
On his golfing battles with footballing great Sir Alex Ferguson:
I live in a football county, there is Manchester United, and there is Manchester City.
All the footballers and their wives, I know them. David Beckham and these guys grew up in front of me.
I used to play golf with Sir Alex Ferguson regularly till his heart condition forced him to take a break from United.
He was a typical Scotsman, we used to play for a bottle of wine and when he won, he used to go to the bar and order a Pinot Noir or something. But when he lost, a typical kanjoos Scotsman, he used to open his golf bag and take out a cheap bottle of plonk.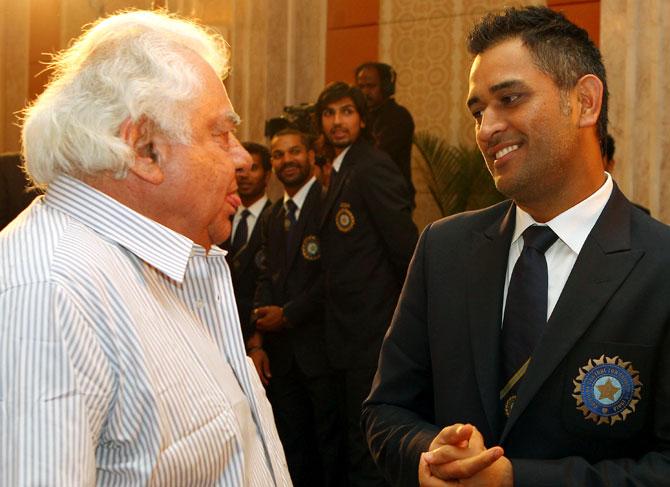 The Dhoni connection:
Dhoni introduced me to his wife (Sakshi Singh Rawat) at his wedding and he jokingly told her: 'Thank God, Farokh Engineer is not keeping wickets these days or I would still be punching tickets at Ranchi station.'
He is such a lovely guy. Sachin brought him up to me in England (in 2007). Because he had never played in England before he was missing straightforward balls.
I had a session with him in the nets and I asked him 'What do you do?' and he replied: 'I see the ball and anticipate it in my gloves.'
I told him that was not the right thing to do. He should watch the ball right till it comes into the gloves because the ball deviates a lot more in the air and off the pitch.
I was doing commentary during that series and as he was gathering the ball he was looking towards the commentary box and showing me the thumbs up sign.
We have a very good rapport. If he sees me a mile away, he will come running and give me a big hug and so will Sachin, and so will Virat.
I was in Trinidad when Virat scored the double century against the West Indies in Trinidad (in July 2016) and when he found out that I was there, he came up to me and presented me the bat with which he scored that double hundred.
Why he missed out on the Indian captaincy despite being the vice-captain:
I was as good as the captain of India because I was doing all the captaincy for Wadekar. They never made a move in the field without me.
I was actually appointed captain for the West Indies tour (in 1971) and I was invited to Bombay to be co-opted on the committee to pick the Indian team.
But Mr Vijay Merchant (the then chairman of the selectors) didn't like me nor did he like 'Tiger' Pataudi. He thought we were far too flamboyant.
So when I reached Bombay to select the team, Vijay Merchant suddenly had an idea that since I play county cricket I shouldn't be playing for India.
I asked, 'Why is that? Clive Lloyd captains the West Indies and he also plays county cricket.'
I hadn't missed a single Ranji Trophy game, Duleep Trophy game or any other domestic game. I was appointed captain because I deserved to be captain.
But he had made up his mind and made Ajit Wadekar captain.
Ajit was a very good friend of mine. I was very happy for Ajit, but I was overlooked for the captaincy then.
In another instance, I was appointed India captain for the Delhi Test (against the West Indies in 1974). Ramprakash Mehra, the senior vice-president of the BCCI, even announced that since Pataudi was unfit and unable to play, I was the vice-captain of the team, so I was to captain in that match.
But the next morning, 10 minutes before the toss (Srinivas) Venkataraghavan suddenly flies in to Delhi in (BCCI president) M A Chidambaram's plane with a letter that he is to captain.
Chidambaram was not even in the selection committee, he was the Board president, so he just made him (Venkatraghavan) captain.
The politics in Indian cricket was sickening and it deprived me of the captaincy which I deserved.
But my first priority was to play for the country. I was proud to be an Indian and hugely honoured to play for India. I was not bothered about the politics and all that.
And do you know Erapalli Prasanna who had taken five wickets in the previous Test, had to be dropped to accommodate Venkataraghavan in the team because he was not even in the 14.
And in that state of mind, I had to go open the batting at the Feroz Shah Kotla. The first two balls Andy Roberts bowled, I hit them for sixes.
They (the West Indians) all knew what was going on in our team. Roberts said: 'Maan, why are you getting it all out on me?' We all started laughing.
Remember when Wadekar left the field with illness during the Eden Garden Test against England who needed another 101 runs for victory with all 10 wickets in hand?
Wadekar had flu or something so he didn't come out on the field and asked me to captain.
My trump card (Bhagwat) Chandrasekhar was there. I told Chandra the only way we can win is to get England all out.
So we set attacking fields and Chandra, the greatest spinner India has had, bowled us to victory.
Chandra was such a lovely person, he was a polio victim and he made that defect into a tremendous asset.
On being ignored for the C K Nayudu Lifetime Achievement Award:
I am really disappointed at not getting the C K Nayudu Lifetime Achievement Award.
Those days, we used to get benefit matches in Sharjah and we used to get 50,000 dollars tax free.
I was the only one to miss out, along with Bapu Nadkarni, because they cancelled it last time.
The BCCI gave us a token of around Rs 500,000 or Rs 600,000 as compensation because we missed out on the Sharjah benefit game. And because of that people feel I have already got the award.
Rajinder Goel and Padmakar Shivalkar were presented with the C K Nayudu Award last year. I am very happy for them. Both were very good bowlers and should have played for India, but they never played a single Test match.
I have played almost 50 Test matches. Those days I used to get just Rs 50 per day and to be deprived of this award has hurt me.
We never played for the money, we played for our country, we played for pride.
I think I deserve that award because I have promoted cricket not only in India but also internationally.
It is one of the most prestigious awards in cricket and I feel bitter that I have been ignored.
I don't know who I have upset. Or what wrong I have done.