Manvinder Singh Bisla is the man of the moment. The wicket-keeper batsman produced one of the best innings of his career to help Kolkata Knight Riders outclass Chennai Super Kings and win the fifth edition of the Indian Premier League.
The 27-year-old's sparkling 89 off a mere 48 balls took the team to victory after they were set a huge 191 in the final.
The right-hander showed his class as he took apart the Chennai bowlers, particularly their spinners, who came in for some rough treatment.
Bisla is yet to find takers in domestic cricket, but after the magical knock his popularity stakes have soared big time.
Last season, he failed to find a team in the Ranji Trophy, and was forced to play league cricket in Bangladesh to prepare for the IPL. This season too he is still searching for a team to parade his skills at the domestic level.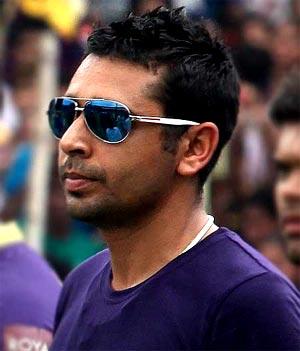 At the IPL, Bisla looked the complete wicketkeeper-batsman, prompting many a critic to say he could be the perfect man to replace Mahendra Singh Dhoni when the need arises.
In an exclusive interview with Rediff.com's Harish Kotian, Kolkata Knight Riders' star performer talks about the franchise's success in the fifth edition, his role in the triumph and how Dhoni inspires him.
Has the feeling sunk in yet that you played such a crucial role in helping KKR win their first IPL title?
It is still going on, you can say. I am just getting used to it.
This was the second time you featured in an IPL-winning team, having been part of the Deccan Chargers' winning team in 2009, when you did not play a single game. Sure, this must be more special.
I got injured before the IPL when I was with Deccan Chargers so I was not part of the team. This year I can happily say that I was part of the team and we won the IPL. It is a very happy moment for all us.
You played a central role with your match-winning knock of 89. That must be satisfying...
It is a very special feeling that I helped my team win their first IPL. But I would say we won because of contributions of all the players in our team. Without all of them this would not have been possible, so I will credit the whole Kolkata Knight Riders team for this success.
You were drafted in to replace wicketkeeper Brendon McCullum at the top of the order, so you had to play the dual role of 'keeping plus giving the team a good start. How much pressure was there going into such a big match?
My captain, Gautam Gambhir, and the team management showed faith in me for such an important match. It is not easy to replace someone of Brendon McCullum's caliber, so I was very happy that I got a chance to play in an important game like the IPL final. I am thankful to God for giving me the opportunity to prove myself and I am happy that I delivered.
What was your game plan when you walked out to bat, because 191 is a huge total, especially in a final? Were you intent on attacking right from the start?
When you are chasing a huge total, you have to attack from the start. You have to play your shots right from ball one,,and when you are up against a tough side like Chennai Super Kings then you have to work hard. But it was not about me only; all the others also contributed in our victory.
Did it help having an experienced batsman like Jacques Kallis at the other end?
Of course, it helped a lot. Playing with a legend like Kallis does help. The way he bats out in the middle gives confidence to the other batsmen too. The same thing happened to me also, because I felt more confident batting along with him.
One of the highlights of your batting was the way you took on the spinners, especially R Ashwin. Did you make a decision beforehand that you would target the spinners?
It was not like that; I wasn't targetting the spinners. It was just that if I felt that the ball was in my area; if I felt that I could hit, I went for my shots.
I was working hard in the net sessions to improve my batting against the spinners. In a couple of matches before the final I was getting out playing from the crease so I was practicing hard on using my feet against the spinners.
Were you disappointed to have missed out on a century in the final?
Not really. It was more about winning the match. I was not thinking about the century. I only wanted to win the final for KKR. All my focus was on that and not on any personal landmark.
What is the point of hitting a century if your team loses? I was only looking to win the match for KKR and trying everything to ensure that. My game from the start was to attack and I was only doing that.
It's okay if I missed the century but the main thing is that we won the match, and that is what counts for me. The team always comes first for me.
Is this the best moment of your cricketing career?
Obviously! I would say winning the IPL is the best moment of my cricketing career.
How much does the IPL title mean to your owner, Shah Rukh Khan? What did he tell the team after the win?
Shah Rukhbhai is very passionate about cricket and KKR. He was so happy. I can't express how delighted he was when we won the trophy. He celebrated with all the players and his happiness knew no bounds. This victory meant a lot to him.
Did he motivate the team before the final?
He came regularly during the tournament and spoke to us. His chats with the players before the match gave us confidence.
Is it true that you started your career as a medium pacer and played as an all-rounder during the India Under-19 team at the 2002 World Cup? When did you switch to wicketkeeping?
That is not right. I started my career as a wicketkeeper-batsman only. In the Under-19 World Cup I played as a specialist batsman because Parthiv Patel was keeping wickets. I was playing only as a batsman and I bowled a few overs in between in one of the games. It was nothing special; so you cannot say that I was a bowler at any point of time.
When it comes to domestic cricket, you have still not settled down and constantly been on the move. You were forced to leave your state team, Haryana, after just one season for lack of opportunities and join Himachal Pradesh in 2003-04; then you signed up with Jammu and Kashmir. What's the reason for all these moves?
I was born in Haryana and played all my junior cricket in Haryana. I could not get into the Ranji Trophy team because at that time Ajay Ratra was playing for Haryana. I was not getting opportunities at that time so I switched over to Himachal Pradesh. Anurag Thakur invited me to play for his state and he supported me a lot. I am really thankful to him for giving me that opportunity.
After that I had a knee injury in 2007 and I could not play for a year. I had a break of one year. Since all the three professionals performed well for Himachal they retained them and I had to find some other team. I went to play for Jammu and Kashmir that time because I didn't want to miss the season and I came back to Himachal the next year.
Last season you did not find a team to play domestic cricket. You went to Bangladesh to play league cricket. How did that happen?
Himachal were relegated so they wanted to change their professionals and I think every association will do that if things don't go right. I was free since last season so I thought with the IPL coming up this year I should play some cricket and get in the groove.
I went to Bangladesh and played league games for some club because I knew that the wickets in Bangladesh and in Kolkata are pretty similar. So it was a good preparation for me coming into this year's IPL.
Have you received any offers from any team to play domestic cricket this season?
Nothing has come as of now.
Mahendra Singh Dhoni is unshakeable since making it to the India side in 2005. Is it discouraging for wicketkeepers like you, because no matter what you do, it is nearly impossible to make it to the Indian team as a keeper?
Mahendra Singh has done a great job since he made it to the Indian team. He has set such high standards that it is really tough to match up to him. I would say he is a legend because he has achieved so much over the years. His batting and keeping is just awesome.
But I would say that we should not get discouraged. We should try to keep working hard, improve and look to challenge him.
You have become an instant hero now after your heroics in the IPL final. How do you plan to take this forward?
Obviously, as you say this is a great opportunity for me. I have always believed in hard work and I know that I should continue to work even harder in the future and take it forward from here.
Playing for India has always been on my mind, because it is the dream of every cricketer to play for his country. I have always worked hard towards it and, hopefully, someday I will play for India.
Photograph: Dipak Chakraborty