'The biggest plus point for Kohli is that leadership is not affecting his performance, in fact it is the opposite, it is helping him.'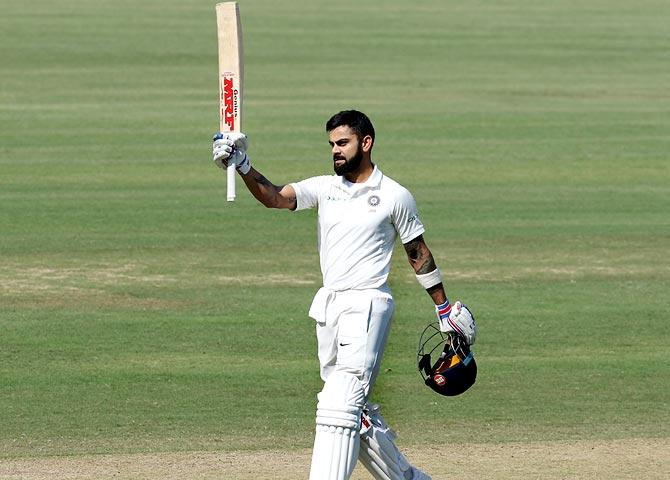 IMAGE: 'Virat Kohli is a very aggressive cricketer and it shows in his captaincy too.'
The captain acknowledges the applause after he scored a double hundred in the Nagpur Test against Sri Lanka, November 26, 2017. Photograph: BCCI
As coach he did the impossible and stunned the cricketing world when he coached underdogs Sri Lanka to the World Cup title in 1996.
Apart from Sri Lanka, he has had a fruitful stint with Bangladesh where he oversaw their first-ever Test win and shock win over India in the 2007 World Cup while also upsetting top teams like Australia and South Africa.
Dav Whatmore narrowly missed taking up the Indian coach's job in 2007 after Greg Chappell's resignation, but went on to coach Pakistan and recently Zimbabwe.
Dav was in charge when Virat Kohli's team won the Under-19 World Cup in Malaysia in 2008. He also worked with the Kolkata Knight Riders from 2009 to 2012.
More than two decades since that Sri Lankan triumph, Whatmore remains one of the most sought after coaches in the cricketing world.
The Sri Lankan-born former Australian player has now taken up a new challenge. The 63 year old signed up his first stint in domestic cricket when he made the surprise decision to coach Kerala, a team not so highly rated on the Indian cricket circuit.
And his experience and managerial skills seem to have made an instant impact with Kerala winning five of six games in the Ranji Trophy group stages to qualify for the quarter-finals.
Dav spoke to Rediff.com's Harish Kotian about what made him sign up for Kerala and how he has turned around their fortunes this season.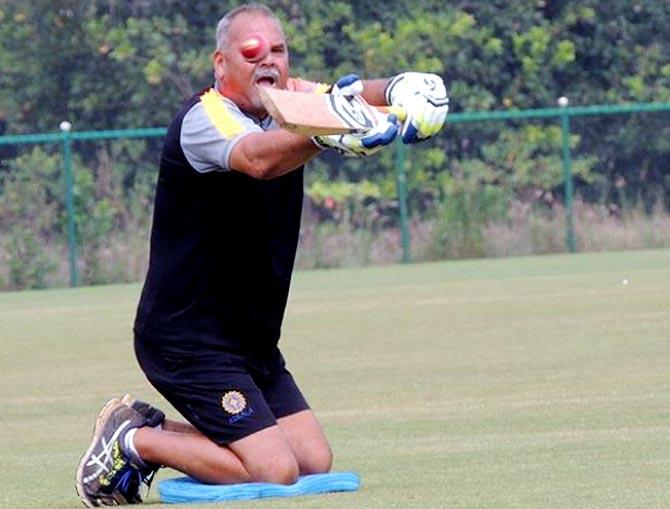 IMAGE: Kerala Coach Dav Whatmore during a training session. Photographs: Kind courtesy: Dav Whatmore/Twitter
Last year, Kerala won just one out of nine Ranji games, but this year they have won five games out of six in the group stages, beating teams like Saurashtra and Haryana to qualify for the quarter-finals. What made the turnaround possible?
I can't comment on last year, but I can tell you that we tried to create a very healthy environment this year.
We tried to pick the right team, we give as much confidence as possible to the boys and we try and manage as individually as we can.
The boys are the ones who go out there and do the hard work, they deserve all the credit.
You have won the World Cup, you have coached so many international teams. What attracted such a famous and successful international coach to Indian domestic cricket?
Potentially, I came to India to start an international academy in Chennai.
The Sri Ramachandra University in Chennai and myself have joined hands and I was here essentially in India because of that.
Then after the school holidays, I responded to the offer from the Kerala team because I had some spare time.
Ramesh Subramaniam, the game development manager at the Kerala Cricket Association, was also working for the Sri Ramachandra University, so he was the common link. He organised the meeting, it went off well, I accepted it and I am happy.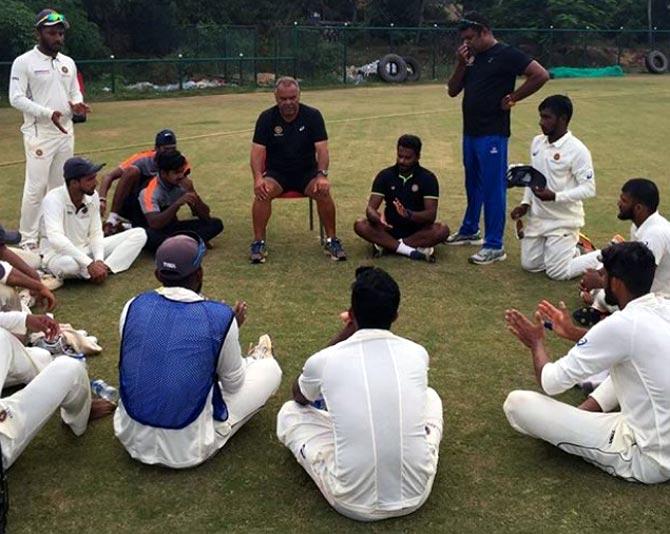 IMAGE: Dav speaks to the Kerala players.
You seemed to have created a cordial team atmosphere in the Kerala dressing room. You cut cakes to celebrate wins and milestones and also wish the players personally on Twitter when they do well.
What sort of coaching policy do you follow because some of the guys are playing under a foreign coach for the first time?
We try to create a free and happy environment in the dressing room. To be honest with you, that's the challenge.
Too often, when the players are not comfortable enough, they are not able to express their feelings.
We still have a long way to go in team meetings though, it is still a little bit too quiet.
But certainly in training, we make a special effort to have fun, especially in the last training session before a match.
We have presentations after the match, a fun thing, silly thing... hahah!
Kerala have players like Sanju Samson and Basil Thampi who look able of breaking into the Indian team. How do you handle these players and ensure that their game improves enough to make it to the next level?
They are both special, there is no doubt about that.
Sanju has performed extremely well this season compared to the previous one.
Thampi is slowly getting more and more confident with his fast bowling, he has got a bright future ahead of him.
But at the end of the day, it is the sheer weight of performances that the national selectors will take notice of.
So we try and create the right environment with the boys to give as much opportunity as we can to let them go ahead and relax and play and we will back them.
How difficult a challenge will it be for Kerala to maintain their good showing in the knockout rounds of the Ranji Trophy when they will come across top teams?
It is a different phase of the tournament. It is still part of the same tournament so there is no point taking on pressure. It is another game of cricket.
We take one game at a time and most teams do the same thing.
I don't see why Kerala can't be as competitive as we have been in the recent past.
I am expecting a full effort and I want the boys to play to their full potential; that is all I want.
I can't guarantee a win, but if these guys play to their potential then I can guarantee they will be very competitive.
How different is it coaching a domestic team as compared to say an international team?
There is not a whole lot of difference, the main difference is that in an international season there is no in season and off season.
In domestic cricket, there is an in season and an off season, so we can prepare and build up.
But in both roles, you are still working with people, you are still in the game.
What is your view on the Indian domestic cricket structure?
I think the Indian domestic circuit is very good.
This is pretty much the first time I am coaching a domestic team and I see the standards are pretty high here.
The umpiring standards are good, the facilities provided are very good and there is a healthy competition going on, though it would be nice to have a few more matches than six.
It is a good structure and it is starting to produce some very good players. The IPL has helped well.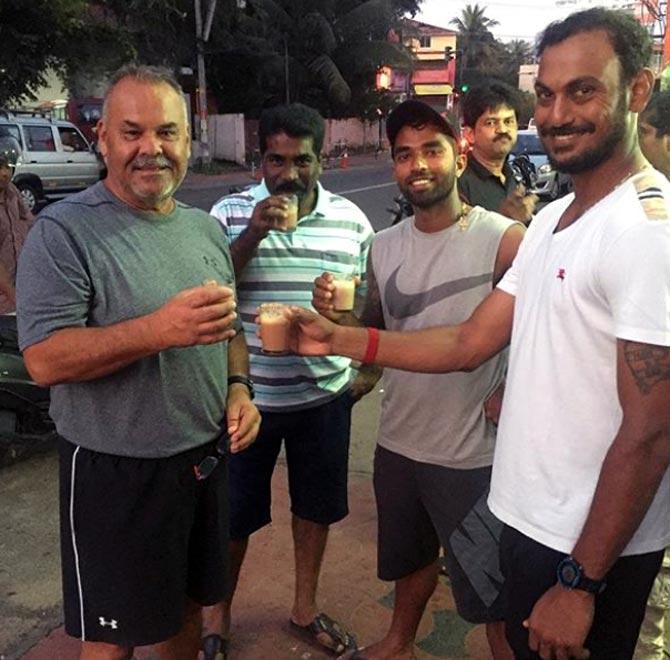 IMAGE: Dav enjoys a chai break with his Kerala team.
'When in Rome.....Sundowner Kerala style - TEA!!!!' he tweeted.
You did the impossible when you coached an unfancied Sri Lankan team to the World Cup title in 1996 and turned them into one of the top teams in the world.
Now when you see them perform so poorly against the Indians and surrender without a fight, how do you feel? What do you think is going wrong?
I think they are sadly missing some big players that have retired in the last two years.
All teams experience such a phase, but the top teams manage to soften the blow of losing their big players.
What has wrong with Sri Lanka is that they have not been able to plan as well as they could have with respect to imminent retirements that were coming along.
So they are suffering from it at the moment, but they will come out of it, maybe it is taking a bit longer than the people would like.
India seemed to have handled the transition quite well, first with Mahendra Singh Dhoni and now under Virat Kohli, the team is going from strength to strength.
I think India have been pretty smart and they have handled the transition very well.
Virat Kohli is a very aggressive cricketer and it shows in his captaincy too.
The biggest plus point for Kohli is that leadership is not affecting his performance, in fact it is the opposite, it is helping him.
So they have managed to find a good leader and his contribution to the team has been quite crucial.
India have enjoyed a fantastic run at home in Test cricket in the last two years. But they now face a tough test when they travel overseas starting with the South African tour next month.
Do you think this Indian team is capable of doing well in South Africa where they are yet to win a series?
This Indian team is pretty strong compared to the previous squad that went there.
With each passing year, the teams are becoming a bit more familiar with foreign conditions.
Moreover, I think the collective team spirit that exists in Indian cricket suggests they are going to be competitive.
It is just a matter of believing a bit more in their abilities in foreign conditions, and just going out and enjoying the game.