The wicket-keeper is a crucial member of a cricket team. Syed M H Kirmani, one of the finest 'keepers to ever represent India, was proof of this adage. Former India skipper Sunil Gavaskar and his Pakistani counterpart Asif Iqbal once rated him as the best in the world. Besides, he was a good lower order batsman.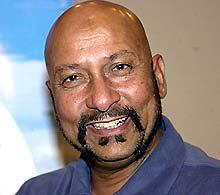 Now chairman of India's national selectors, 'Kiri' was in the news once again when he was pulled up by the Board of Control for Cricket in India for his critical comments about the team's and specifically captain Sourav Ganguly's performance in the Asia Cup in Sri Lanka last month-end.
Harini Rana caught up with the World Cup-winning 'keeper when he was in Mumbai on Saturday to promote Widex Digital Hearing aids, which he used after having a hearing problem before India's tour of Australia in 1981-82, following a jaw injury he sustained while keeping to G R Viswanath. Excerpts:
What goes into making of a quality wicketkeeper?
A lot goes into the making of a wicketkeeper. You need to work really hard, but a fine wicketkeeper is also one who has natural talent. You need to have perfect co-ordination between hand and body movements. The player needs to be spotted by a talented and experienced expert, who will groom him. This is a very important stage for a budding keeper. He should be allowed to keep to the best of bowlers and particularly to quality spinners. Solely, because it is most difficult to keep to spinners than pace bowlers, and that will help the reaction times of the keeper.
In recent times, why have the wicketkeeping standards deteriorated?
I was very fortunate and lucky to have been in a state where legendary spinners like Erapalli Prasaana and Bhagwat Chadrashekar were present.
Right from the grass root level, my talent, my promise and my gifted ability in wicketkeeping was spotted and inducted into the state team unofficially. I was not ready to have played for my state, but my coach Keki Tarapore was a very good judge of talent. I was keeping to the best spinners in the world and nobody has matched my prowess thus far.
Obviously, the quality of a wicketkeeper is judged when he is standing up to the wickets. Anybody can stop the fastest of balls. Standing behind, the keeper has enough time to move and stop the ball. But for a spinner, only a fraction of a second is available to collect the ball and complete the stumping.
The current era seems to have forgotten the importance of this vital link. You can only have quality wicketkeeping when you have quality spinners. The quality, as a result,  has deteriorated, and that, more than anything else, is the reason behind the lack of quality keepers.
Who would you rate the best 'keeper in world cricket at present?
Adam Gilchrist of Australia is the best by far. He has been a gifted wicketkeeper right from the grass root level. Rodney Marsh and the Australian Cricket Academy have trained him. His performance says it all. Of course, he has one of the best orthodox leg spinners in the world in Shane Warne to keep wickets to.
Mark Boucher is the second best, though I would not put him as world-class. But, at the moment, Adam Gilchrist is the best.
What is your opinion about the young Indian 'keepers?
They are all very young and still have a long way to go before they can be called world-class.
Mahendra Singh Dhoni has just started playing well for India 'A' and has a long way to go. He has to keep up the good work.
[India 'A' wicket-keeper Dhoni scored a brilliant century, 119 not out with 9 fours and 5 sixes, against Pakistan 'A' in the ongoing tri-series in Nairobi].