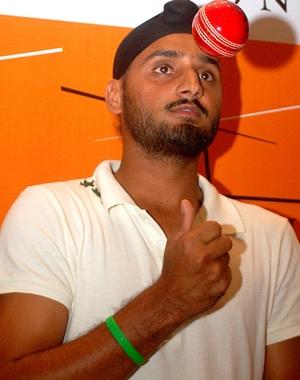 There can be no greater recognition of Harbhajan Singh's abilities than the legendary Muttiah Muralitharan himself predicting that the Indian off-spinner is the only one capable of breaking all his records in Test cricket.
Muralitharan will quit Test cricket at the end of the first Test against India later this month, after playing 132 Tests and claiming a world record 792 wickets since making his debut in 1992.
"I think only Harbhajan can do this. I don't know how old he is or how long he will continue. But he is the only one who can achieve this feat in Test cricket," Muralitharan said of Harbhajan, who currently has 355 wickets from 83 Tests against his name.
Harbhajan, for his part, paid rich tributes to the Sri Lankan off-spinner, saying it would be physically impossible for any bowler to come close to Muralitharan's record.
Before leaving for Sri Lanka for the upcoming three-Test series, India's most successful off-spinner spoke with Senior Associate Editor Harish Kotian.  He discussed Muralitharan's retirement and offered his views on the future of spin in India.
How big a loss will Muralitharan's retirement be for Test cricket?
Obviously, it will be a great loss, because Muralitharan is a legend. I don't think there will be another Muralitharan. The kind of performer he is… someone who has done the job and won matches single-handedly for the Sri Lankan team in the last 20 years. Without him, the Sri Lankan team will be completely different, because those are big shoes to fill. I don't see any other Murali coming along, not just from Sri Lanka but from any other part of the world.
Interestingly, Muralitharan has said Harbhajan is the only one who can break his record in Test cricket. What's your take on that?
It's very sweet of him to say that I can break his record. All I want to say is that he is a legend, a great ambassador for cricket. He's always been my hero. No one can take Muralitharan's place. He was a special talent for Sri Lanka and one of the greatest bowlers cricket has ever seen.
Muralitharan has taken 792 wickets in 132 Tests, exactly six wickets per Test match. Do you think that record can ever be matched?
You can't match his performance. It is physically impossible for anyone to better the record Muralitharan has set. Besides, nowadays you don't play Test cricket as much as we used to a few years back. I don't think any spinner, or any bowler for that matter, has that kind of quality or talent to come close to Muralitharan.
There are a lot of things you require to achieve records like Muralitharan's. You should have talent, good fitness to carry on consistently for such a long time and luck on your side to take wickets. Also, you shouldn't get injured and must play continuously for at least 20 years. I don't see this is happening with anyone.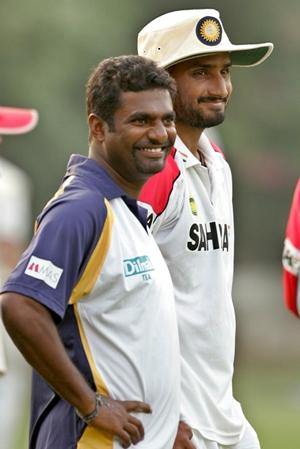 Wouldn't it be great for him to get another eight wickets and quit Test cricket, having breached the 800-wicket mark?
Well, the kind of bowler he is, he is capable of doing that. I don't know what more to say, but whatever he has done is unbelievable! Whether he takes another eight wickets or nothing at all, it won't make a difference to his stats.
It is just a number, after all. It might look nice on paper, but we must salute his achievement of playing all these years, performing at the highest level and being the number one bowler throughout his career.
You two have enjoyed a great rivalry and friendship as well. What kind of a person is Murali?
I do remember spending time or chatting up with Muralitharan so many times. Whenever I needed help or had to speak to anyone with regard to spin bowling, he was always there. He gave me advice whenever I needed it.
The best part is that even if you are from the opposition team, you can still go up to him and talk to him about spin bowling. He has so much knowledge of spin bowling, having played for so many years. He always comes up with advice on how to bowl in different conditions, or in Sri Lanka when you tour.
I want to thank him for all that and for being a very good friend all these years. I wish he continues to have a great life along with his family after cricket.
Now, talking about the Sri Lanka tour, how confident is the Indian team heading into the upcoming Test series, having won the Asia Cup recently?
Obviously, the team is confident after our victory in the Asia Cup. But playing Sri Lanka in Sri Lanka is a totally different thing. It is going to be challenging, but we have the team and potential to do well there. We have to work harder on our game and keep things simple. If we get things right then definitely we will do well in Sri Lanka.
I don't want to predict any series result, but all I want to say is that we have to maintain playing good cricket. We have played good, consistent cricket in the last couple of years and are ranked number one in the world right now. If we continue doing what we have been doing in the last few years, we will definitely do well.
In 2008 we won a Test in Sri Lanka, but failed to win the series. We are yet to win a series in Sri Lanka in 17 years, our last series victory coming way back in 1993. What does it take to win a series in Sri Lanka?
We have to score runs aplenty and also take 20 wickets. These are two vital requirements to win in Sri Lanka, or wherever you play for that matter. 
How big a blow is losing Zaheer Khan ahead of the series?
Zaheer is an experienced bowler and will definitely be missed in this series. But we have talented bowlers like Ishant Sharma. I am confident he will deliver the goods in Sri Lanka. He has done well in the past and this is another good opportunity for him to make a mark in international cricket.
In Zaheer's absence, there will be more pressure on you, since the other bowlers in the squad haven't played much international cricket. Does it add to your workload?
To be honest, whether I play with Zaheer or Ishant at the other end, I only think of what I need to do: take wickets. There will always be one or two players missing because of injury, but we have got good bench strength. I am sure the other players called up will do well.
Apart from you, the Indian spin scene looks vulnerable. When you arrived on the scene, you challenged Anil Kumble all the way. After Kumble's retirement you are India's top spinner, with no other young spinner challenging you. What's your opinion of the up-and-coming young Indian spinners?
I think you need to give them time. You can't expect them to do wonders right from the start. There is obviously talent in the young spinners coming up; they have done well whenever given a chance in limited-overs cricket.
I am sure with experience, and playing more games, they will learn. There is nothing to worry about when it comes to the future of spin bowling in India.
You have made quite an impact with the bat in both Tests and ODIs. Recently you won that match for India by hitting Shoaib Akhtar and Mohammad Aamer for sixes in a tight finish in the Asia Cup. So why are you still not ready to call yourself an all-rounder?
I don't want that tag to be around my neck. I just want to play cricket the way I have been playing so far. I consider myself a bowler who can contribute with the bat. Like in limited-overs cricket, I think I can do a job in the final overs. In a run chase, if the team requires around 30 or 40 runs, I can bat in that situation along with another batsman by hanging around and not throwing away my wicket.
In Test cricket, I back myself to bat well down the order and add few runs to the total. But I don't like to be called an all-rounder because I believe an all-rounder is a player who has scored 5000 runs and taken more than 400 wickets. So someone like that can be called an all-rounder -- like you have Jacques Kallis, who has done well with both bat and ball.
If in future, if I can boast of similar statistics, I don't mind being called an all-rounder. As of now, I am happy to play primarily as a bowler who can contribute with the bat.
None of the senior players turned up for captain Mahendra Singh Dhoni's wedding in Dehradun. Some sections of the media carried reports saying maybe they don't get along well with Dhoni. How would you react to that talk?
All I want to say is they have nothing better to show. They should leave us alone, because this is our life and we know how to live it. It would be better if they do proper investigation before spreading such rumours, which is very bad.
It is very annoying, because every time they come up with something, it is wrong or untrue.
Photographs: Reuters