Former England captain Tony Greig tells Rahul Bhatia what the Indian Cricket League is about, where the BCCI's Indian Premier League is likely headed, and why he would love to have the Indian team play in the ICL but can't.
Greig, who featured in 58 Tests and 22 one-dayers for England, played a big part in Kerry Packer's World Series Cricket. He is now actively involved with the ICL, as its executive board member.
Excerpts:
If the England Cricket Board is thinking of starting their own league, doesn't that make things more complicated?
Of course! Let me go back a little bit. I've always been interested in the rights of players, and it comes from World Series Cricket. When I was a cricketer, I think we were seriously abused by the establishment of the day. And when an entrepreneur turned up -- I was 32 years of age -- firstly, I had to secure myself, and second, you were forced to justify, rather like now, justify your decision. And, of course, the justification for my decision was that this was going to be good for all the players. Because if there was some competition out there, and they were offering us more money.
And sure enough, the next day, the wages of England cricketers went through the roof. They went from 210 pounds to 1500 a Test match. And at that time, I went straight to speak to the players' association, because I was one of the few players seriously involved with them, and the lesser cricketers didn't believe this was good for them. They believed we were risking the game. I said, 'Listen, you guys will all be better off. If the top goes up, the bottom will follow.'
So, with that background, when I was approached to get involved with ICL, having a great love for India -- I've been coming here since 1968 -- I've always thought that India was an underperformer. Not just slightly an underperformer, but a huge underperformer. If you consider the enthusiasm for cricket, which extends beyond the father in the family, or the son who plays it, it's incredible. You put that together with the numbers of people and the size of this place, India should be doing what Australia and West Indies have done on a regular basis. They should really be daylight and the rest. So I've always had this feeling that India, if they can really harness their combination of enthusiasm and size, they would be such a good cricket team it would be unbelievable.
To a lesser degree that applies to Pakistan and an even larger degree to Bangladesh. So I've always been excited at the prospect of getting involved in something in the region. That's what I bought when I bought into World Series Cricket. The first thing I did was went down to see my boss in Australia, James Packer, and I put it to him, telling him 'This is what's happening.' And he says, 'Mate, that's something you've got a passion for, just do it. Just make sure you're contracted right so that if it gets messy...'
But so, the concept that I've been working on, and have been party to try and develop was that the only thing we could do to give ICL some ownership was to have an inter-city competition. Recruit local kids as best we can from each environment, and plug in international cricketers. I mean, that's the basic concept. And then try and grow that situation and at the same time start to work -- I mean, obviously it depends on how much cash there is -- on academies and get them going so that they revolved around our leagues and we had a feeder system going in.
When I was thinking about this, I knew straightaway, because it doesn't take Einstein to figure this out, that the board would immediately want to take steps to either encompass or to push to one side because it's inherent in the mentality of all boards. They hate competition and believe they should own the game, but it's the players' game, and I don't give a damn what anyone says. As far as I'm concerned, administrators are six a penny. They come and go like politicians. There will come a time when we run the game as well. But that's way down the line. So that, in broad terms, is where I came from. And because of the international nature of my association with the game, it was logical that I should be responsible for bringing in the overseas players. And with that goes responsibility. It's never been my intention to unsettle any international cricket team.
In fact, it is of paramount importance that cricketers understand that the things that Tim May and FICA have been fighting for, have been to secure their -- security, if you like -- by having strong contracts with the board. If players work so hard on these contracts, the last thing we want to do is undermine those contracts by pinching players. So much so that in the case of [Shane] Bond, I didn't want to sign Bond. He is at a stage in his career where he is, if not the best fast bowler, then one of the best. So much so that with the help of his players' association down there and the help of his agent, we actually got the board to understand that we would never ever put pressure on the player to play if New Zealand needed him. And they signed off on it. And this is where the problems began. This is where Lalit Modi and the board [BCCI] started to play their games and put pressure on people. This is where things got messy and the board in New Zealand changed their stand. And Bond stuck by his contractual obligations because New Zealand Cricket gave him the go-ahead to proceed with ICL. And so this was an example of the work that went in to ensuring one of the best players in the world actually stayed in the game.
Same applies down in Australia. We have no players from Australia. They are upsetting the Australian applecart. But there is one. Adam Gilchrist has retired from cricket because of the IPL.
Are you sure about that?
I'm absolutely certain that Adam Gilchrist wouldn't have taken the step he's taken… umm… he would have perhaps taken half a step. I'm as certain as I can be that he would have taken half a step to play in either Tests or one-dayers. And I only mention this -- I'm going to get to why in a minute -- because at the end of the day, I work with Channel 9. The channel has a contract with the board. The board has an obligation to ensure that the best cricketers play for Australia. So the board will come under pressure to make sure its players are contracted properly.
This goes back a long way. Kerry Packer used to help them do that when the South African rebel tour was happening. We went and pinched a few players back. So there's a major problem emerging. That problem doesn't come from ICL because we basically hire former international cricketers and those at the very end of their careers. Every state or county I've spoken to has been happy for their players to play in ICL as long as they can fulfill their commitments provided they're wanted.
The pressures are coming via the Indian cricket board. And of course that will end up in court, for sure. That one has already been fought. If need be, it'll be fought again. And that's sad, because it's a waste of cricket's money. My worry is that none of this should happen.
Let's look at what they're asking for. The IPL wants an open window. The concept is a good concept. It's a wonderful opportunity for cricket, and cricket won't get another like this one. I can hardly believe we will ever play a ten-over match. This is an opportunity to get a generation before they are lost to cricket forever in places like North America especially.
Now, put yourself in the position of the West Indies, New Zealand, or for that matter, all countries. Any two months is revenue for the boards. I might be stating the obvious, but unless the boards are given money. But for countries that aren't broke, at the meeting this week, they'll be putting their hands up and saying, 'We agree you need to do this proper, but let's have the money.' But for some people it'll be even more difficult. The West Indies play all their cricket at this time of the year. They're totally dependant on tours by teams like Australia and England. So how they get around that, I don't know. I mean they've got enough problems without that happening to them.
Now in conjunction with that is -- and this is what I think they should be doing, and I'm not sure whether it's even legal -- the issue that these boards have their own academies, and they spend all this money in training cricketers. But [they should say] 'You will only contract contracted cricketers.' The minute a cricketer is a non-contracted cricketer, he can't play in the IPL. Now the logic behind that is, that gives back ownership of the players to the various boards. Because then you won't have a Gilchrist.
England, on the other hand, must be thinking 'You're all stupid.' This is the only country that has an open window, because all the other countries aren't playing cricket at this time of the year. So it's not beyond the realm of possibility, and I know there's been some discussion about this, that they could take a little window in the middle and say 'right, why don't we run an EPL?' And you involve the counties. The counties become the franchise. And if you want to get really smart, and you want to create  Manchester United cricket team and a Liverpool cricket team, that might be a very good marketing idea but it's like getting turkeys to vote for Christmas. There is an ownership that vests with counties in English cricket, and turkeys, we know, don't vote for Christmas. So it may well be that you start with 17 existing infrastructures, and all they have got to do is come up with ground conditions for an English Premier League.
And that could be exactly the same as the Indian one. And they could be like, 'go and pick any players you want, with a limit of five or six overseas players. And the rest would be locals and under-22. It's readymade for it. It creates a further problem. The players are forever telling us they're playing too much cricket. So what does this do to the relationship between the cricketing world and India.  So my feeling is it's all up very much in the air. The whole ICL-IPL-ICC, and it just seems to me that there's a very good chance that we're heading towards a serious confrontation. I don't think that's over-emphasizing the problems. We live in interesting times.
It's only been ten years since India got all this cash and it came to cricket. Modi and these guys have just inherited [Jagmohan] Dalmiya's plans. The players are looking at this mountain of money, and you can't blame them. Andrew Symonds has got US $1.3 million… That's another issue that will cause problems. It's very hard to come to terms with how the Australian team sits there. I'm sure it's market forces, but it'll cause some major arguments among players, and it already has. And so that's why players will head off in different directions. There are some who haven't come with us -- they've gone the other way -- and regretted it. Their bids have been so low it's hardly worthwhile. So I think we're in the mixing pot right now.
For the last year, from what we've been reading and hearing, the ICL has positioned itself as a non-confrontational body. So it's interesting you mention that the ICL, the IPL, and the ICC are heading to a confrontation. Why do you see the ICL becoming a part of this conflict?
If I understand your question, you're asking me why I see ICL becoming a part of this conflict. Number one, we've been branded the rebel straightaway. We've got the bloke leading the IPL doing everything he can to undermine the ICL. So by virtue of that, we're involved. I think we'll get over all that. I think it's only time before the more moderate, sensible people within the board recognize that this is just a ridiculous state of affairs. That they're using only two-thirds of the money out there, that there's another third sitting out there under the ICL banner. Let's involve them. We've got bigger fish to fry out  there. Look, they may not think we're even the slightest problem. I'm sure there are some people conceited enough to think that these guys will just go away. And look, they may be right. Who would be bold enough to predict how long a battle in Indian cricket can go on between Zee and the rest of them? I certainly wouldn't. Everyone who has come into ICL knows the risks they've taken. So I just hope that sanity will prevail. I can't relate to how anyone in the board can possibly justify banning young Indian cricketers from playing in the domestic competition in a country this big. I mean, that smacks of the old raj.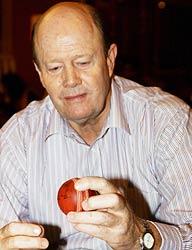 I'm playing devil's advocate here. If you were the BCCI, why would you possibly be interested in the ICL?
Well, because as the BCCI, I suppose, the first thing you would do is say, 'They're not under our auspices, and so aren't legitimate, which is what they're saying, and is what happened during the World Series.' Umm… I suppose if I was in the BCCI, I'd be more inclined to pause for a second before jumping in and banning. I'd be more inclined to resolve the issue in the interests of cricket. Now I understand individuals and the power associated. I don't think Subhash Chandra wants to run the board. He wants cricket on his television network. And he wants cricket that rates and he wants to make some money out of it. No different to Ambanis and the rest of them, and no different from the board. So you're better off at the end of the day having everyone involved, aren't you? I thought it would be better if they were both involved, and the funds from both sides remained in India for the betterment of Indian cricket. These players could play Ranji Trophy cricket, the ICL.
So why not go to the board with this plan, rather than setting up an alternate league?
That is something I just cannot answer. I thought there were discussions between the hierarchy of our organization and the hierarchy of their organization. Obviously there are people in there who said they don't need us. I don't know the answer but I assume that's what it would be. Now I've heard Ravi [Shastri] say that, but I don't know the answer. There are occasions when entrepreneurs will jump the gun and it's not an unfair question. It may just be that Subhash Chandra did jump the gun. Maybe he thought the timing was right after the World Cup. Maybe he was just unlucky in that India went to South Africa [for the Twenty20 World Cup] as a joke, and came back heroes. It's the nature of Twenty20. So maybe he had the right idea on one hand, and got unlucky on the other hand. But I can't answer the question.
Guys in Indian business…here and the world over are very smart, and ultimately the smart blokes will resolve this somehow. It's like the Packers and the Murdochs. They need to have a lot of balls in the air [he meant juggling], and when they come down they find a way of separating them.
In April, when the announcement came out, by which time you were on the board for a while, who took the decision to go public with the decision when there were no players nor any infrastructure in place?
I don't know. It had nothing to do with me. That was very early days for me. I came down from England, on my way back from the World Cup.
When did you first know of the league?
I'd known for a while. It didn't take Einstein to work out that Zee were trying very hard to get into cricket. And I took an interest in this because it was so close -- although many people in ICL don't like to draw the comparison. It seemed to me that as he kept getting knocked back by the board in his efforts to buy the rights, and he kept picking up fringe rights, it seemed like it was only a matter of time before something blew up. And that's what happened. To answer your question, I've been thinking about what was happening. I've been following Indian rights. [Mark] Mascarenhas was a very good friend of mine, so I've been very intrigued by how things go backward and forward. Cricket's so important to television.
What is the role of the executive board?
We've been involved right from the first tournament. Subhash Chandra spent a fair bit of time with his executive team and us, and every evening we would sit down and discuss, as we did in the World Series Cricket, what the best strategy would be. And, yeah, our second stage, which involved bringing in overseas players, was an idea of mine. That we should expand and move it away from an ICL and make it an ACL -- an Asian Cricket League. And maybe even an International Cricket League. There are members of this organization who are very strong on North America. So the ideas are swilling around. Kapil [Dev], Kiran [More] and me. We're chatting about these things all the time. Yeah, otherwise we get our heads down and concentrate on the aspect of the ICL that directly needs to be addressed by us.
One of the things the ICL has portrayed itself as is an Indian league, for the benefit of Indian cricket. Frankly, I don't know who buys that. There are many international cricketers, and few Indians cricket watchers can name. What is the ICL is doing about that?
That makes the assumption that… what you really need to do is say 'to hell with the philosophy'. If you want the man in the street to take notice, you just go out and find players, the big names. But that's not what we're doing. And we couldn't afford them anyhow. If you really wanted to make ICL a success, you'd have to go and buy the whole Indian cricket team and then do what the ICL is doing. I mean, I'm not sure what the IPL is doing for Indian cricket.
For me, the question is that now that the IPL is here, why would anyone want to join the ICL?
[Grunts...]
It's a valid question.
You think it's a valid question. I mean, why would anyone want to join the ICL? It's because they can't get into the IPL. It's going to be a revolution among cricketers. You can't have half a team being paid a fortune, and the other half. What are they going to say? Does that answer your question?
So the ICL positions itself as a second tier. But there's already talk of franchises having their own infrastructure and training…
It's all talk. Let's see how much money they make. We had the same discussion. We would love to build academies everywhere. But at the end of the day, there's a practical thing to this. I don't care how smart the Indians are. They're all sitting there, waiting to see how much money the IPL generates and actually gives to them. So those big organizations are trying to run a business here. And that thing about having their academies… Those sorts of people usually buy what they want. They don't go and create… I see a great similarity here. Kerry Packer, if he was going to go create an academy, it would only be as a PR exercise. His business was in television. And I don't know how they see it in India, but I'd be surprised if they saw it as their role to go create cricketers for India. They will buy cricketers as they have already, to play for them.
You mentioned Kerry Packer, but the difference is that he had a ready audience for cricket, whereas here the logistics are something else, you're waiting for a much longer time, and the most important thing is, you don't have a ready audience, as television ratings have shown.
I think you're making some incredible assumptions. You're flying off in all directions. Have you seen the ratings this week? You're saying they're bad. That's nonsense. We're on Ten Sports now. My understanding is that the ratings are pretty good. We're out there at a broader audience. It takes a bit of time. But for so far what we've seen, these guys are encouraged. But your overall point is what? Basically, 'why would you bother' is the impression you're giving me.
Look, when the ICL was announced, I was excited. We thought, hold on, maybe this is what cricket needs; some competition. And then, as the year went on, the whole meaning of it got fuzzier and fuzzier. We thought, you know, for this league to get off the ground you needed big names. But, like you said, you haven't gone after them.
Sure! It's because we can't afford them! When ICL started, guys like you got enthused with a bit of competition, and whether IPL was on the move or not, it certainly got them going. So there is competition. The very thing you wanted to happen has happened. Then it's a question of whether you can survive. If you can't, you drop by the wayside. I'm not too sure that in the very short time that we've been operating, that we could have done much more. We've got a lot of good Indian cricketers playing, some of them young, some not so young. We've got some outstanding overseas cricketers playing, and lists of them waiting to come. And guys who'd jump ship at the drop of a hat - guys who are currently international cricketers who don't want to be part of the IPL.
You mentioned overseas cricketers who'd join at the drop of a hat. Why haven't they?
There is no room for them. Our rules are very clear. We've bent them slightly for Lahore because of this incredible influx of cricketers. If I had my way, we'd have two teams out of Pakistan, so that we could implement the same rules. But there was a worry that we might end up with a Pakistan final. So we have got squads that have Test cricketers.
So basically the rules that you've put in place…
Look, you can only have as many international cricketers as you have teams.
Right. But you'll are going for 16 teams by next year.
I don't know. But I can promise you one thing. If we have 16 teams next year there will be no problems in getting the extra overseas players.
Did the announcement in April make it harder for you to sign up players?
If I had my way, I'd have done it the way we did it before. Except, you know, with hindsight, when I look back at World Series Cricket, the one regret I had is that we were required to be clandestine. It's a lot easier to be open. But it may be that we would have… I mean nobody knew about WSC for a year. People wrote a few stories but no one believed them. And so we were able to sign up all our players. You weren't going to sign up all Indian players. They were under contract. There are laws that prevent you from breaching your contracts. And in any event, I've got no great desire to pinch guys from their contracts. Talk to Tim May and ask him his biggest achievement. It's to get players decent contracts. If a player chooses to tear up his contract, that's his problem.