'Sachin Paaji told me to enjoy the situation because this is a reward for all the hard work I have put in for so many years in domestic cricket. He told me not to take any pressure on myself, but to enjoy the moment because this will stay with me forever.'
Ajinkya Rahane relives his Test debut and how hard he has worked to become the Indian team's new Mr Dependable in this exclusive interview with Harish Kotian/Rediff.com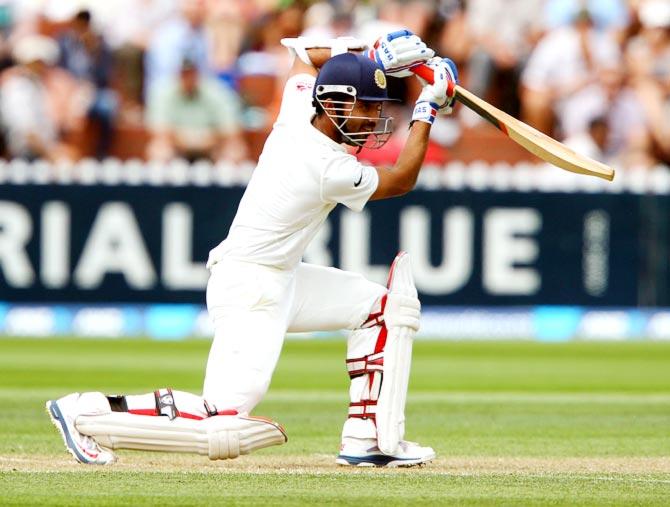 IMAGE: Ajinkya Rahane hits an elegant straight drive. Photograph: Hagen Hopkins/Getty Images
More than his batting, it was his batting position in the Test team which recently made headlines, but Indian team's new Mr Dependable -- Ajinkya Rahane -- is unfazed.
'Jinks' -- Rahane's nickname in the Indian dressing room -- has been India's most consistent batsman these past 18 months across all formats. But it is in Tests that the Mumbai batsman has caught everyone's attention, having hit centuries in New Zealand, England, Australia and Sri Lanka.
Australian legend Steve Waugh felt Rahane 'reminds me quite a bit of (Sachin) Tendulkar' and predicted 'he is going to score a lot of runs for India.'
The 27 year old proved his versatility when he switched from No 5, where he had achieved a lot of success in Tests, to the more difficult No 3 position in Sri Lanka, and came up with a match-winning hundred in the second Test in Colombo.
Jinks had a forgettable Test debut when he failed in both innings in the Delhi Test against Australia in March 2013. After a long wait of two-and-a-half years, he got another Test where he had the chance to underline his credentials as one classy act.
Harish Kotian/Rediff.com caught up with Jinks at the Mumbai Cricket Association Cricket Academy at the Bandra-Kurla Complex in suburban Mumbai in September, before the South Africa series.
A lot has been said and debated about your batting position in the Test team. Can you tell us about your role in the side?
The responsibility has grown and I love to take up responsibility. I would say I have matured a lot and have got the chance to learn a lot.
Even when I was out of the Test team, I picked up a lot by just observing our senior players. The journey so far has been good.
With extra responsibility my game improves and it also gives me an opportunity to contribute towards the team.
How different is batting at No 3 from No 5 in Test cricket? Does it involve any different kind of preparation, both mental and technical?
I think it is more important to adjust mentally than technically. What happens at No 3 is that you have to be very careful with your shot selection than at No 5.
At No 3 you have to take a bit more time to find your feet, but at No 5 you take much less time to get adjusted because you have already observed your openers, the No 3 and No 4 batsmen and you get a fair idea of how the wicket is playing.
At No 3, sometimes you have to play the new ball and initially you have to cut down some of your shots, which you would have otherwise played, till you get set.
I believe there is not much technical adjustment, but more of the mental part.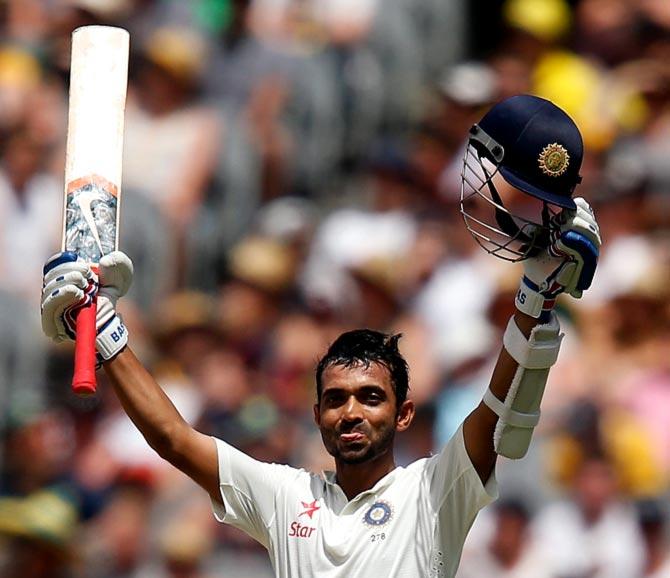 IMAGE: Jinks celebrates his century in the third Test against Australia in Melbourne, December 28, 2014. Photograph: Darrian Traynor/Getty Images
Do you have any preference in the batting order? Where do you feel comfortable?
For me, the most comforting thing is that the team management thinks I am comfortable in any position I am assigned. They trust me so much and if they give me responsibility of batting in a particular position I also respond positively to it.
The key thing is that the team management trusts me and has the confidence in me to do a particular task.
And I believe that if you come out of your comfort zone and perform well then it means a lot and that is also the biggest challenge for me. I am ready to bat at any position the team management wants me to.
Did you prepare differently when asked to bat at No 3 for the second and third Tests in Sri Lanka?
In Sri Lanka, when I was told I would bat at No 3 I told our assistant batting coach Sanjay Bangar that I want a lot of practice against the new ball. On match days, we would go early to the stadium, by 7.30 am, so that I could have a session of 30, 40 minutes against the new ball.
You have to prepare mentally and put that message in your mind (about batting at No 3) so that both your mind and body are ready for it.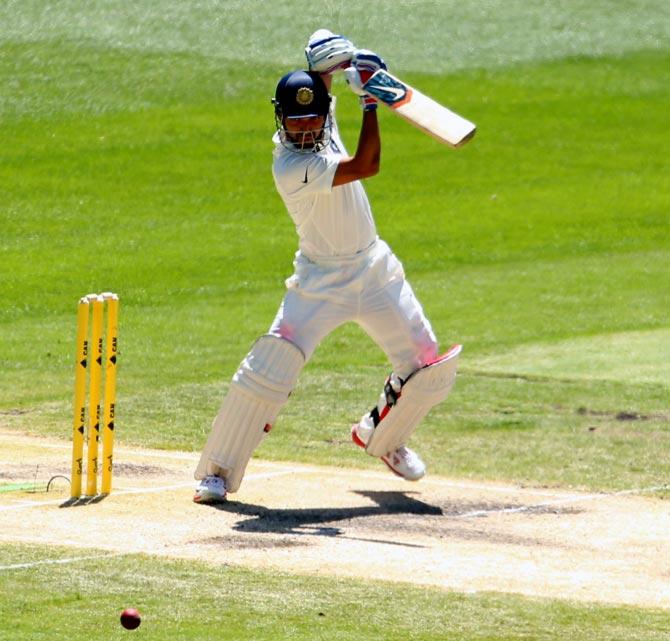 IMAGE: Jinks hits a boundary through the off-side. Photograph: Scott Barbour/Getty Images
How do you prepare before the start of a series?
My physical preparation for a series starts at least 10, 15 days before it begins, but mentally around a month before I start visualising things as to which bowling attack I will be facing, the conditions I will encounter and other things.
I have always given a lot of importance to my preparations. I believe that if you prepare well and if you train well, things get easier once the series starts.
Along with responsibility, I am sure you would also like to maintain your consistency. Was it disappointing that while you scored a crucial century in the second Test against Sri Lanka, but you failed in the other five innings of the series?
Definitely! Whenever you walk out to bat your aim is to do well and contribute for the team. And when you are consistent, it benefits the team. My focus is always to score a century to maintain that consistency.
All these things keep happening, sometimes a batsman scores runs; sometimes he gets out, but if your thought process is correct and your attitude is right, then that makes the difference.
You started as someone who was looked upon a Test specialist but have adapted so well to all three formats. Nowadays, you even talk of dominating the bowlers. How have you evolved as a batsman?
I have improved a lot. I always strive to improve my batting every day and try to learn about my batting every day. This is an ongoing process that will continue till I play cricket.
At the highest level, if you want to play for a long time you should know how to dominate bowlers because if you are able to dominate the bowlers then you put pressure on the entire opposition team.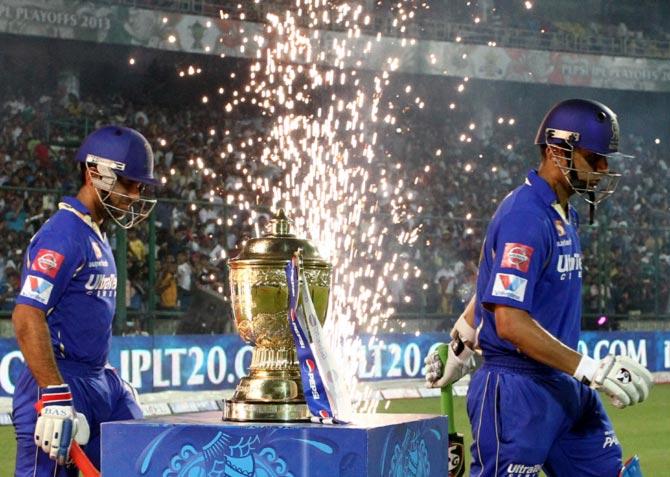 IMAGE: Jinks walks out with Rahul Dravid to open the batting for the Rajasthan Royals against the Sunrisers Hyderabad in IPL 6, 2013. Photograph: BCCI
Would you say that batting defensively is also a type of domination? For example, playing out a session where you deny the opposition any opportunity to get you out in difficult conditions. Rahul Dravid, under whom you played at the Rajasthan Royals, did that successfully for so many years at the Test level.
I agree. Dominating does not mean you have to play the big shots and attack the bowlers. It actually means what your intent is, like being positive and confident while defending or leaving the ball. That intent is the key thing.
I have always believed that dominating does not mean coming out and going after the bowlers. There may be some phases in Test cricket where you have to defend and play out time. So there are different ways of dominating the bowlers in Test cricket.
Before making it to international cricket, you played quite a few years for Mumbai, one of the powerhouses of Indian cricket. In the Indian Premier League, you represent Rajasthan Royals under a great cricketer like Rahul Dravid. Would you say that also contributed in your overall growth as a batsman?
I consider myself lucky that I have been in the right place at the right time. I am thankful to God that I have met the right people at the right time in my career.
Playing for Mumbai is a big thing, we all know the history of Mumbai cricket and their success at the domestic level and the number of great batsmen they have produced over the years.
When I was playing Ranji Trophy for the first few years, I would observe all the players and try to learn from them. I believe that you learn from each and every player in the team, whether experienced or a newcomer.
I have always given importance to the learning process and the experience of playing in domestic cricket has really helped me at the international level.
Ravi Shastri's term as Team Director has been extended along with the support staff. This is quite a different set-up from the past wherein you have three assistant coaches under Shastri. How comfortable is the team in this set-up?
This combination is working quite well for us as you can see. Ravibhai is a positive person and he pushes everyone to give their best at all times. He has been with the team for quite while now and he knows the attitude and the game of every player in the squad.
Having an experienced player like him with us and having him in the dressing room supporting us at all times is a big thing for us.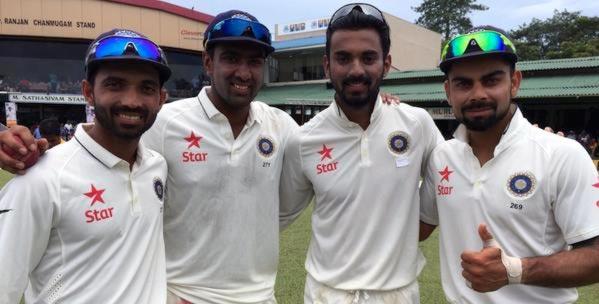 IMAGE: Ajinkya Rahane, Ravichandran Ashwin, K L Rahul and Virat Kohli during the Test series in Sri Lanka last month. Photograph: Scott Barbour/Getty Images
The Test series against South Africa will be a huge test for the Indian team. Dale Steyn is capable of doing well on any kind of track. But all the Indian batsmen have had a look at Dale and played him quite a lot during the last few seasons of the IPL. Would that be an advantage for India?
Yes, that would come in quite handy. We played him quite a lot in the IPL and last year during our tour of South Africa. But every day is different and you need to respect the conditions and opposition.
What is important is that how you play on that particular day because the past does not matter. For us, it will be important for us to give our best in the middle, look to win the matches and sustain the momentum.
Of your 18 Tests so far, you have played only one Test at home, way back in March 2013 when you failed in both innings.
I am not thinking on those lines that I have to make up for those two failures. I never think like that. I always play with the right attitude and that is to do well for the team and try to improve every day as a batsman.
I don't want to think about the failures in that Delhi Test and put unnecessary pressure on myself. I want to keep my game simple, my batting simple and prepare in the right way so that the results take care of themselves.
Do you remember the time you came out to bat on your debut. You joined Sachin Tendulkar in the middle. What were his first words?
Sachin Paaji told me to enjoy the situation because this is a reward for all the hard work I have put in for so many years in domestic cricket. He told me not to take any pressure on myself, but to enjoy the moment because this will stay with me forever.
How much has Ajinkya Rahane changed since that Delhi Test?
Definitely, there have been a lot of changes, especially the mindset. My attitude has always been the same. I always look to play with that same attitude and I am sure it will never change.
The mindset has changed with more and more cricket at the highest level. I constantly look to improve every day and become a better player with every match.
I am sure that the improvement in my game also benefits the team because for me the team always comes first.