'I don't want it to be a batting affair otherwise you could just walk in with the umpire, with the bowling machine, put your hat on the bowling machine, walk away...'
Brett Lee tells Harish Kotian/Rediff.com how Twenty20 cricket has changed the dynamics of cricket.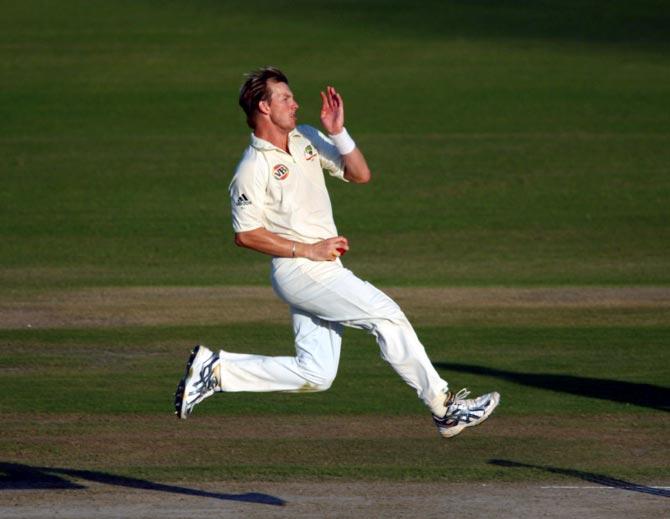 IMAGE: Brett Lee bowls during a Test against India in Mohali, October 2008. Photograph: Michael Steele/Getty Images
Brett Lee's extra pace made him one of the most-dreaded bowlers of his time.
Lee took 310 wickets in 76 Tests -- the fourth highest by an Australian bowler in the longer format.
He is credited with having bowled the second fastest delivery ever in the history of cricket, recorded at 161.3 km/h, ranking behind Pakistan's Shoaib Akhtar.
In his very first Test in Melbourne, in December 1999, he stunned India with a five-wicket haul.
He has also sung a single You're the One for Me with the legendary Asha Bhosle, and played a small part in the 2009 cricket-based Bollywood movie Victory.
Harish Kotian/Rediff.com caught up with Brett Lee in Mumbai where the Aussie spoke about the impact of Twenty20 cricket, why a bit of controlled aggression is needed in the sport and why he regards A B de Villiers as the best batsman in the world.
How much has cricket changed since the time you made your debut?
We have seen a new format of the game come through, the Twenty20 version. Batsmen are becoming more attacking, they are making up shots.
We have seen how A B de Villiers moves around the crease. He doesn't even look where his stumps are. The game is changing; it is becoming harder for bowlers around the world. It is one of those things where as a bowler you try and do your best.
Is de Villiers currently the best batsman in the world across all formats?
He is definitely up there. He is a wonderful player. You can throw Steven Smith in the mix as well. AB is destructive.
I bowled to him most of my career and he was a guy I enjoyed playing against. In the last three years he has really come out of his shell.
How difficult was it bowling to someone like Virender Sehwag?
When you are bowling to Viru, he was that type of a batsman that the first ball of a Test he might try to hit you for a six. I think he carved a new platform in Test cricket and he showed other batsmen around the world that he is capable of being aggressive, and an attacking opening batsman. He averaged nearly 50 throughout his career.
David Warner has followed in Sehwag's footsteps, and he is a wonderful player too.
Australia and New Zealand will play the first ever day-night Test using a pink ball. Are you convinced with that experiment?
No one really knows, that's the thing. I am not sure yet. If it brings in more people then it's great.
I have always said that they can experiment with T20 cricket and 50 overs cricket but leave Test cricket pure. But if it's going to increase the number of people who go and watch a game, then it's good for the game.
How much has T20 changed the dynamics of cricket?
Even in Test cricket nowadays they are scoring a lot more freely.
If you bowl any ball down the leg side it is a wide so as a bowler you get a very small margin of error whereas a batsman is allowed to do whatever he wants, he can do a switch-hit, he can run at the bowler, whatever he feels like. The batsmen can use as thick a bat as he wants.
I don't have a problem with that, but then maybe there should be a bit more leniency against the bowlers in order to make the game a bit more balanced.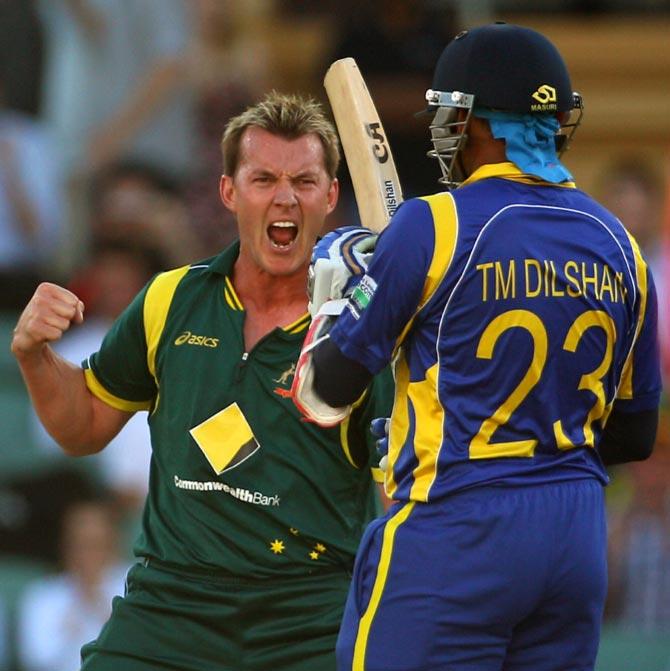 IMAGE: Brett Lee celebrates taking Tillakaratne Dilshan's wicket during an ODI game in Adelaide, March 2012. Photograph: Cameron Spencer/Getty Images
What is your view on aggression in cricket? Ishant Sharma was handed a one Test ban for his altercation with some Sri Lankan players during a match.
I don't support somebody getting suspended. But then, you don't want to turn the game into a bunch of puppets running around, just going through the motions. You need to have exciting players, you need to have characters, but there is a line that you don't cross and if you cross (it), then obviously you get punished.
I like bowlers or batsmen showing controlled aggression, there should be a bit of aggression in them, but not too much.
As far as Indian bowlers are concerned, they get a lot of tough wickets. India is a tough place to bowl. I have always said that let's put the onus on the ground staff, let's tell them to prepare wickets that are more conducive for fast bowling because 438 is too many runs in a One-Dayer.
Is it difficult for a fast bowler in today's times?
It is always difficult for a fast bowler, in any format of the game because you are putting your body on the line every single time you bowl the ball. But that's the exciting part and that is the reason why not many people can do it consistently because it's so hard.
You have also got to offer opportunities to the bowlers and that is field placements, the length of the boundaries, the pitch conditions and obviously the rules.
I don't want it to be a batting affair otherwise you could just walk in with the umpire, with the bowling machine, put your hat on the bowling machine, walk away, it's the same thing.
Are you looking at a career in coaching?
At the moment I am wearing a couple of hats. One is the commentator which I love because it keeps me current in the game, it allows me to look at the youth coming, to help young fast bowlers like Pat Cummins and to see his progression.
I am very lucky. I have worked very hard throughout the 20 years of playing cricket. I don't call itwork.
IMAGE: Brett Lee in Mumbai. Photograph: Hitesh Harisinghani/Rediff.com
What brings you to India?
I am the global ambassador of Cochlear and we are working to change the lives of millions of people around the world. You think about people who are born completely deaf, so children before the age of three or four can get the implant done and by the time they are six or seven, they are back living a happy and normal life in an environment where they are interacting with their families and friends and that is so important.
We always say that no one deserves to live in silence.