South African ace JACQUES KALLIS says upsets are caused by the favourites losing concentration rather than the underdogs outplaying them
It doesn't matter how many times people tell me that team 'A' will beat team 'B' easily, I will never believe until it happens.
When I was a schoolboy I used to take certain results for granted, and would then suffer the double pain of an upset. Likewise, if my team was the underdog, I remember that victory felt twice as good.
So it really doesn't make any difference to my attitude or approach that we are playing against the Netherlands rather than one of the top-ranked teams. I know that many people will believe I say that just to be 'politically correct', but it's the truth.
Even if the Netherlands hadn't scored 280-plus against England, even if we knew almost nothing about them, I know my preparation would be the same -- and I'm sure the same applies to the rest of the team. I'm convinced more upsets are caused by the favourites losing concentration rather than the underdogs outplaying them.
Although I was quite happy to be one of the last teams to start, and I enjoyed an extra couple of days of rest and preparation, I must be honest and admit that the last week has just started to drag a little!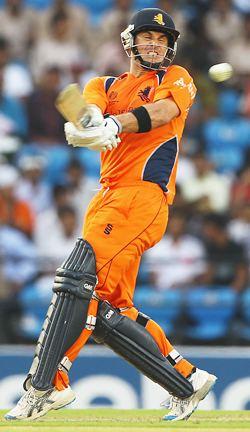 I enjoy the format of the World Cup because I believe that having an extra couple of days between games is one of the things that makes the tournament different to every other series or competition. It makes it special -- but two games in the two weeks is taking it to extremes. Half the teams have played three games already!
Once we get into the swing of things, however, and we approach the busy end of the tournament, perhaps the extra rest and slow start we enjoyed will help us to gain momentum when we need it.
But for a different set of circumstances I might actually have been a team mate of the Netherlands' best player, Ryan ten Doeschate. Both of us went to school in Cape Town although he is five years younger than me. By the time he was being selected for Western Province I was lucky enough to be involved in the national squad and then, of course, his life was changed when Essex offered him a trial and a contract on a pre-season tour to Cape Town back in 2003.
He has done brilliantly since then and has become quite a traveller having played in five different countries â€" soon to be six when he joins me at the Kolkatta Knight Riders. A couple of weeks ago I wrote about how sad it was that there are fewer and fewer genuine all rounders in the world game these days â€" I failed to mention 'Tendo' as one of the ones who is still going strong.
For some teams the tournament has really started taking shape and they've even started thinking about possible quarter finals. For South Africa, however, we couldn't be further from that. If the World Cup was a 10,000 metre race, I wouldn't even say we were at the starting line.
We're still in our tracksuits. But we're warmed up, loose and ready to go.
- HAWKEYE COMMUNICATIONS / CHIVACH SPORTS
-Photograph: Getty Images