More significant than the individual, match-winning efforts of Imran Tahir, AB de Villiers and Dale Steyn, was South Africa's selection of three frontline spinners in the match against the West Indies, says JACQUES KALLIS
South African cricket has been categorised by many things during my 15 years, but it is fair to say that spin bowling has not been one of them.
Even when Paul Adams was mesmerising people with his unique action, he was regarded more as a 'special addition' to the bowling attack rather than at the forefront of it.
It was a stunning debut for 'Immy' Tahir, yet another brilliant performance from Dale Steyn and a fantastic century by AB de Villiers. But perhaps even more significant than all three of those individual, match-winning efforts, was the selection of three frontline spinners.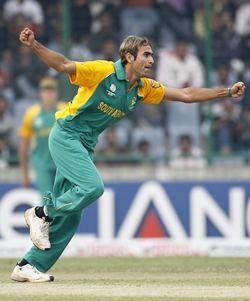 It's fair to say that South Africa hasn't done badly over the last couple of decades by sticking to our strengths and doing what we do best. Fast bowling has been one of the cornerstones of our success and it made perfect sense to keep building both our Test and one-day team around that.
But now circumstances have changed and we had the courage of our convictions and faith in our three spinners.
As I said before the game, we genuinely have 15 players competing for a place in the starting XI and that is very exciting.
It wasn't always the plan to choose all three spinners against the West Indies and I'm quite sure that we will rethink the composition of the team before every game. It may have seemed harsh on Lonwabo Tsotsobe missing the opening game after his recent form, but I also have no doubt that he will be selected soon and given his chance.
I must say, however, that he accepted the decision with good grace. Team results are far more important than anything an individual does.
I was especially impressed with the way Imran was able to relax and play the same sort of cricket which has brought him so much success over the last ten years or so. I expected a part of him to want to keep it simple and just keep the first few overs tidy, but, instead, he did what he has always done and bowled for wickets. It was very exciting to watch.
Another man to trust his instincts was AB. Once again, he might have considered keeping it very simple and just trying to consolidate after I was dismissed at 20-2, but he showed belief in himself and did what he does best, which is attack the ball rather than defend it.
It would be wrong of me not to mention Graeme's captaincy -- and his batting, for that matter. It was an inspired decision to open the bowling with Johan Botha although collecting the wicket of Chris Gayle in the first over was being a bit greedy! Just as AB was trusting himself to attack, Graeme played the perfect foil and made certain that he wasn't dismissed until the game was virtually won.
A very good start. But a long way to go!
HAWKEYE COMMUNICATIONS / CHIVACH SPORTS