JACQUES KALLIS says he's happy to score twos and fours for the rest of the World Cup as long as someone keeps scoring centuries and South Africa keeps winning.
Scores of four and two aren't quite how I imagined starting my tournament from a personal point of view, but, as always, the moment individuals in any team start getting concerned with personal performances ahead of team results they are missing the point and are asking for trouble.
Despite the many occasions in the game when you need to focus on your own contribution for the sake of the team, players must never lose sight of the fact that cricket is a team game and that the result for the eleven, the whole squad and, in the case of the World Cup, the nation, is all that counts.
Having said that, I was very pleased to be able to contribute with the ball against the Netherlands on Thursday! A couple of days ago I said how excited I was to play a full and active part of the attack once again because I'm as fit as ever and enjoying my bowling as much as I ever have.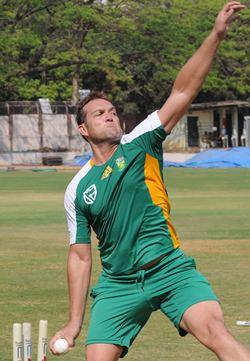 It's been a while since I played the role of 'third seamer' -- but I'm not sure I've ever been the third seamer out of a total of three! Once again we selected three spinners and it paid off. But our options remain open and that strategy, I'm certain, will be reviewed with an open mind before every game.
The only blemish on a pretty good day all round was the horrible dropped catch by Morne Morkel off my bowling! But every cloud has a silver lining and big Morne now owes me two bottles of the finest South African wine when we get home. To be fair, it did swirl around a bit on its way down. I'm just glad it didn't hit him on the head.
As I assured everyone before the game, we treated the Netherlands with exactly the same respect we would give any other team here. You just cannot be complacent or take anything for granted, as Ireland proved to such dramatic effect against England. We all watched that match and became increasingly transfixed as Kevin O'Brien produced his fairytale, once-in-a-lifetime innings.
It was breathtaking and I trust the whole of Ireland celebrated that night. Having been to Ireland and experienced their zest for life, I expect they are still celebrating. But I?wasn't the only one to notice how tired England looked. They have had a crazy schedule for months on end and sometimes both the body and mind let you down under pressure, no matter how strong the desire or how hard you train.
Two centuries in two innings for AB de Villiers and another one for Hashim. The world's top two-ranked ODI batsmen are showing how and why they are top of the list. As far as I'm concerned, I'd be happy to make twos and fours for the rest of the competition as long as someone keeps scoring centuries and we keep winning.
- HAWKEYE COMMUNICATIONS / CHIVACH SPORTS