India, says Shankar Acharya, can stay at or near the top in the ICC Test and ODI rankings for a year or two, but it's downhill thereafter.
Every Indian has views on two subjects: Pakistan and cricket. I am no exception. India's thrilling win in Mumbai to lift the 2011 cricket World Cup is perhaps an opportune moment to write my first cricket column.
First, let's state the obvious. It was a terrific tournament. Even expert, non-Indian commentators have expressed that view. There was so much to admire and celebrate: Kevin O'Brien's fantastic century which powered Ireland to win against England; Bangladesh's heroic win against England; Lasith Malinga's superb hat-trick against Kenya; the amazing India-England tie in Bangalore; New Zealand's spirited victory over South Africa in the quarter-finals; Shahid Afridi's splendid bowling and captaincy, including the convincing win against Australia; outstanding centuries by Ricky Ponting and Mahela Jayawardene in the final stages … the list is endless.
And, of course, there were India's three successive nail-biting victories against Australia, Pakistan and Sri Lanka in the knockout stages, which won India the crown after 28 long years.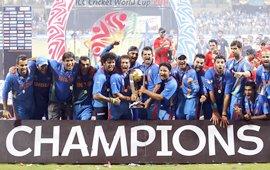 Surely, this is the oddest moment to worry about the future of Indian cricket. It's more appropriate to ask the question that a well-known TV news anchor was asking a panel of former international cricket captains the day after India's fabulous win: Has the period of India's dominance over international cricket begun?
The panel of cricketing greats politely acknowledged India's unrivalled batting strength but gently wondered about the penetrative capacity of the bowling -- Allan Border did enter a caveat about our batting skills on non-Asian pitches.
My answer to the TV anchor's triumphalist query is more forthright. The Indian team has peaked. Perhaps we can stay at or near the top in International Cricket Council (ICC) Test and one-day international (ODI) rankings for a year or two but it's downhill thereafter.
Here's why. Take the bowling first. Even today, the bowling attack would struggle to bowl out a quality opposition twice in a five-day Test match. That we recently topped the ICC Test rankings has a lot to do with three years of excellent bowling by Ishant Sharma.
And where is he now? Without a pace bowler of his quality, Zaheer Khan cannot be expected to shoulder the burden of the pace attack almost single-handed. And even Khan, though he was terrific in this tournament, is a medium-pacer with a bag full of swing and seam tricks. India simply lacks a really good fast bowler (consistently above 140 km/hr). Sreesanth has the pace but lacks accuracy, control and variation. Can Khan, who turns 33 in October, be counted on as a top-flight pacer for more than two years? Ergo without a couple of new quality fast bowlers, our pace bowling attack is in trouble.
Even in the spin department, our attack may be over the hill. Anil Kumble has gone. Harbhajan Singh still takes wickets but fewer than in the past.
In this World Cup, India's second best (after Khan) wicket-taker was Yuvraj Singh, usually described as a part-time bowler. The good news is that, unlike with pacers, there is a visible bench strength in the likes of Piyush Chawla, R Ashwin and others who can develop into match-winning performers.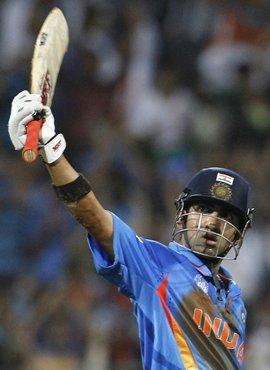 Let's turn to our vaunted strength: batting. The line-up certainly did well in this tournament, barring the astonishing late inning collapses against South Africa and England. But our highest run-getter was the redoubtable and iconic Sachin Tendulkar, who turns 38 this month -- another two years at the most for this great man in international cricket?
Just think, three years from now our Test team will probably not include Tendulkar, Laxman and Dravid, three batsmen who are generally credited with the best technique to play on all surfaces and who have contributed hugely to our past Test match successes. Sehwag still destroys opponents' opening attacks at times but the frequency is diminishing. He has made up for lack of technique with his superb hand-eye coordination. But how long can that extraordinary gift last? The Nawab of Najafgarh also turns 33 in October.
Without these four giants, our batting line-up will look a lot less formidable, especially in Test matches. Can the likes of Gautam Gambhir, Yuvraj Singh (often out of the Test side), Virat Kohli, M S Dhoni, Suresh Raina and others fill the gap? In my view, it's a very tough task. Three years from now we may still field a strong ODI batting unit, but for Test matches -- especially outside the subcontinent -- the prospects look a lot more bleak.
So I think we have peaked. But there is a silver lining. The exhilarating triumphs of this World Cup will motivate thousands of young cricketers. Money could pour into coaching and facilities. Who knows, five years hence there may be a fresh cohort of talented youngsters vying to play for India. Let's hope they include some good fast bowlers of the quality that Pakistan routinely produces. Then we can climb a new summit.
Let me now mention a few things that caught my attention and sometimes detracted from these wonderfully uplifting and exhilarating past few weeks.
First, I certainly agree with all those who rank Dhoni's captaincy in this tournament as simply outstanding. And his 91-not-out in Mumbai under huge pressure was a stellar captain's knock which won us the Cup. But this gifted skipper could show more grace in victory. At the award ceremonies in the last two big matches the opposing captains, Shahid Afridi and Kumar Sangakkara, were most gracious in praising the performance of the winning Indian team.
In neither case did Dhoni return the compliment. It would have been so easy and so fitting to say a few words praising our worthy opponents, who came so close to beating us.
Second, what is the need for the ICC, the Board of Control for Cricket in India, and central and state governments to shower money, tax breaks, land plots, and lifetime free passes for train and air travel on an already rich group of cricketers (many of whom earn huge fees from endorsing products and services)? Isn't winning the World Cup its own reward?
Third, after the tournament was over, why the rash of resignations from captains of competing teams? I can understand Ponting's; his captaincy had been questioned for a year or more. But why did Afridi and Sangakkara have to tender resignation after superb individual performances and great captaincy?
Finally, on a positive note, there was the Holmesian "dog that didn't bark". In none of the high-profile matches, especially the ones at Mohali and Mumbai, was there a terror attack. In theory, such events must be high on the target list of terrorist groups. Luck may have played a big role. But we should thank enormously the massive security apparatus that was marshalled to deter and screen out potential threats.
After all, if things had gone wrong, they would have been in the cross hairs.
- The author is Member, Board of Governors and Honorary Professor, Icrier
Photographs: Getty Images