An emotional Sachin Tendulkar admitted that Saturday was the "proudest day of my life" after India beat Sri Lanka by six wickets in the final to win the cricket World Cup.
"Couldn't have asked for more. This is ultimate. It is the proudest moment of my life," said Tendulkar, in an emotionally choked voice.
"I thank the team for putting up a fabulous performance and playing consistent cricket," the maestro added.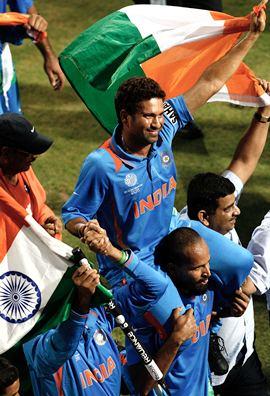 Tendulkar, who did a lap of honour on the shoulders of his teammates, said that there were tears in his eyes once Dhoni hit the six that clinched victory.
"Yes, they were happy tears. So I don't mind. We have stuck together through ups and down," stated the smiling legend.
Tendulkar, who missed out on his 100th international ton, lavished praise on the support staff, especially adventure and motivational expert Mike Horn who joined the team a few days back.
"I want to thank Mike Horn. The sessions with him were of immense help. Also I want to thank Gary Kirsten and Paddy Upton. They have to be given the credit as they instilled a bit more self belief in us. We have been very consistent during the last two years and this is a result of that," Tendulkar said.
Photograph: Getty Images