India, says ANIL KUMBLE, have done really well against Australia in the recent past and they need to reinforce that view in Thursday's World Cup quarter-final.
When this World Cup is done and dusted, history might view this as the event that definitively ended the career of one of the world's great players, also one of its finest captains.
No one would know this better than Ricky Ponting, as he goes into the match-that-might-change-it-all against India at Motera today. If there's been one underlying topic of discussion at this Cup, it's been about how Ponting seems to have lost focus on both his captaincy and his batting.
People have already moved to talking about what's going to happen to him post the World Cup and there is no way that Ponting, an intelligent man, is unaware of all the talk around him. I think he'd be under tremendous pressure, the kind he's never been under through a long and largely exceptionally successful career, which is probably why he'd also be finding it a difficult situation to cope with.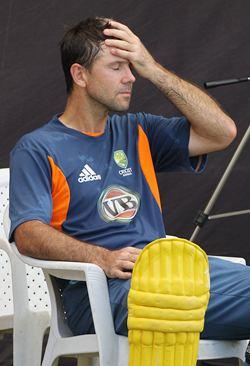 Yet, despite the statistics and records in that career, he now has no choice but to prove his captaincy and himself as a batsman yet again. This is where India's great advantage lies. If they get him out cheaply in case Australia bat first, they'd have him under even more pressure for the rest of the game.
It's absolutely vital to keep reminding the opposition about the chinks in their armour through your body language. India have done really well against Australia in the recent past and they need to reinforce that view in this all-important quarter-final.
They have to be buzzing from ball one. India, in the field so far, have gone through some steep highs and lows. There have been times when they have looked focused and attacked every ball (like after a wicket has fallen) but more often than not, they've looked lethargic, and lacked intensity. They will have to be up and about every ball.
Although Australia haven't looked particularly with it either, they're in the quarter-finals, they've won the last three World Cups and they came into the tournament as the world No. 1 team. They have players like Shane Watson, who are capable of turning a game on its head and as a team, they can never be underestimated. And yes, Ponting will be looking for redemption -- how better to get it than against India, the favourites of both the crowds and the bookmakers.
But Australia will be heavily dependent on their fast bowlers. Logically, they'll be looking at sending down a barrage of short-pitched deliveries, into the Indian batsmen's ribs. If the Indian openers can ward those off and get off to a good start, then Australia are in trouble. If you're 60 for no loss against Australia, they don't have a second line of defence. If you are 30-3, then they'll be all over you.
As for India, I think if the wicket takes a bit of spin, they have a great advantage and I'd go with a 2-2 combine that they've been favouring, and play Zaheer, Munaf, Harbhajan and Ashwin. With Sehwag back in, one of Pathan and Raina should go out and while I'd stick with Pathan and avoid experimentation, it's a possibility that Dhoni goes with Raina.
Whatever the final XI, India should be all charged up. If all the world's a stage, this is where the arc-lights shine brightest. The Cup awaits.
- HAWKEYE COMMUNICATIONS / CHIVACH SPORTS