Saturday's final against Sri Lanka, says ANIL KUMBLE, provides India a great opportunity to win a second World Cup title, and the ideal script for Tendulkar to get a hundred in his home town.
As cricketers, this is the moment we all live for. Having been there before, I can sense the nervous energy that must be flowing through both camps, who will be itching for the action to begin because often, the longer the wait, the more edgy you tend to become.
India are perhaps fortunate that they haven't had much time after the Pakistan game. That semi-final ended on Wednesday night and the final is on Saturday, which probably is to their advantage because they have not had that big break where you can sometimes relax mentally.
The Pakistan game was a very high pressure one, as any India-Pakistan game invariably is, and it places huge demands on your mental reserves.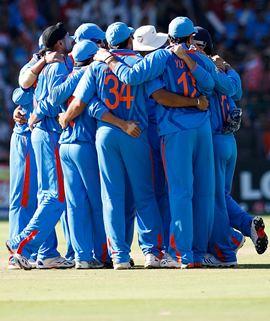 India came through that examination quite brilliantly. They were emotionally tested and passed that test with flying colours. When you are involved in such a draining game, there is a chance of a letdown if you have four or five days before the next match. In this instance, they won on Wednesday, travelled on Thursday, trained on Friday and will play on Saturday. Perfect, I feel!
- India-SL World Cup final: The facts, figures
For India, it's a great opportunity to win a second World Cup title, and the ideal script would also include Sachin getting a hundred in his home town, in a World Cup final. Having said that, I don't know how much he will appreciate the fact that along with 1.2 billion people expecting him to make a hundred, a former colleague too is adding to the pressure!
Without intending to compare the quality of the two sides, I think this team is better prepared for the final than we were in 2003. By that, I mean that they have won more finals and trophies than we had going into the 2003 final, against a tough Australian side. The current outfit has players who were in the World T20-winning side in South Africa, in the tri-series in Australia in 2008, in various other triangular tournaments and in the Asia Cup final last year. They know what it takes to win finals, and that is always a huge positive going into such a massive contest.
- What to look out for in India-SL final
The teams have taken different paths to the finals. Sri Lanka have hardly been tested, and while that shows that they have won convincingly, I would rather be in the position India find themselves in. India have been pushed, they have been in pressure situations, all their players have been challenged, and they have overcome all those challenges. They have beaten the West Indies, Australia and Pakistan in successive games, while Sri Lanka's only wins against Test-playing nations have come against New Zealand (twice) and England.
The fact that Samaraweera and Silva haven't had too much batting, that Jayawardene hasn't scored a lot of runs after his hundred in the first game, and that Angelo Mathews has been ruled out will all play on Sri Lanka's minds. They have generally relied heavily on Dilshan, Sangakkara and Jayawardene against India, and they will be wary of what can happen if these three fall cheaply.
Sri Lanka will particularly miss Mathews, whose absence will affect the balance of the team. Even against New Zealand when there was a slight wobble in the semis, it was Mathews who steered the team home. He is a vital link in their unit, and Sri Lanka will be forced to replace one player with two, in a manner of speaking.
Yes, India too will miss Ashish Nehra and his huge experience, but Sreesanth could come in because there will be some swing on offer and Ashwin might have to sit out again. Who knows, the big stage might just bring the best out of Sreesanth.
- HAWKEYE COMMUNICATIONS / CHIVACH SPORTS
Photograph: Getty Images