India, says ANIL KUMBLE, need to tell themselves they must win the next four games on the trot to lift the World Cup.
India need to treat their final league game against the West Indies five days from now as a pre-quarter-final. They need to tell themselves that they need to win the next four games on the trot to lift the World Cup. It's a simple enough goal and it's not one that is beyond them -- they have won much more than four games in a row in the past.
They also have to spend the next few days being absolutely clear in their thought and methodology about what needs to be done. For that, the players need to introspect and be completely honest about how each has gone about playing in the tournament so far.
There's not been one game where things have gone according to script and that is critical. They also need to think on their feet, adapting to a game on the go.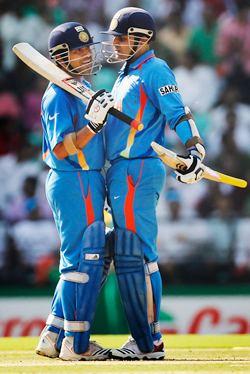 In the loss to South Africa, for instance, perhaps the batting Power Play could have been taken in the 16th over, when Sachin and Sehwag were running riot. Given their form, it would have completely demoralized the South African strike bowlers if the Power Play had been taken then and, perhaps, not allowed Dale Steyn, always dangerous, to come back into the game with such vengeance.
But each event is a learning experience and if the players keep their heads and stick to their roles, it shouldn't be as difficult a task as it seems at the moment. At the end of it, you need to have clearly defined roles. If Gambhir or Kohli's role is to bat 50 overs and rotate the strike, and Yuvraj and Yusuf's are to hit, then the first two don't have to get after the bowling. They have to follow that role-play. Unless, of course, you're in a zone where everything you touch hits the meat of the bat.
Of course, the advantage India have is that the game against the Windies is the league stage's final game. By the time they face off in Chennai, they will know exactly what they need to do and who their quarter-final opponents will be if they win or lose or even, whether they need to win to make the quarter-finals.
With Bangladesh beating the Netherlands and moving to six points, this has really become an open group. At this point, England, on five points at the moment, need to beat the Windies in their final game to have a chance of qualifying.
Let's assume they do. Then, if South Africa beat Ireland and Bangladesh manage to pull it off against South Africa, India could be in a must-win situation against the West Indies to avoid a "down to the net run rate" situation (this, however, depends on the margins of victory and defeat in matches involving other teams too).
It's a strange set of affairs, given that India are still the Group B table-toppers as of today and yet, we're talking about qualification. The table, obviously, is not a true reflection of performance, which it really should be.
Clear roles really help. See how New Zealand, despite fitness issues with players including Daniel Vettori, have thumped the minnows comprehensively and, more importantly, looked like a unit that is firing on all cylinders. Their batting has been solid, they are bowling to a plan.
England, on the other hand, have looked jaded. It's never easy when you're coming into a big tournament on the back of a long trip and injuries, but, still, theirs has been a confused, confusing campaign.
Again, no script. They should have won against India, they tied. They should have lost to South Africa, they won. They should have beaten Ireland, they lost, just like they lost to Bangladesh! And, yes, they struggled against Holland.
So now they find themselves in a must-win situation against the unpredictable West Indies on Thursday, in order to stay in the World Cup.
India will be hoping they aren't in that situation come Sunday.
Photograph: Getty Images
HAWKEYE COMMUNICATIONS