Will Chahal-Yadav spin India towards the 2019 ICC World Cup in England, asks Chetan Narula.

IMAGE: Kuldeep Yadav and Yuzvendra Chahal celebrate J P Duminy's wicket in the first ODI against South Africa, Durban, February 1, 2018. Photograph: Rogan Ward/Reuters
Here's a simple question. Who are the foremost spinners in world cricket at the moment?
If you ask any random cricket fan this question, R Ashwin and Ravindra Jadeja are likely to crop up in the top few names.
Nathan Lyon will find a mention too. Afghan sensation Rashid Khan will be in the mix as well.
Oddly enough, there is a high chance that all four will be missing from the 2019 ODI World Cup in England.
Lyon isn't a suitable fit for Australia's limited overs' aspirations. Khan may or may not qualify for that big tournament (we will know in March when the ICC Qualifiers are played in Zimbabwe).
But it is the Ashwin-Jadeja case that is most peculiar.
Until eight months ago, when the 2017 Champions Trophy was hosted in England, they were India's primary spinners in the ODI format.
However, they endured a poor tournament on batsmen-friendly pitches -- a mere five wickets at an average of 83.2 in five matches between them.
The lack of wickets in the middle overs was a key reason why India lost to Sri Lanka in the group stage, and then to Pakistan in the all-important final.
It prompted the team management to look elsewhere -- more specifically, in the direction of wrist-spinners Kuldeep Yadav and Yuzvendra Chahal.
So much so, that since the loss to Pakistan in the Champions Trophy, India has always fielded at least one leg-spinner in ODIs.
That isn't the statistic to marvel at.
Instead, sample these numbers since the Champions Trophy. Ashwin has played only three ODIs, while Jadeja has featured in two matches, both on the tour of the West Indies in the latter half of June 2017, immediately after that tournament.
Ashwin didn't even make the ODI squads against Australia, New Zealand, Sri Lanka (twice) and now South Africa.
Jadeja was called up once, earlier against Australia (October 2017) but didn't get to play a game.
In the meantime, both Chahal and Yadav have featured in 20 matches each. At the time of writing this article, in the three ODIs on their first tour of South Africa played, the duo has shared a staggering 21 (out of 30 available) wickets between them.
In comparison, when Ashwin-Jadeja visited here for the first time, their combined return was two wickets in three matches at average 180.5.
This is a mind-boggling differentiation, whichever way you look at it.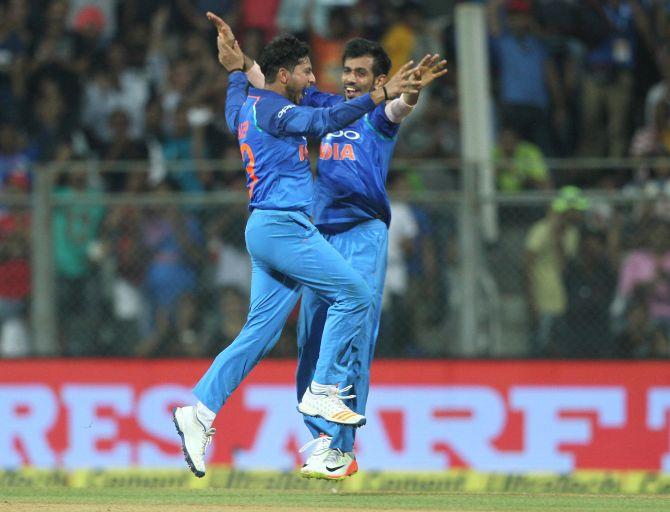 IMAGE: Kuldeep Yadav and Yuzvendra Chahal celebrate New Zealand skipper Kane Williamson's dismissal in the first ODI, in Mumbai, October 23, 2017. Photograph: BCCI
"I am here to take wickets. I don't mind giving away a few runs. We are not here to give cheap economical figures," is the common refrain from the wrist-spin duo.
Whether it is Chahal talking, or Yadav, both these spinners emphasise the need to attack batsmen at all times.
The underlying point here is what sets them apart from Ashwin-Jadeja. They are not afraid to toss up the ball, again and again, perhaps egged on by the team management's call for more wickets in the middle overs, if not their own personal desire to leave a mark.
The Indian Premier League experience, too, has been a vital factor, for they have done so repeatedly against the best international batsmen in the toughest format for any bowler.
"As wrist spinners, we knew they would pick up wickets (here in South Africa). They are brave in tossing up the ball and always looking for wickets. They have bowled on flatter pitches at home, and taken wickets. Here, they like conditions even better, with some bounce and spin through slower pace of delivery. They have given us breakthroughs like we haven't seen before," Virat Kohli said.
This is but a minor variance in words from when the series began.
Ahead of the first ODI in Durban, the skipper had outlined that India had nearly all their bases covered for the 2019 World Cup.
In a sense, he was guarded, given how this is the first proper overseas tour for both Chahal and Yadav.
Now that they have passed the test with flying colours, even perhaps surpassing expectations, there is immense confidence in the dressing room that the first-choice spin combination for that all-important tournament in England has already been unearthed.