'Dhoni may be hoping that luck stays with him for a couple of months more.'
'He may want to step down on a triumphant note, holding aloft the World T20 trophy on April 3,' says Haresh Pandya.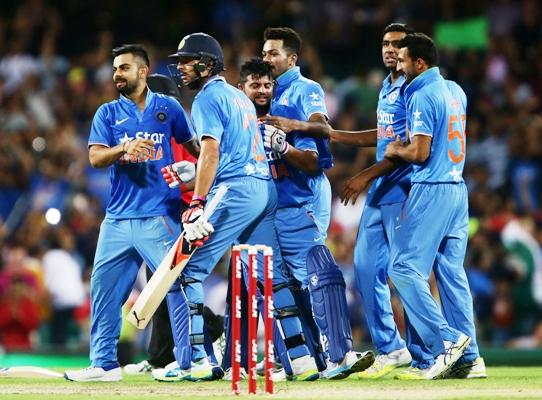 The charm of cricket lies in its unpredictability. The Australian tour that began on a sombre note ended with a sweet symphony for the Indian cricket team just when most, including its diehard supporters, had written it off Down Under.
India is going to host the ICC World Twenty20 next month and the convincing 3-0 series win in cricket's latest and shortest format could not possibly have come at a better or more proper time for Mahendra Singh Dhoni and company.
Suddenly, many cricket experts and former players, including Brian Lara, are considering India the hot favourite. And rightly so.
After having lost four ODIs in a row, the Indian cricketers were all but down Down Under. Worse was predicted in the T20 series. But a close, consolation, win in the final ODI injected a much-needed dose of renewed confidence in the despondent side.
A couple of players may have shone a bit more than others, but it was a sustained collective effort from a rejuvenated Indian team that brought the Kangaroos down with a thud.
The last-ball win in the nail-biting third T20 game, chasing down a mammoth 198 run target, put the seal on India's supremacy in cricket's shortest version.
In Shikhar Dhawan and Rohit Sharma, a powerhouse of batting, India has two most dynamic opening batsmen ideally suited to T20 cricket.
Adventurous, flamboyant and innovative, they are capable of tearing any attack apart and scoring at a frenzied pace. There is a good understanding between them and, what is more, both are in mid-season form.
At the key one-drop position is Virat Kohli, arguably the world's finest and most consistent batsman in all three formats at the moment. Kohli's importance to the Indian team could be understood from the fact that more often than not its fortunes revolves around his success and failure.
Kohli's very game and approach appear to be tailor-made for Twenty20 cricket. He is a sure striker of the ball. An explosive batsman who could be devastating at times. Without ever looking brutal or savage like Chris Gayle or David Warner, he times his shots sweetly and places the ball beautifully while scoring consistently quickly and prolifically.
The trio of Dhawan, Sharma and Kohli is followed by the likes of Ajinkya Rahane, Suresh Raina and Dhoni. Each one of them has proved his ability beyond doubt in limited overs cricket.
Rahane is a more compact batsman. But he has often shown that he could be destructive and play big shots. Of course, he can also hold one end together in a crisis.
Both Raina and Dhoni have proved over the years that not only do they love to play shots, but they also complement each other when batting together and battling it out there in the middle. The two have a reputation of being good finishers.
How Raina finished off the third T20 game against Australia with a four off the last ball will remain etched in memory for long.
And then there is Yuvraj Singh.
He may be an aging lion, but he can still roar as fiercely as in his prime, when he hit Stuart Broad for six sixes in an over in the inaugural ICC World T20 tournament in South Africa in 2007. Yuvraj offered a glimpse of his hunger for hitting when he smashed a four and a six off the first two balls of that last over at Sydney in which India had to score 17 runs to beat Australia.
In allrounders Ravindra Jadeja, Hardik Pandya and Ravichandran Ashwin the Indian team has three useful batsmen down the order. While the more experienced Jadeja and Ashwin can be attacking, fresher Pandya has already a reputation, built in the IPL, for being a ferocious striker of the ball.
A batting line-up like this can often set or chase down a target in the range of 200. And it surely will in the World T20. It will not be easy for any set of bowlers to contain the Indian batsmen, cheered on by home crowds.
This powerful batting line-up would be expected, from time to time, to compensate for India's still somewhat poor bowling regardless of the T20 triumph Down Under. Bowlers are always at the receiving end, anyway, in the slam-bang cricket heavily loaded in favour of batsmen.
The emergence of Jasprit Bumrah, who unlike most Indian speedsters bowls stinging yorkers, and the return of Ashish Nehra, who is still good enough to bowl at a lively pace with all those deceptive variations and that threatening late inswinger, have lent a balance and some respect to the attack already featuring two outstanding spinners in Ashwin and Jadeja.
There are also other bowlers to choose from. Dhoni is too experienced and wise a captain to miss using the golden arms of Yuvraj and Raina in an emergency. The two are good enough slower bowlers, who can bowl a full quota of four overs, or share them, so an extra batsman could be included.
Apart from the brilliance of his players, a bit of luck might have helped Dhoni in the second half of the Australian tour. He may be hoping that luck stays with him for a couple of months more.
He may want to step down, and announce his retirement, on a triumphant note, holding aloft the ICC World Twenty20 trophy at Eden Gardens, Kolkata, on April 3.