'None of us has the right to tell Sreesanth what to do with his career and it is childish to expect him to hold the torch of our bogus cricket patriotism,' says Aakar Patel.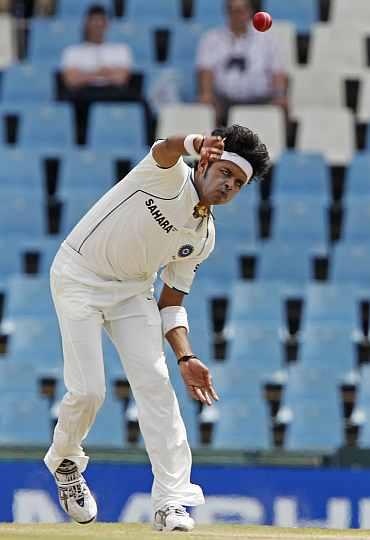 IMAGE: S Sreesanth bowls during the second Test against South Africa in Durban, December 29, 2010.
His blinder of a delivery to Jacques Kallis was likely the turning point in the Test that India won by 87 runs -- it moved from just short of length and Kallis had no other option but to fend at it, only to glove it to Virender Sehwag at gully. Photograph: Reuters
About 30 years ago, the West Indies under Clive Lloyd began declining and the Australians under Allan Border had become the world's dominant team.
The Australian team had many left-handers, including Border himself, and the opening batsman Kepler Wessels, who was actually South African.
Wessels changed his nationality because he could not play for his native country, which was banned from world cricket because it practiced apartheid, denying its black and Asian and mixed population the right to vote.
A few years after that Graeme Hick, who was Zimbabwean, played for the English team.
Kevin Pietersen was a South African who also decided to play for England.
In more recent times, Luke Ronchi has played for both Australia and New Zealand while Eoin Morgan has played for both Ireland and England.
Clearly these countries don't have a problem with individuals from other nations playing in their teams, and nor do they have a problem with their citizens moving elsewhere to seek a career in cricket when they think their home nation doesn't want them, or doesn't need them.
Last week, the former Indian fast bowler from Kerala, S Sreesanth said that he would consider playing for another country if the BCCI did not want him. He said it after a court reversed an earlier order which gave him the right to play.
Sreesanth was banned from cricket in 2013's IPL edition after he was accused of spot-fixing. He was 29 years old then.
Spot fixing is the betting on each ball. Bookies offer odds of a bowler taking a wicket, bowling a no ball, or a batsman hitting a boundary on a particular delivery.
If the bookie is able to establish contact with a bowler the exact schedule of any one over can be worked out in advance and then the bookie can offer odds to those individuals who are bored by bets of win and loss and are looking for something more exciting.
As can be imagined, these are not easy bets to pull off even if there is an understanding between the bookie and the player.
A few Pakistanis were caught by the British media doing this some years ago and the allegations against Sreesanth date back to that time.
His ban has come though he was acquitted in court. He has not been able to play in the last four years and after the latest court order he was frustrated enough to say: 'BCCI has imposed the ban, not the ICC. If not India, I can play for any other country, because I am 34 now and I can only play for maximum six more years.'
'As a person who loves cricket, I want to play cricket. And not only that, BCCI is a private firm; it is only us who say that this is the Indian team, but you know BCCI is a private body after all.'
It is easy to see his point of view. He has invested his entire life in a sport he is not allowed to play in India.
Why should he not play for another country?
To me it seems absolutely fine if he does this.
For a moment let us set aside the real world problems that this will produce, such as changes in nationality.
It is far more easier for a South African to become Australian than for an Indian to become anything else.
And in any case Sreesanth has hinted at playing only T20 abroad.
But whatever his decision, I would say it is unfair to ask him to show his loyalty to his country by not playing for any other country even if his own country doesn't want him.
Only Indians take this sport as seriously as we do, because we have invested too much of our nationalism in it.
When the BCCI team wins against the team controlled by the Pakistan Cricket Board, it is 'India' that has defeated 'Pakistan'.
The strength of the emotion we feel in victory and defeat of our cricket team we do not show in any other form of our popular culture.
If an Indian hero or heroine, like Priyanka Chopra decides to dump Bollywood and move to Hollywood, we do not see her actions as betrayal of her country.
We think it is a great thing that an Indian is succeeding in that space. So why should it be any different for our cricketers?
It is not easy to understand and one can sympathise with Sreesanth on this. The BCCI as a private body has every right to decide who should play or not play for it. The body is itself one of the most corrupt sporting bodies anywhere in the world, but let us leave that aside for now.
None of us has the right to tell Sreesanth what to do with his career and talent and it is cowardly and childish to expect him to hold the torch of our bogus cricket patriotism.
Aakar Patel is Executive Director, Amnesty International India. The views expressed here are his own.