'Kohli represents a new generation of young Indians who are willing to play hard, win every match and dominate the rivals,' says Indrajit Gupta.

IMAGE: Virat Kohli and his team ended the South Africa tour on a high. Photograph: BCCI
Like many other avid cricket fans, I've closely watched the Indian cricket team's run in South Africa. And I believe their standout performance offers some useful insights to any business enterprise that is looking to create well-knit, high-performance teams that are able to sustain their performance over a long period.
After losing the first two Tests, the side rose like the phoenix from the ashes to dominate the rest of the tour, starting with its famous win in the third Test.
The one-day series was completely one-sided and the final T-20 game told us they could overpower the South Africans in the shortest format of the game.
There is no denying that this side has not just acquitted themselves well to the conditions, despite having had very little time to prepare for the tour. They have not let the early reversals pull them down -- and then gone on to dominate the series in a manner which very few visiting sides have done.
Sure, the fact that South Africa lost some of its old pros to injury -- Dale Steyn, A B De Villiers and Faf du Plessis -- at critical junctures of the tour, made it much harder them to recover. But there's no taking away from the fact that Virat Kohli's team has done exceptionally well and created the momentum to extend their winning streak in future.
So if you are looking to create the conditions for such a winning streak inside your enterprise, what could you learn from Kohli's side? I'd pick a few.
Hunger to win: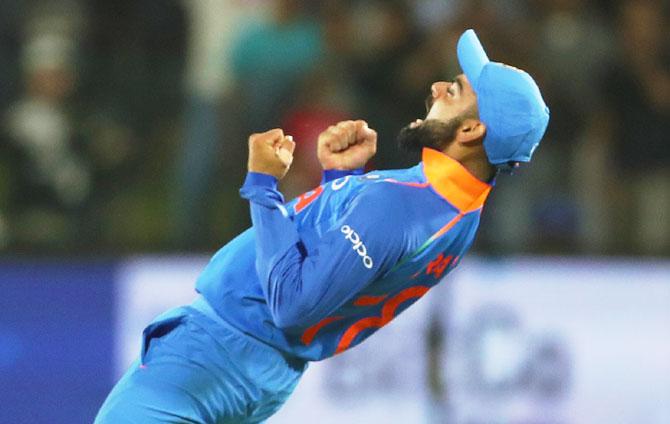 IMAGE: Virat has an aggressive, in-your-face, leadership style. Photograph: BCCI
I haven't seen too many Indian sides that have the same relentless intensity as this team.
It flows mainly from Kohli's aggressive, in-your-face, leadership style, whether it is on the field or at the pre- and post-match conferences.
Here is a leader who is never willing to relax. Even when the side was on top, Kohli was never willing to take his foot off the pedal and made sure that the South Africans knew it.
Such aggression makes lots of Indians iffy. As a kid, I grew up in an era of gentle sporting giants -- Vijay Amritraj, Prakash Padukone, among others. They achieved success at the highest level, but never really dominated the game over a long stretch.
And so far, no Indian cricket side has been feared and respected like Clive Lloyd's side or even Steve Waugh's Australians.
I'd argue that Kohli represents a new generation of young Indians who are willing to play hard, win every match and dominate the rivals.
Make no mistake, this infectious zeal to win will rub off on future generations as well, as we saw in the case of the under-19 side. They simply clobbered their opposition in every match.
Stepping up to lead: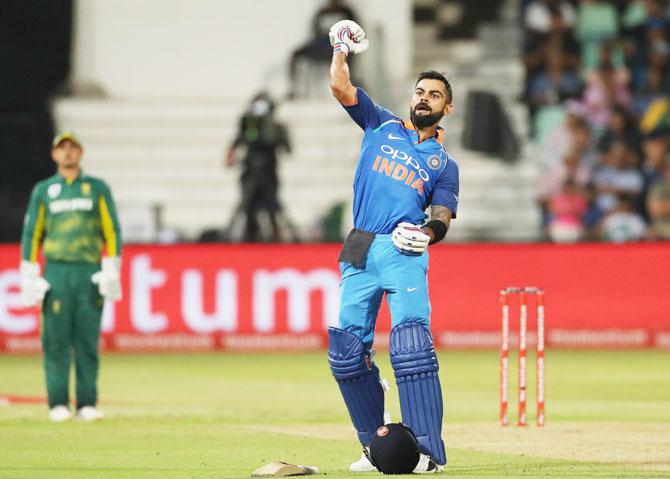 IMAGE: Virat contributed significantly to India's emphatic wins. Photograph: BCCI
Sometimes, it's easy to get swayed by leadership style alone. Kohli's aggressive brand of leadership won't amount to much, if it didn't help channelise that aggression into real, impactful, on-field performance.
And for that, every player must know his role -- and how he can contribute to the side.
For me, the big revelation of this tour was the contribution of the old warhorse Mahendra Singh Dhoni.
The stump microphone provided enough clues of how the astute former captain helped the two young spinners -- Kuldeep Yadav and Yuzvendra Chahal -- bag a tonne of wickets.
Dhoni also helped Kohli set the close-in fields. None of this would be possible if Kohli was insecure about having a former captain issuing instructions to the side.
And this concept of distributed leadership allows him to tap into every pocket of wisdom that exists within the team.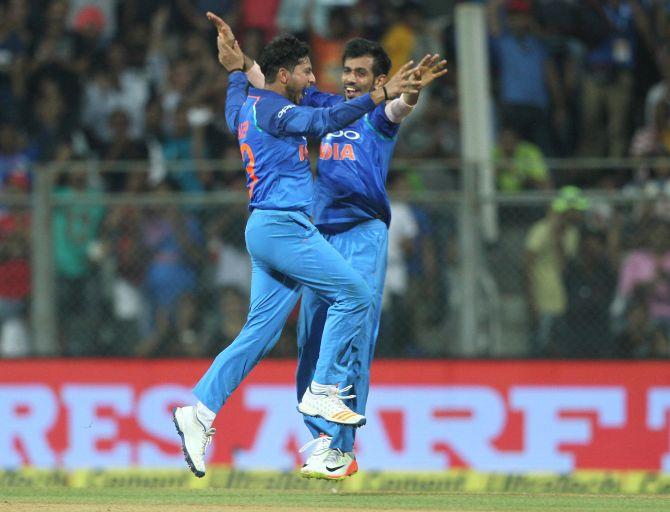 IMAGE: Kuldeep Yadav and Yuzvendra Chahal celebrate the fall of a wicket. Photograph: BCCI
Listening to valuable advice and creating space for other leaders to step up helps build ownership. It also builds a sharing culture that enables players get to learn from each other.
Besides, the best teams hunt in packs. The battery of West Indian fast bowlers knew how to throttle batting sides with their intimidating, relentless pressure.
Between Bhuvi, Shami and Bumrah, they've operated as a unit to put pressure, as have Kuldeep and Chahal.
A formidable talent pipeline: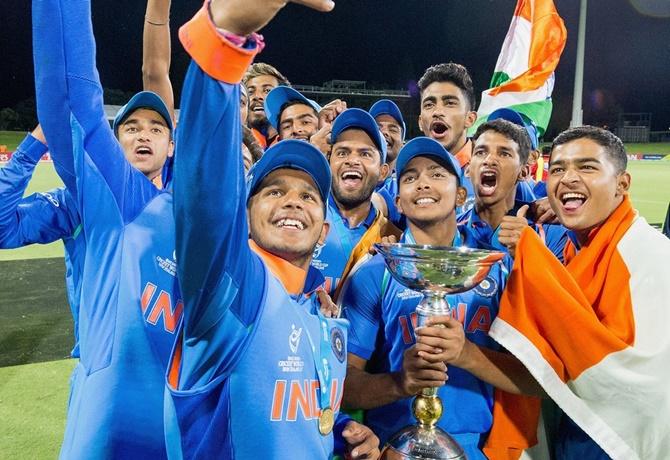 IMAGE: The Indian U-19 team celebrate their victory. Photograph: Cricket World Cup/ICC Twitter
What's more likely to sustain the performance of Indian cricket is the sheer quality of talent that is competing for places at all levels of the game.
No other country quite has this same groundswell of talent.
Yet, in the past, many young talented U-19 Indian players have been unable to make the transition to the senior side. More often than not, they didn't have the mental tenacity to step up at the highest level.
That's where a coach like Rahul Dravid is already making a huge difference to ensure that raw talent like Shubman Gill and Prithvi Shaw don't flame out after a couple of years.
And it is about building good habits: Staying grounded, the hunger to learn, building self-confidence and loads of hard work.
Indrajit Gupta is co-founder, Founding Fuel.