Derek O'Brien pays tribute to Mansur Ali Khan Pataudi, who passed into the ages on Thursday.
This piece is a tribute from me, but well might be from any one of us who have had the privilege of working with Mansur Ali Khan Pataudi, Tiger to all of us, at Sportsworld — David McMohan, my brothers Andy & Barry, Mudar Patherya, Pradeep Paul, Rohit Brijnath, Subhash Sarkar, Suprakash Ghoshal, Sarajit Deb and the full team.
Most of us are now settled in different parts of the world, and doing something special in life. That's incredible!
But we share a different kind of love and respect for Tiger. We were a bunch of ten guys, just out of college, in the early Eighties. Tiger was the editor, based in Delhi, and we would bring out the magazine from the second floor in the ABP office at Prafulla Sarkar Street in Calcutta.
People who initially met Tiger thought he was a snob. Nothing was further from the truth. Once you got to know him, he would absolutely put you at ease. Of course, David and Andy knew him better than any of us since they were the Associate Editors of the magazine.
This afternoon I tweeted, "My first boss was Tiger Pataudi. He was editor of Sportsworld where I started my career. His condition is serious. Fight, Tiger."
A few hours later it was all over. "Dear Tiger, The Great Bowler in the Sky eventually clean bowls all of us. Thanks for teaching us so much in Sportsworld. Andy, David & the team," was all that I could tweet.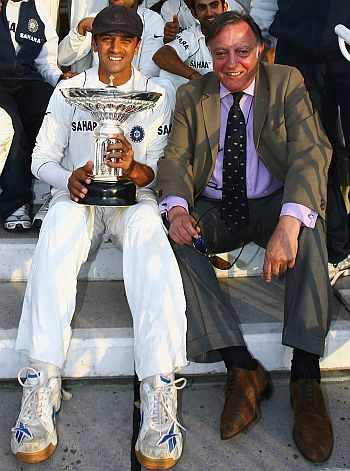 On Wednesday, I was in Delhi for a parliamentary standing committee meeting and enquired about his health but was told that visitors were strictly not allowed. I didn't meet him one last time.
Tiger was an extremely private person, who didn't like to travel. He was mortally scared of flying (so was one of my other gurus, David Ogilvy). Many of us would still remember dropping him off to Howrah Station for the Rajdhani Express.
Invariably, it was after a late lunch preceded by much guzzling of beer which Tiger always paid for (he preferred Gin and tonic). On one particular trip to Howrah, he almost missed his train and it was Andy's gallant sprint down the platform that managed to land the boss' handbag in the AC1 compartment.
India's greatest cricket captain and champion of class and decency was a great player of practical jokes and pranks during his visits to Calcutta. I can't forget two such instances when we played a prank on him. He always took it very sportingly even when at the receiving end.
On one such muggy afternoon at a five-star hotel, we played a massive prank on our editor (too naughty to print!).
He instantly turned serious and shouted at us. We froze! Had our jobs gone? And then he burst into laughter: "You guys played one on me and I just played one on you".
The Sportsworld gang hero-worshiped Tiger. Perhaps he was too regal to bother about the nitty-gritties.
He would edit the magazine conceptually. He gave us the freedom and courage to fly.
"Take a look at sport from people who've played the game," was Sportworld's ad slogan when the magazine was launched. He turned a catchy tag line into a reality long before the days when cricket commentators slipped on lapel mikes in fibre-glass boxes.
Tiger, no doubt, gave a new feel to sports journalism. He would brilliantly craft his 400-word edit piece. It is another story that he would invariably be late in sending it across to us on the teleprinter from Delhi. But he would never allow even David, the associate editor, to ghost it.
Andy now lives in Australia and his two sons are great fans of Saif Ali Khan.
He promised to introduce them to Saif's father when they would be here for Christmas this year. Sadly, that meeting will never take place.