It is getting to be a bit too much, really; this nonsensical hero worship!
"Leave Sachin alone," says the man here, and points to statistics that ironically paint the great man in a sorry light considering his once lofty standards. The author clearly loves Tendulkar, and it shows; however, let love be separate from a current performance appraisal. Love him for the player he was over 16 years; don't build a throne for him "today" for what he achieved over those 16 years.
Sachin Tendulkar on song is a genius! Correct! He has scored more international runs and hundreds than any other player! Correct! He has given joy to millions of cricket crazy fans in India and the world over! Correct! Watching him play a cover drive on the up is alone worth the price of admission! Correct!
On the other hand, consider this. Sachin Tendulkar, after going through a career spanning 16 plus years, facing spin and express fast bowlers with élan, gets hit on the head four times within the last two years! Shoaib Akhtar hit him on the helmet in Pakistan, Glenn McGrath and Nathan Bracken hit him on the helmet in the Malaysia tri-series and Champions Trophy respectively, and in South Africa, Andre Nel did the honours. Not to talk of the left arm spinners of the world clamoring to bowl to him; instant fame when one gets the "great man" out. He gets beaten outside off so often nowadays and when that once-impregnable defense is breached by not-so-great bowlers and the wickets go tumbling behind him, we are not allowed to say "Ahhh, he is not the batsman he once was"?
My argument is not about Tendulkar's performance over 16 years which is too well documented to raise any debate questioning his achievements. It is about the idolization and the glorification being a factor when considering his performance of the day. When he does well today, they say -- "see, he has answered his critics". When he doesn't, they say -- "Come on, the man is mortal! He has served his country for 16 years! You cannot question him. He is a patriot".
I wonder if I am a lesser patriot or have served my country any lesser because I never played cricket for the B.C.C.I.? His tons don't indicate patriotism; his ten thousand runs don't indicate patriotism. They just indicate that he has been a damn good batsman over 16 years; period. I pay a huge amount of tax -- admittedly, because it is deducted at source -- every year in a country whose base of non tax paying individuals is huge. I don't spit on the roads and I don't break traffic signals. Am I leaving some stone unturned in serving the country because my talents lie in tapping a keyboard and not in wielding a bat?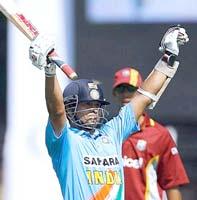 True, the man is mortal; but for the other arguments, I say -- he has played 16 years for his employers, the Board of Control for Cricket in India who have clearly stated in court that the "Indian" team plays on behalf of the B.C.C.I., and not on behalf of the government and by implication, the public of India; he made tons of runs but that just means he did the job well for his employers, the B.C.C.I.
You and I do our jobs daily, and we do it because it pays us well. Ditto with Sachin, and the fact that he does his job so well ensures he gets put in the 'A' bracket of contracts which ensures him 50 lacs a year. Add to that a couple of lacs per test and ODI and hey, that works out pretty good, doesn't it? Nothing wrong in getting a great salary; I am negotiating with my boss even as we speak. My point is -- he is not doing all this for you and for me; he gets paid for it. He is not serving the country by scoring those runs; the fact that we consider it a service to the nation doesn't really make it so. Ask the B.C.C.I.; they are the guys who employ him and pay him and they don't consider he plays for India. As they proudly put it -- "We do not even fly the national flag nor do we use any national emblem in the activities of the Board".
Let's not call Tendulkar a patriot because of his cricket achievements as the two are not connected; let him be a patriot in his own right as an individual, not because he scored 10,000 runs or because he sports the Indian flag on his helmet. As a patriot, there might be expectations on him to come up with a statement, a joint one maybe with other players, past and present, condemning the B.C.C.I.'s call on the nationality issue of the cricket team. Probably there is plenty of time to talk about the "pride of wearing the India cap" after retirement, as one of his biggest supporters and former opening great, Mr. Sunil Gavaskar, does. Ironically, the B.C.C.I.'s stand on the Indian team's "nationality" drew no gasps of horror from this great who in cricketing circles is seen as the chairman of the "don't treat us like dirt; we are proud to be Indian" club.  A fact -- One billion people minus those in the B.C.C.I. think of this cricket team as "India's cricket team".
For Sachin, it might not even be about the money. After all, once one has reached his position of wealth, money might not be very important. Let us not even talk about his money because that is his own personal matter; he sweated and toiled for it, as expert commentators and panelists on TV don't tire of telling us, for more than 16 years and he doesn't need to justify making that money. All I say is -- Let's not take it any further or give it any glorious epithets that make a saint or god of a man who does well at his job.
In the earlier article, the author talks about Indians getting emotional. We bring down our heroes, the man cries! What exactly is meant by "bringing down" someone? Is someone really above criticism? Our politicians aren't; our movie stars aren't; hey, you and I aren't above criticism; go ask your boss! It really depends on the performance of the day, doesn't it? Should we sing praises of Amitabh Bacchan's performance in Boom because he was magnificent in Zanzeer, Deewar and Sholay?
What exactly is meant by saying in a sneering tone -- "he has answered his critics"? Does it mean that the critics were fools in condemning a failure yesterday? Does it mean that a past failure has been corrected by the performance today, since the batsman or bowler made a ton or took 5 wickets? Do we get to change the scorecard or result of that past match? Did we imagine Ganguly's shortcomings against the short ball? Did Rahul Dravid not really bat at a snail's pace some years back? Did Anil Kumble bowl as brilliantly abroad as he did in India, and we never really realized it? Did Sehwag really give a damn in South Africa while all of us thought he didn't and will whatever is the truth change if he comes back and hits a ton in the next match? When we call Tendulkar a "genius" (and don't give me that tripe about "but he never asked you to"), is it bad to question his recent performances because Ganguly and Sehwag did no better?
Once they used to compare him to Don Bradman. Then, he smacked Walsh, Ambrose, McGrath, Akram and Allan Donald around, not to speak of the Akhtars and the Lees. Today he gets hit by Bracken and we point to his 30-plus average over 14 matches, put it alongside someone else's miserable average over the same period, and say "see, he is better". Whose standards are we lowering; ours or Tendulkar's? When standards are lowered thus, can a man really be regarded the same as he was at his peak? Are we wrong in even putting forward this question?
It is not to say that we shouldn't respect the achievers in our society; just that we don't need to lie or exaggerate to give respect to that someone special. Let's not mask Tendulkar's uncertain and inconsistent batting of today by saying "form is temporary but class is permanent". Let's not keep calling him "the master blaster" even if he did hit his 41st ton yesterday against the West Indies; it doesn't make sense to call the Big B "the angry young man" today just because he was precisely that in the seventies and eighties. Let's not keep saying "he has played 300-plus matches and he knows what he is doing". He might know the answer but it might not necessarily be the right answer. Or was his and Dravid's snail-like batting in the third Test in South Africa actually the way to go and the rest of us are just too dumb to realize it?
Sachin has built up a reputation over the years; even today, seeing highlights of his Sharjah moments against the Australians is sheer magic. Let his contributions over the years bring him the respect he deserves and be a factor of discussion once he retires, not in today's discussion when his 41 ODI hundreds, 35 Test hundreds and countless number of runs add nothing to the score of the day; only what he scores on the day does.
Sachin's example is probably the easiest to take when talking about hero worship because of the fanatical following he has in our country. However this article shouldn't be taken as one against Sachin because it isn't and just serves as an example to make a point. The same logic applies to them all -- the Dravids, the Gangulys, the Dhonis, and hey, even Greg Chappell, who took this job because it pays so damn well.There is nothing wrong in it, really -- it is a job, and if it didn't pay so well, he would definitely not be here today.
Let's not look upon them as some kind of messiahs because they do their jobs. Let's keep our expectations the same as we would from a brilliant plate of bhel puri -- immense enjoyment while it lasts; a feeling of sadness when it finishes; and hey, if you don't like it don't be shy of complaining!
Clap when they hit a boundary, groan when they get out, cheer when India wins, err… cheer when the B.C.C.I. team wins, boo them when they lose and throw some popcorn at the TV. Once the match is over, go shopping, have a coke and a burger, smell the flowers, watch a movie or the latest reality show on TV. Hey, even write a critique of the match and put it on the Internet. Remember, "show khatam, paisa hajam". It is just another Zanzeer, Deewar or Sholay. Don't feel bad because Amitabh dies in the end.
The author hosts a cricket blog at http://www.beerchipsandcricket.blogspot.com and can be contacted at Sriram_ranga@hotmail.com