'We should be open to looking at Ramdas Athavale's suggestion of reservations in the cricket team.'
'India will not be unique if it chooses to do this,' says Aakar Patel.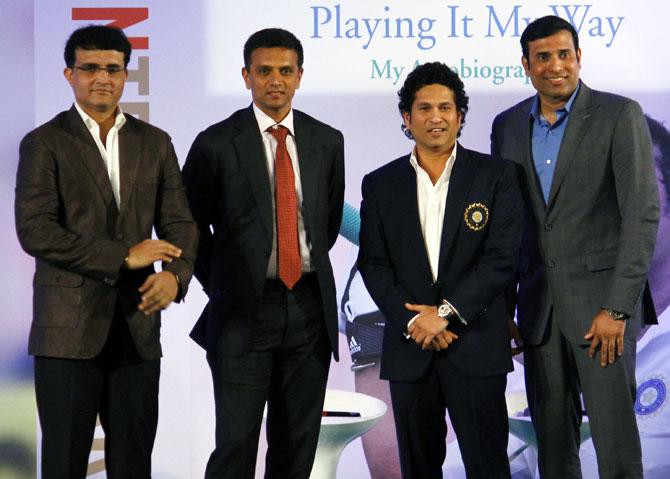 Two recent events have brought up a subject the middle class does not like: Reservations.
Union Minister Ramdas Athavale has asked for reservations in cricket, saying that the Indian team has a poor record.
If it were to include more communities, Athavale says, it could perform better.
Before we look at the issue, let's look at the data.
Is Athavale right in saying that India's national team loses more than it wins? The answer is: Yes.
In Test cricket, India has a losing record against Australia (lost 41, won 26), England (lost 43, won 25), Pakistan (lost 12, won 9), the West Indies (lost 30, won 18) and South Africa (lost 13, won 10).
We have winning records against Bangladesh, New Zealand, Zimbabwe and Sri Lanka.
The record in one day internationals is not very different.
We have a losing record against Australia (lost 72, won 41), Pakistan (lost 73, won 52), West Indies (lost 61, won 56) and South Africa (lost 45, won 29).
Of all the major teams, against only England (lost 39, won 52) have we been able to win more than lose.
Clearly Athavale is right.
We are 130 crore people (our population is more than twice as much as all other cricketing nations put together).
If this is our merit-based record, then it is not out of place to look at ways of improving it.
We should be open to looking at Athavale's suggestion of reservations.
India will not be unique if it chooses to do this.
Last year South Africa put in place racial quotas in their cricket team.
The playing 11 must have six players of colour, of whom at least two must be Black African.
Meaning that players of Indian or subcontinental origin like Hashim Amla and Imran Tahir can be included in the six, but not the two.
Why did they do this?
Because Black Africans are 80% of the population, but don't have fair representation.
Whites are 10%, but have always dominated the team as Indians who follow cricket will know.
The reason is that access to sporting facilities, training and coaching at the highest level was only for whites during their decades of apartheid.
Even Indians, who are only 2% of the South African population, get good representation in the team and so it was necessary that there be a quota for Blacks.
Has this quota affected the team's performance? No.
Countries around the world will testify to the fact that they remain one of the most difficult sides to beat.
But the real benefit to the South African side will come in the decades ahead.
Young Black Africans will find role models and be drawn to the sport of cricket.
This will broaden the talent pool that is available and the national side will benefit as millions more play a game that previously only the elite played.
In India the Dalit and Adivasi population is about 25% of the total. However, their representation is close to zero.
It is easy to think of the Indian squad's Brahmin players from around the country (Gavaskar, Tendulkar, Dravid, Ganguly, Srinath, Kumble).
But it is difficult to come up with names of those from marginalised communities, Dalits and Adivasis, who have played for India.
Athavale has asked for 25% reservations, but even if that number is unacceptable for whatever reason, we should think about the issue and discuss and debate it rather than dismissing it out of hand.
The second story about reservations is in politics.
The Bharatiya Janata Party nominated a Dalit to be President of India.
This is a smart and wise move and will ensure that the nominee, Ram Nath Kovind, will get elected with plenty of bipartisan support.
Kovind is not from the Rashtriya Swayamsevak Sangh and is a relatively recent member of the BJP (he joined the party in his 40s).
He represents the uneasy relationship the RSS and the BJP have with Dalits.
The BJP's Dalit MPs like Udit Raj can testify. Instinctively, the Hindutva party is against reservations and inclusion.
We can see this from the list of RSS Sarsanghachalaks (Hegdewar, Paranjape, Golwalkar, Deoras, Sudarshan and current chief Bhagwat). All of them are Brahmin.
Only one RSS chief has been non-Brahmin, Rajendra Singh, also from an upper caste.
It should be said that it is easier for Hindutva to make a Dalit the President of India than the head of the RSS.
The common defence of the RSS against this accusation is that: 'We don't ask about caste and we don't notice it.'
This is what corporate India will also say when asked how inclusive it is.
That's the same thing the Indian team will also say.
But it hides the reality of discrimination and exclusion.
Inclusion and diversity in the long run will help the cricket team and the country.
To those who say that our record will be blemished by this action, I will point out the data and say we are not a particularly good team against strong sides in any case.
We should not use that as an excuse and we should seriously consider what Athavale says.
Aakar Patel is Executive Director, Amnesty International India. The views expressed here are his own.
You can read Aakar's earlier columns here.
IMAGE: Cricketers Sourav Ganguly, Rahul Dravid, Sachin Tendulkar and V V S Laxman at a BCCI felicitation, March 2017. Photograph: Hitesh Harisinghani/Rediff.com