Having watched the last 13 home Tests, I hope Virat and his team really has the potential to win anywhere - in or outside India, says former India captain Sourav Ganguly in an exclusive column for the International Cricket Council (ICC).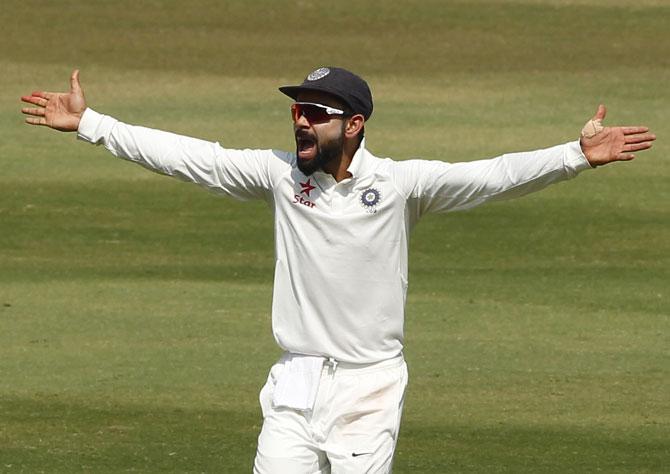 IMAGE: India captain Virat Kohli reacts. Photograph: BCCI
This was the season of numbers. This was also the season of hope, promise and delivery. In my dictionary, success is always preceded by failure and I think the trigger happened sometime in August, 2015 when, from a seemingly-unassailable position, India slipped and lost the Galle Test.

For a young captain and an equally young team, it was a heartbreak and I was actually worried for Virat Kohli.

But I was wrong.

Like any good leader, Virat sensed the problem, spoke to his team and what has followed since has reinforced my belief in him and his team. The last 12-odd months have taken me back to my playing days, when I was the captain and Sachin Tendulkar, Rahul Dravid, VVS Laxman, Anil Kumble, Javagal Srinath, combined with youngsters like Yuvraj, Harbhajan, Sehwag, Zaheer, Dhoni and Nehra to pitchfork India as one of the most daring teams in the world.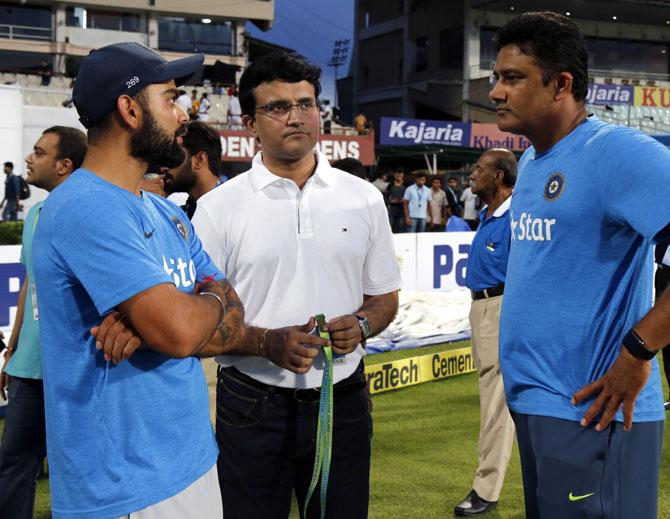 IMAGE: Virat Kohli, Sourav Ganguly and Anil Kumble. Photograph: BCCI
And having watched the last 13 home Tests, I hope Virat and his team really has the potential to win anywhere - in or outside India.

Virat will consider himself lucky as I don't recall any Indian captain and his team having an opportunity to play as many as 13 Tests at home in a single season. You still have to win a game, even at home, but we all knew India would win at least eight Tests, and they won as many as 10, missing out on a sure win in one, saving one and losing one.

More than the results, I enjoyed the journey, watching how players like KL Rahul, Ravindra Jadeja and Umesh Yadav gained in confidence and matched the two champions, Virat and Ravichandran Ashwin.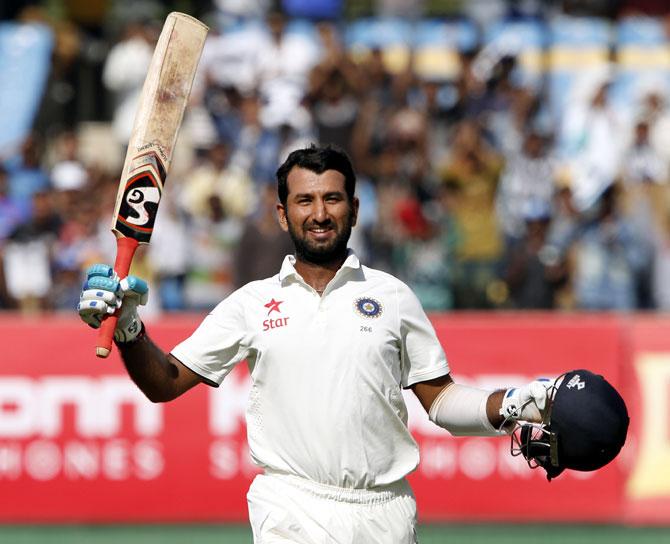 IMAGE: Cheteshwar Pujara celebrates a century. Photograph: BCCI
But the one who stood out was Cheteshwar Pujara. I remember when he was dropped for a Test in West Indies last year, I had said Pujara was a special batsman and shouldn't have been dropped. A small matter of 1,316 runs have come from his bat this season and Pujara will be the most critical for Virat when India start travelling outside of the sub-continent.

India was always expected to beat New Zealand and it recorded a clean sweep. England, I had thought, would give India the toughest fight. To be honest, it probably was the weakest opponent. That series was played on good pitches and remember how England won most of the tosses and yet couldn't capitalise on starts. Its bowling was hardly international class in these conditions and the two spinners, Moeen Ali and Adil Rashid, bowled two-three 'hit-me' balls every over to the likes of Virat and others! England never stood a chance if its bowlers were going to concede so many runs, and at such a brisk pace.

Bangladesh too realistically never stood a chance and it was during that Test that I predicted a 4-0 brownwash for India against Australia.

I was proved wrong.

Not because India didn't play well but because Australia's captain Steve Smith decided to make the transition from a good batsman to a great batsman during this series. The century he scored in Pune ranks amongst one of the best by a visiting batsman in India - and I have seen many.

Maybe playing on that pitch in Pune was a mistake as it allowed even an ordinary spinner like Steve O'Keefe that much bite. But just like in Galle, Virat rallied his team for a comeback win in Bengaluru and what happened in Dharamshala in the last Test was to me the best moment in this season.
I was sitting at home around lunch time on Day three when Australia began its second innings. Over the next hour or so, I watched such a great piece of fast and hostile bowling by the two Indians, Umesh Yadav and Bhuvneshwar Kumar. The way they got the Australians hopping and succumbing to the pace, I am so pleased for Virat.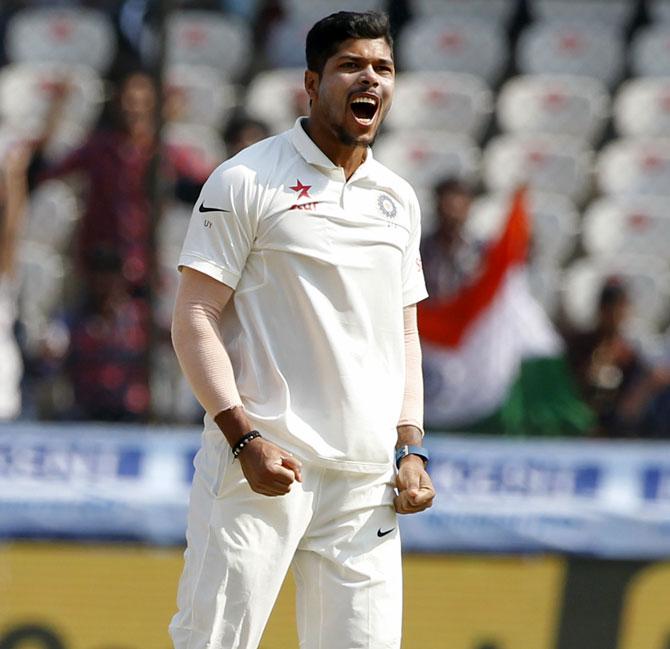 IMAGE: Umesh Yadav celebrates a wicket. Photograph: BCCI
The most memorable win came in conditions actually tailor-made for the Australians more than the Indians. The fact that India beat the Aussies at their own game will surely give another twist to Virat's captaincy.

Umesh is so confident. He knows what he's doing and credit to Virat for making Umesh realise what he can do. When India travel to South Africa this year and to England and Australia the next, Virat will need his pacers to be fit and strong, and if he can get a good third fast bowler, behind Umesh and Mohammad Shami, India will be a threatening side.

When I was the captain, and with such a brilliant team, we all knew winning abroad would make our cricket memorable for the fans. Our overseas success was due to these three factors, and in that order only: bowling, batting, slip catching. I can see the same level of hunger in this team and this is the legacy of this home season.

There are two Virats for me. The batsman and the captain.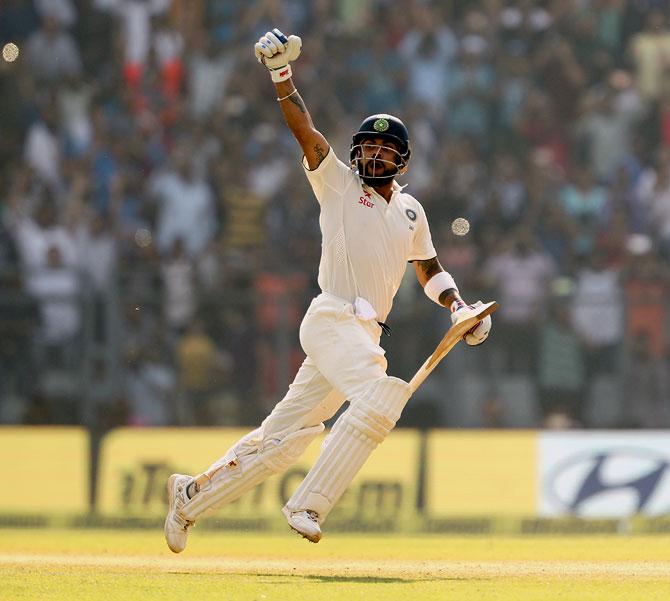 IMAGE: Virat Kohli celebrates scoring a century. Photograph: BCCI
The batsman surely is one of the best in the world because he has set high standards for himself, both in terms of fitness and the hunger to score big. The captain is more passionate and more of a leader than anything else. He wants to win and win every day and while it may not be possible always, I see Virat not settling for anything that isn't No.1.

Against Australia, probably he was so consumed by wanting to win as captain that he let his emotions affect his batting. This will also serve as a lesson for Virat. He's such a precocious talent, I hope he cools down and gets back to scoring big again.

Why do I salute him the most? During the England series and in the Kolkata Test against New Zealand, I spoke at length with Virat and not once did he ask me or the curator for any alterations to the pitch. He was just willing to take on the opposition, no matter how the conditions were.

Ah, and congrats to my old friend and champion cricketer Anil Kumble.

When the BCCI appointed a three-member panel that had Tendulkar, Laxman and me to help in the process of selecting a coach, Anil's vision was as decisive as his bowling used to be. He wanted India to win in India obviously, but outside of India too and while he knew it was easier said than done, his assessment of the situation was superb.

With him, I hope the spinners, who generally always do pick wickets by the bucket loads in India, contribute to the team's success when they travel abroad, just like Anil and Bhajji did. That would fit the last riddle in the jigsaw puzzle Virat and his team will hope to solve.