This Indian Premier League (IPL) thing seems to be doing considerable good for family interaction. Dileep Premachandran's mom called him; mine called me yesterday -- it's an epidemic. From Dileep:
At the end of it all, I got a message from my mother. "The IPL, I feel, is here to stay," she said. "The short version of the game can be quite interesting and people like your father get time to watch and enjoy it. When you think of its future, dont be too harsh in your comments."
Touché. The thousands inside the Chinnaswamy Stadium and millions watching on TV worldwide appear to have savoured the spectacle. And who are we to argue with that?
My mom, meanwhile, appears to be under the impression that Lalit Modi, keenly aware of her domestic arrangements and as keenly desirous of bringing some light relief into her life, has organized the whole spectacle for her personal edification. Snippets from her monologue -- which, for once, was not about the weather in Chennai, her continued exasperation with my 'lifestyle', or the latest shenanigans of my two nieces:
This Test cricket thing, I can never really follow it properly. By the time the maid has done the housework -- and you know what the maid is like, you have to keep following her around, or she will skip things, forget to dust in corners…-- the kids are back from school and by the time I have gotten them to wash and eat… there is no fun watching a game unless you can watch it start to finish, what is the point of occasionally checking the score, and running from the kitchen each time you hear a roar?...
This IPL business is perfect! It starts after I have gotten all the house work done and showered and settled down; there is a 20-minute break exactly at our usual dinner time… and then by the time the second innings is over, it is bedtime… all very well organized, and the nice thing is, you don't have to spend your evening watching some silly soap…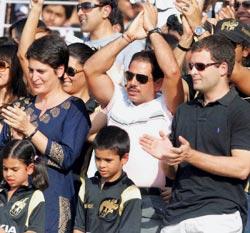 Wow! She needs to talk to Scyld Berry.
The first drawback is that too many unremarkable Indian cricketers are making up the numbers: a problem which can be solved either by reducing the number of franchises (impossible in the short term) or increasing the quota of foreign players from the existing four-per-side. Indian spectators and television audiences want to see stars, whether in films or on the cricket field. It was a point made last year when India staged 20-over matches between state sides, and the country became the only place in the world where the format did not take off. The second point is the IPL organisers are asking too much of fans in expecting them to exchange old instincts for new loyalties.
Cricket followers here have always been as nationalistic as anywhere else: the stock image is of a car being driven to a one-day match involving India, horn blaring, with young men leaning out of the windows and waving their national flags.
Walking round the stadium in Bangalore before and after the match, I saw a single flag - an Indian flag - and that was furled. The vast majority of spectators were in their twenties and thirties, about 15 per cent female, almost everyone dressed in jeans or slacks and T-shirts, wearing or carrying nothing more, illustrating their social mobility. And they were being asked to support a cosmopolitan team, representing their city, in which only a couple of players - notably Bangalore's 'icon' player, the captain Rahul Dravid - could be described as local.
Duh, no! Firstly, it is a bit strange that commentators such as Berry, who have in the run up to the league moaned endlessly about how the IPL will seduce international players into forgetting their loyalty to their respective countries, now changes tack and suggests the league should have more foreign players. That quibble aside, if this league is to serve any purpose other than making a lot of money for the BCCI, it has to be in the unearthing of players we otherwise would hear little about, in the spotlighting of their talents. Take for instance a moment from yesterday's game between Rajasthan Royals and Kings' XI. The Kings were at bat, Mahela Jayawardene was getting his first hit of the tournament -- and with master leg spinner Shane Warne watching, a young leg spinner with a busy [polite-speak for vaguely disorganized] action tossed one above the batsman's eyeline. Mahela, one of the better players of spin doing the rounds, was lured out of his crease, beaten in the air and on the turn, and stumped by a mile. So who, in a country constantly moaning over the demise of spin, knew Mumbai's Dinesh Salunke -- a player who is yet to play international cricket of any kind -- even existed, till that moment?
Life for Dinesh Salunkhe took a very interesting turn in December 2006 when he got selected to be a part of the Cricket Star Academy.
From then onwards he started living his dream of learning from and rubbing shoulders with some of the best in the Cricket fraternity -- Kapil Dev, Sanjay Manjerakar, Geoffrey Boycott, Monty Panesar, Waqar Younis and then being chosen the 'Man of Series' of first ever cricket talent hunt and reality show, Cricket Star.
From reality show to playing alongside and learning from the master -- surely if any good is to come out of this league, it has to be such opportunities for talent to be discovered, and honed? You could just as easily argue that the mediocrity of English county cricket could be resolved to a considerable extent if counties were permitted to pack half a dozen internationals into their lineup.
The other point in his piece is equally interesting -- the bit about the audience. It is precisely this segment of the population -- the 20s and 30s, the young women -- with sizable disposable incomes and a tendency to be easily bored and wander off in search of the next big thrill, that has in recent times been turning away from cricket, and to other sports that pack a lot of thrills into a small time frame. If the IPL is actually luring them back to cricket stadiums, surely that is cause for celebration, not criticism?
The larger point in this, and other articles I read over the past few days, is the issue of tribalism -- but that merits a round-up post in itself, which I will get to in a while.
Photograph: PTI