The challenge for Virat Kohli's team is not just winning the four-Test series, but winning it handsomely, says Rediff.com's Bikash Mohapatra.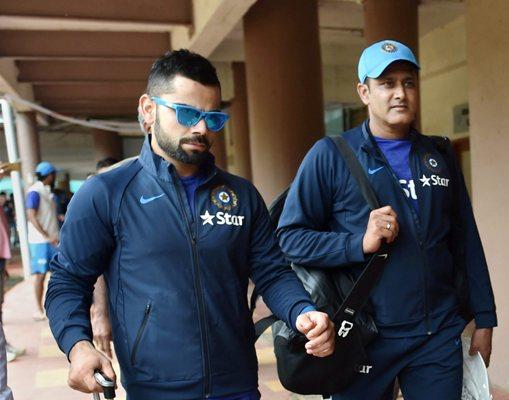 IMAGE: Indian Test Captain Virat Kohli and Coach Anil Kumble arrive for a training session. Photograph: PTI
The West Indies has won just four of its last 25 Tests. Its last series win against a major Test-playing nation (Australia) came in the late 1990s.
In such a scenario, Team India's visit to the islands could be considered a cakewalk for the visitors. On the contrary, it presents a challenge.
The West Indies haven't beaten India in a Test since May 2002 -- the third Test in Sabina Park, Kingston. But unlike other countries, India has failed to assert its dominance over the once mighty Calypso Kings, particularly away from home.
While Rahul Dravid's side won the four-Test series in 2006 -- India's first series win in the Caribbean in 35 years -- and Mahendra Singh Dhoni and Co pocketed a three-match series in 2011, on both occasions India failed to win more than one Test.
India has won only five Tests in the Caribbean. The West Indies, their slump notwithstanding, remain the only country to have won more Tests in India than the host nation.
'I am hoping Kumble, Kohli and Co try and win more than one Test this time.'
In 2006, India sealed the series in the fourth and final Test at Sabina Park. Five years later it won the opening Test -- again at Sabina Park -- and had a chance to build on the lead, but couldn't.
One could put it down to the 'safety first approach' or blame it on the psychological aspect, the lack of a killer instinct.
"We had an opportunity to win a second Test (at the Kensington Oval in Barbados) when we toured last," former Test spinner Maninder Singh recalls. "But we didn't press for it."
"The then coach (Duncan Fletcher) seemed content that the series was won, and even made a comment that people are criticising Team India for not going for the kill in Barbados despite India winning the series," says Maninder, hoping there won't be an encore.
"I think Anil (Kumble) and Virat (Kohli) come from a different school altogether. They want to win every match," says Maninder, "I am hoping Kumble, Kohli and Co try and win more than one Test this time."
"It is a great opportunity. The West Indies doesn't have the fearsome fast bowlers of the yore. Their batting doesn't look very strong either," Maninder adds.
"What will be interesting to see is how this new Indian team puts it all together. The first Test (North Sound, Antigua) is going to be very important," Maninder says. "It will be the roadmap for what is going to happen in the rest of the series."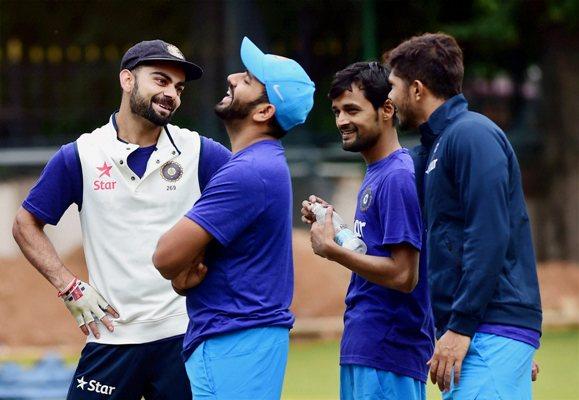 IMAGE: India Captain Virat Kohli with team-mates at the preparatory camp ahead of the West Indies tour. Photograph: PTI
Former India cricketer Madan Lal agrees that a 'safety first approach' cost Team India a comprehensive win the last time they toured the Caribbean.
"You can't win a Test and then try to protect the lead in the subsequent matches," observes the 1983 World Cup-winning all-rounder. "You have to build on the lead, otherwise you risk losing."
Madan Lal is confident about India's chances in the Test series, which begins on July 21.
"The West Indies' strength was pace. Besides, they had good batsmen who would build on the advantage given to them by their bowlers," says Madan Lal. "They don't have either now. They are now trying to play and win with spinners. Their spinners should not be a concern for our batsmen."
"India has a very balanced side, and unless we play very badly, I see us winning the series comprehensively," he says.
"We will definitely win the series more than 1-0."