Advertisement

  

Advertisement

SL cruise into semis on Dilshan, Tharanga hundreds
Krishnakumar Padmanabhan in Colombo March 26, 2011 18:26 IST
Last Updated: March 26, 2011 21:58 IST


England [Images], who had till now delivered the most thrills in an otherwise straightforward tournament, ran out of gas at the Premadasa Stadium in Colombo as Sri Lanka [Images] plastered them by 10 wickets in the last quarter-final on Saturday.

Were the Sri Lankan chase to be drafted into a letter, it would be all of two lines long.

Dear England,

This pitch is not a minefield. And this is how you bat on this.

Thank you anyway.

Tilakaratne Dilshan and Upul Tharanga.

Just to put in perspective how this pitch played, by the time the carnage ended, Dilshan had 4x10 and 6x2 for 52 runs in boundaries. Tharanga hit 4x12 and 6x1 for 54 runs in boundaries. England, in a monumental plod, managed 12 fours for 48 runs in boundaries.

The two started belligerently, making it a point to show Graeme Swann [Images], who came on in the second over, who the boss is. The otherwise dour Tharanga even danced down the wicket and smacked the offie wide of long off for a six. England had soon tried six bowlers in the first 12 overs to no avail.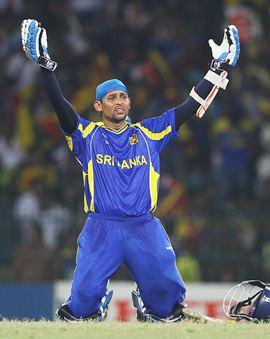 In an indication that they had finally ran out of gas towards the fag end of a grueling five-month long winter filled with ups and downs, the usually safe England fielding dropped as many catches as Sri Lanka did, if not more. It soon turned into match practice for Sri Lanka's out of form openers.
While Tharanga slowed down to his usual pace, Dilshan kept the run rate brisk and healthy.
As the two settled down into the middle overs and his bowlers and fielders contriving not to give him a wicket, Strauss turned to technicality instead and looked up to his long-delayed bowling powerplay for a wicket. Dilshan and Tharanga had other plans as they plundered a further 40 runs in the powerplay. Tharanga in particular made it a point to catch up with his partner's scoring rate and took a four each off Tredwell, Bresnan and Wright.
The only interest left in the match was to see who got to the century first, and Dilshan it was. Soon Tharanga followed him there and rounded off a humiliating 10-wicket loss for England.
As they head back home, a special round of applause is due to this bunch of Englishmen for thrilling us with the most entertaining cricket in this tournament without going too much into the details of how they did it. Or probably, if they look in there, they will have some answers.
England innings:
Batting first after Andrew Strauss [Images] won the toss, England delivered another typical Jekyll and Hyde batting performance as they finished with 229/7, a score that had enough potential to be Sri Lanka's banana peel.
The England innings neatly divided itself into two phases: Pre-Morgan and post-Morgan. Off the first 27 overs of the pre-Morgan era, England prodded and poked their way to 97/3.
The openers were to blame the most for England's plight. It is now clear that the English skipper does not like spin early on, and Kumar Sangakkara [Images]  capitalized on it, opening the bowling with spin at one end for the first time in this tournament.
It was neither of his three front-liners that Sanga used, but Tilakaratne Dilshan who he used first up. The out of form Lankan opener seized his chance with the ball a second time in two matches, as he frustrated Strauss with 16 dot balls till he went for an ugly hoick and missed the line to one that came off the pitch with soft bounce and kept a trifle low.
Like a smitten lover loathe to leave his partner's side even for a moment, Bell, newly paired with the skipper in place of the unsuccessful Matt Prior [Images], followed him back to the dressing room with a casual chip to midwicket off Matthews.
This left Trott in that familiar territory where he literally opens the innings, as he settled for the long grind in Bopara's company.
The two had shored up England against South Africa [Images] after they were three down for nothing on an underprepared minefield in Chennai earlier in the group stage.
Here at a slow Premadasa, they set about attempting to repeat their resurrection act. But they did not take into account that this pitch, though it might be on the slower side, was nowhere as treacherous as that Chennai pitch. Thus, instead of rotating the strike and trying to get back into the game quickly, they gave too much respect to Sri Lanka's spinners, none of whom were at their dangerous best.
True, the twin blow enabled Sanga to switch among his three spinners without having to keep an eye on the runrate, but Bopara, especially, was unable to pick Mendis. Murali came on around the wicket in the 19th over and straightaway took a leg stump line with a packed onside field.
The duo set about sweeping him for ones and twos, but the breakthrough came off this same gambit in the 27th over. Looking to trap Bopara on the sweep, Murali pitched one just too full to sweep. Bopara (31 off 56) didn't see it coming and was already on his knees as the ball hit him on the volley, plumb in front.
Morgan immediately proved that this pitch did not hold any demons and set about rewriting the script of the England innings. In the process, he encouraged Trott to come out of his shell. Trott was 33 off 55 when Bopara fell. In the next 60 balls, he scored 55, as he ran hard for his singles and twos, and twice even dared to find out what happens when the ball touches the boundary rope.
Suddenly, the Sri Lankan spinners, who till then were made to look like oriental magicians, began looking like shadows of their imperious self. More importantly, Morgan scattered the field, and it duly came apart.
Even as the Irishman began hitting the ball to all parts of the ground, for the Sri Lankan fielders, the ground gave way beneath their feet as they dropped three sitters. 
The first was a skier off Ajanta Mendis by Thilan Samaraweera [Images]. Then came two chances off a Murali over. Angelo Matthews dropped him in the deep, and not having learnt his lesson, Morgan slashed again, this time Herath grassing him at point. The veteran did not have words to curse his understudy.
England took the batting powerplay in the 42nd over in an attempt to give Morgan the launchpad to round off this stunning turnaround.
But, as it often happens, the powerplay overs crippled England, and they could never recover after Morgan's fall.
Malinga came on, and since stumps seldom break these days, took a pop at Morgan's bat, and neatly separated a chunk off its bottom.
Morgan's new bat did what Sri Lanka's bowling couldn't: make a fielder hold on to a catch as Matthews kept a skier safely.
The powerplay overs set England back by 23/2 and they lacked the gas to recover one last time.
Photograph: Getty Images