His father is a former finance minister.
His brother is a minister in the Modi government.
But Sumant Sinha wants nothing to do with politics and tells Shreya Jai why he is bullish on the renewable energy sector.
Illustration: Dominic Xavier/Rediff.com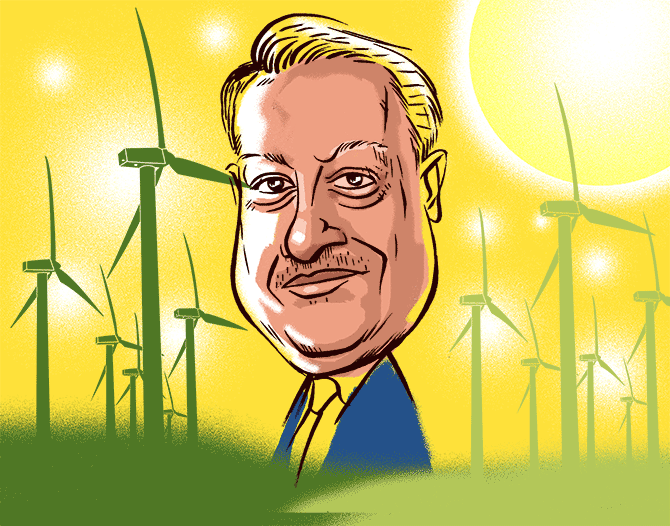 A week before I am scheduled to meet Sumant Sinha, founder and CEO, ReNew Power, his company touched 2 gigawatt installed capacity -- a major achievement for a seven-year-old start-up.
But Sinha is no novice -- he knows his business and his food quite well, as I soon find out.
I arrive early at the Three Sixty One Degrees at The Oberoi, Gurugram, and flip through the impressive menu, which has options across cuisines and calories.
Sinha's office is next door and he arrives just in time.
We decide to place the order first. Sinha declines an appetiser and settles for the complimentary bread basket with dip.
"The dip they offer is very good. I mandatorily have it when I come here," he says. I follow suit.
He is quick and specific about what he would have -- a traditional sushi platter with salmon, scallion and lentil, with some togarashi on the side.
I settle for a humble potato gnocchi with summer vegetables and decide to sip a glass of orange juice till the food arrives.
"Sushi is our family's favourite food," says Sinha. "When I moved to India from the US, there wasn't a single sushi restaurant in Mumbai. And in the US, one gets used to eating sushi. Then in 2004-05, Wasabi opened at the Taj, Mumbai."
"Now there are so many restaurants offering Japanese fare -- the whole dining space in India has changed in the past 10 years."
That gives me a cue to ask him about his journey -- from the US to joining the Aditya Birla Group, steering Suzlon Energy from a debt crisis and then launching his own renewable energy company.
He says it has been quite unexpected in many ways.
"very phase had its own fascination, point of interest and challenge," Sinha says, as a waiter arrives at the table to confirm his custom order.
Talking about his stint as chief financial officer at the Aditya Birla Group, he says he was parachuted into that position to carry forward the process of transformation the group was undergoing.
"We did a lot of large M&A transactions. The first one was L&T's cement business, and then there was Idea. Another big one was Novelis, which, at the time we conceived it, could have been the largest off-shore M&A, but then the Corus deal happened."
"The funny thing is even after 10 years, it remains the third-largest deal," Sinha says as he is greeted by a guest at the restaurant.
He gets up for a brief tête-à-tête and comes back to the table to tell me that the person he just met was a finance guy from a leading power company.
Then he picks up the thread of our conversation: While spearheading the retail business at the Birla group he built contacts across the financial sector, which helped him later when he launched his own company.
What pushed him to the unchartered territory of clean energy?
"Frankly, I joined Suzlon because they called out of the blue and I thought it was a very interesting sector. Even while I was in the US, I had this feeling that climate change would become an important issue," he says.
By the time Sinha joined Suzlon Energy, the collapse of Lehman Brothers was pulling everything down in its wake. "I also realised Suzlon had used every single ounce of its bandwidth for growth and not in building an organisation, basic systems and processes, not even in product development."
"So when the crisis hit, a lot of things began to get exposed. On the financial side there was an immediate impact as a lot of loans started going into default," Sinha says, adding that is when he learnt that building robust financials and a strong corporate culture is the basis on which one can build a successful organisation.
When he started his own company in 2010, he says, the wind sector was full of people who had no clue about the sector but had money.
"I had an intense experience for two years in the sector. The only thing I didn't have was the risk-taking ability and the capital."
The food arrives. My potato gnocchi looks delectable.
Sinha made headlines when he got Goldman Sachs to fund his start-up.
"It so happened that they had just deputed Ankur Sahu to take over the India business, so they had an idea that this is an emerging market and wanted to invest in power -- not thermal but renewable, as the thermal sector was doing poorly."
"By April 2010 we got all the approvals and $200 million in funding by September," he says.
Goldman Sachs brought with it financial discipline and Sinha says this helped him avoid many of the mistakes his competitors committed.
Most of the wind projects that came up around that time are on the block now.
As the tax benefits fade in the wind and tariffs crash in solar, developers are falling over each other to sell off projects.
"The returns are decreasing -- every sector goes through ups and downs. The idea is to select the right project at the right time," says Sinha as his sushi platter arrives.
That wasabi must be really hot, I surmise, as we start discussing the hottest topic in the sector -- the constantly falling tariffs.
The current rates would have been unimaginable even a few years ago.
In solar, tariffs have gone below Rs 2.44 per unit and the first bid in wind saw tariffs plummet to Rs 3.46 per unit.
Is renewable going the thermal way? He doesn't think so.
"In renewable energy, people might get less returns, but that is not a major issue as it is company- or project-specific. As far as the larger players are concerned, it won't kill them if they get lower returns -- it simply means lower than expected profit."
"We have to come to terms with the fact that tariffs will now be sub-Rs 3 per unit in solar and sub-Rs 4 per unit in wind."
"A year after SunEdison bid Rs 4.3 per unit for solar, tariffs didn't fall, but capital costs did. So people who bid higher are getting good returns. The same thing will happen now."
"More bids will come, tariffs will remain the same, but capital costs will fall. As much as 10,000 Mw of bids came between October 2015 and October 2016. Since then only two bids have happened."
"So the supply is going down and developers are more desperate. Some have to build businesses, raise funds, some have EPC (engineering, procurement, construction) guys sitting on their heads."
"Unless the government gets more bids, you will see a high degree of aggressiveness."
The waiter convinces Sinha to have a ginger ale; then he urges me to have the food -- it will soon turn cold.
So who does he want to give credit for the traction in the renewable sector?
"You have to give credit to the UPA (United Progressive Alliance) government as it came out with a solar mission and even though prices were high they set a target of 20,000 Mw by 2020."
"Then the prime minister (Narendra Modi) decided to do what he had done in Gujarat -- 1,000 Mw at Rs 11 to Rs 12 tariff -- and that got things started."
"Wind was 1,600 Mw three years back and this fiscal closed with 5,000 Mw. Solar saw much more explosive growth after a slow start," he says relishing the sushi -- and quite obviously the growth the government seems to have imparted on the sector.
He rules out questions on politics: "My father (former finance minister Yashwant Sinha) is more or less retired. My brother (Union Minister of State for Civil Aviation Jayant Sinha) is active, but I, my mother and sister don't discuss politics. The odds are in our favour," he says.
When it comes to funding, the odds, once again, seem to be in his favour.
Sinha has tied up funds to build at least another 2,000 Mw.
ReNew has a pipeline for 1,000 Mw and is looking for more projects.
"We can raise equity whenever we want to. We have huge amount of cash sitting with us. On the debt side also we are in a comfortable position."
So initial public offering plans are on hold at least for a year.
So what next, I ask. Dessert, pat comes the reply.
He opts for a chocolate cookie platter. "It is tempting and you can't have just one," he smirks.
As we finish off the crumbs of the delicious chocolate-dripping cookies, he adds, "In three to five years, renewables will push the market for storage, distribution and grid management."
"We would definitely want to be an integrated company with RE and distribution. It should be an interesting transformation."