These plantations are not only eating into the land occupied by the region's native forests, they could also disturb the ground water reserve and soil quality, says Ankur Paliwal.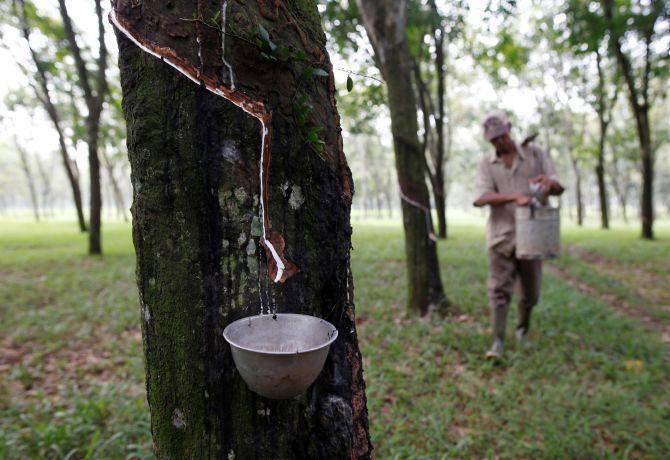 Rubber plantations, which have been vigorously promoted in north-east India in the name of increasing forest cover and rehabilitation of tribespeople, have got environmentalists worried.
These plantations are not only eating into the land occupied by the region's native forests, they could also disturb the ground water reserve and soil quality, showed a recent study led by Kasturi Chakraborty, scientist at the North Eastern Space Applications Centre in Shillong.
North-east India accounts for a fourth of India's forest cover.
Chakraborty's team used remote-sensing techniques and satellite data between 1997 and 2013 to analyse the extent of rubber plantations in parts of north-east India.
They found a sixfold increase in rubber plantations from 447 hectares in 1997 to 2,842 hectares in 2013 in the areas they studied.
The expansion, however, catapulted between 2010 and 2013, so much so that rubber plantations increased by 119 per cent in this period.
This corresponds with the high price that natural rubber fetched at Rs 190-200 per kg.
Currently, it is being sold at about Rs 120 a kg.
Most of this rubber plantation is monoculture - growing only one plant species in an area. Scientists term monocultures as "biological deserts" because unlike natural forests, they don't house diverse plant and animal species.
The study was published in the January issue of Current Science journal. Rubber plantations have been taking over Asian forests.
A 2015 study by the University of East Anglia showed that the increasing demand of natural rubber has led to rubber monoculture on more than 2 million hectares of land, mostly in Asia, during the last decade.
How rubber arrived in north-east India
Although Kerala has been a top rubber grower in India, the plant was first introduced in the Northeast by the regional forest department in the 1960s.
Over the next decade, the governments of north-eastern states, especially of Tripura, claim to have used rubber plantation to increase forest cover and to 'rehabilitate' tribespeople who practiced shifting cultivation, in which parts of forest are cleared, cultivated, harvested and then left fallow by turns for it to recover its fertility.
"Shifting cultivation couldn't meet growing aspirations of landless tribals to do better in life," said Jitendra Chaudhury, a member of Communist Party of India (Marxist) that ruled the state for 25 years.
"Rubber provided longer term employment and land rights."
Meanwhile, in the 1980s, the Rubber Board of India, an undertaking of the central government, came to the North-east looking for more land to grow more rubber.
The region was agro-climatically suitable. The Rubber Board provided a cash subsidy of Rs 30,000 per hectare to grow rubber. Gradually even non-tribals took to rubber to make money.
"It was a win-win situation," said Indraneel Bhowmik, an economist at Tripura University.
The Rubber Board got land, and the Tripura government found a central government scheme which it could use for development, said Bhowmik. After Kerala, Tripura grows most rubber in India.
The area under rubber plantation in Tripura grew from 574 hectares in 1967 to 70,295 hectares in 2014.
Threat to the environment?
Scientists compare rubber's expansion in the Northeast with a similar expansion in South-East Asia, where rubber monoculture took over 250,000 hectares of natural forest and 61,000 hectares of protected area between 2005 and 2010, according to a 2015 study led by Kunming Institute of Botany in China.
Over half of these plantations are in areas which are susceptible to insufficient water availability and soil erosion.
Scientists have also linked rubber monoculture to reduction in water reserves, soil productivity and biodiversity in South-East Asia.
Similarly, in Kerala, rubber plantations replaced natural vegetation and were pushed in regions which were environmentally unsuitable.
Studies linked this to reduced biodiversity, river flow, and soil nutrients.
"We should draw from these studies and take a precautionary approach," said T R Shankar Raman, scientist with Nature Conservation Foundation, a Bengaluru-based NGO.
Arun Jyoti Nath, ecologist at Assam University, said rubber plants require 60-80 per cent more water in comparison to other plants in a forest, which not only depletes ground water but also take away from the share of other plants.
Agreed Abhik Majumder, assistant professor at the National Institute of Technology in Agartala.
Majumder's 2014 study found that many latex processing industries were discharging partly treated or untreated waste water in the surrounding environment which could contaminate soil and ground water.
Although Mihirlal Roy of Tripura State Council for Science and Technology agrees that rubber monoculture reduces biodiversity, he said that rubber's impact on groundwater, soil and rainfall hasn't been studied well.
"Rubber trees sequester more carbon than rain forests," Roy said.
Plantations are not forests
Chakraborty's study showed that most rubber trees have been planted in degraded forests followed by open, and then dense forest.
According to the study, the forest canopy cover was less than 10 per cent in degraded forests, between 10-40 per cent in open forests, and more than 40 per cent in dense forests.
However, Raman cautioned that the nature of degraded and open forests differed, based on the region.
In north-east India, for example, degraded forests were temporary and could regenerate to have more biodiversity than a monoculture rubber plantation.
He argued that shifting cultivation, which the tribespeople are made to leave in the lure for rubber, supports more biodiversity than rubber monoculture.
"It is not fair to compare rubber plantation with shifting cultivation because, unlike rubber, shifting cultivation has received no support," said Raman.
"If it was supported, tribespeople could grow diverse, organic crops including rice, tubers and cash crops, besides deriving building materials such as bamboo from regenerating forests, and earn by selling them."
Chakraborty and other scientists cautioned that further conversion of forests into rubber plantations needed to be regulated.
They suggested that rubber could be combined with other crops such as banana, coffee and agar to support livelihood and to minimise environmental stress.
Photograph: Darren Whiteside/Reuters