The government says emission from old diesel vehicles is not to be blamed. Experts say government is selectively using data to make its case.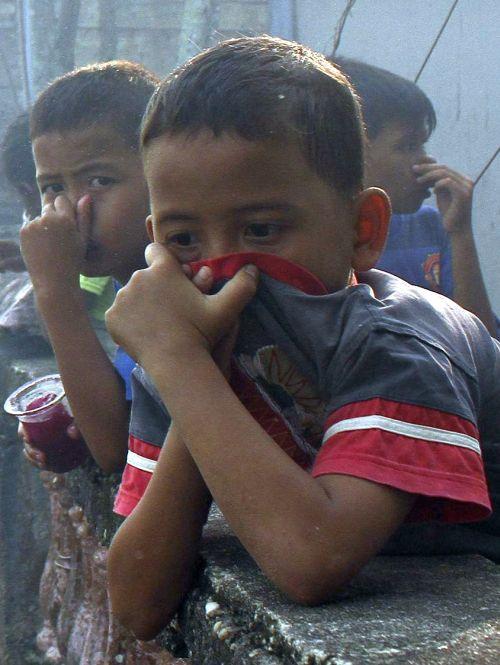 What is poisoning Delhi's air and making India's capital the most polluted city in the world?
The government has taken on the National Green Tribunal, contesting that old private vehicles plying in the National Capital Region are not significant contributors.
It has marshalled some science to defend its claim.
But, it has also conveniently ignored well known public health studies that contradict its stance.
The tribunal will decide on the matter on July 13.
The NGT had earlier ordered a ban on all diesel vehicles over 10 years of age in the Delhi-NCR region and petrol vehicles older than 15 years -- commercial or private.
But as the government protested, it put the ban on hold, hearing the government out.
The Union ministry of road transport and highway commissioned a quick analysis to IIT Delhi to look at what impact the NGT ban on private vehicles would have on the city's pollution.
The study looked only at old private vehicles and said their overall contribution to one particular pollutant -- particulate matters below 2.5 micron (PM2.5) -- was negligible and so banning them would not pay off.
The IIT-Delhi study also said that the number of 11-15 years-old diesel cars is very small -- only 6 per cent of the fleet and contributes 1 per cent of PM2.5 pollution.
The government consequently demanded they be allowed to ply.
In doing so, the government side-stepped studies which suggest that the public health priority must be set by not just measuring the pollutants in the air (ambient pollution) but also by discovering what pollutants people in a city end up breathing in the most (exposure levels to pollution) and what is the source of that pollution.
Since vehicular emissions take place within our breathing zone, living between 200 and 500 metres of a major road has severe consequences for public health in the long run.
This was concluded by the Boston-located Health Effect Institute, which mapped that more than half of Delhi's population lives within 500 meters of a freeway and 50 meters of a major road.
Unlike in cities of developed countries, the institute noted that in cities like Delhi populations are clustered differently in the urban spaces.
Consequently, the public health mandate requires a different focus in any developing country.
"We may have power plants at a distance or an industrial zone which has other polluting sources but vehicular pollution poisons the air we breathe every day and has to be a priority," says Anumita Roy Chowdhury of Centre for Science and Environment.
She points out that diesel fumes are now designated as a class I carcinogen by the World Health Organisation -- a lung cancer causing cocktail of chemicals in the air.
The IIT-Delhi study also focuses on just PM2.5 while ignoring the public health burden of other pollutants that vehicles emit like Nitrous Oxides.
Even small amounts of such chemicals in the air are harmful and whatever can be done to reduce them is necessary, show studies.
The IIT Delhi study relies on previous work done to apportion the pollution to different sources -- vehicles, diesel gensets, power generation units and others.
But many critics have called this 'source apportionment study' misleading.
The report commissioned by the government is used often to show that vehicles are not as much to blame for the foul air. Indian Institute of Tropical Meteorology's study for Delhi-NCR in comparison found that transport sector's contribution to PM2.5 pollution was as high as 45 per cent.
Another 2008 study by Jawaharlal Nehru University also found vehicles contributing 86 per cent of fine particulates that pollute Delhi's air.
The IIT-Delhi report notes that many old vehicles that are registered with the authorities do not really ply on the NCR roads.
But Roy Chowdhury notes that, according to the Automotive Research Association of India's research, emissions from one old diesel car (manufactured before 2005) equal those from four to seven new cars.
Compared to a BS IV car, a 15-year-old diesel car emits 7.6 times higher particulate matter and 3.4 times higher NOx. A 10-year-old diesel car emits 2.4 times higher particulate matter.
Air toxics emissions are high from older vehicles.
Way forward
Using the IIT report, the government has advocated focusing on long-term reforms that would bring improvement to Delhi's air.
One of them is improving the quality of fuel used in vehicles.
That is expected to happen only in 2020 at the earliest.
"It's not a choice of one versus the other.
"We need to act on all fronts -- measures that will help in the short run and fix the problem over long term as well," Roy Chowdhury notes.
She says that cities like Beijing have done so -- they have banned old vehicles from plying and pro-actively follow a scrapping policy.
As long as the new cars that replace the old ones use cleanest technology, there is value in having such a policy.
The government insists that regular pollution control checks could suffice to ensure old vehicles are not polluting.
But these tests only measure smoke density.
Even the standard for that is lax as compared to other developing countries.
Then, the smoke density test does not measure other pollutants which are equally, if not more, harmful.
In the last hearing of the tribunal, the ministry has put forth more studies bolstering its position, while the NGT has indicated that it is unwilling to take the government's selective referencing of science at face value.
It noted that the government was providing information only to defend the right to ply old private vehicles, though the NGT order had also focused on old commercial vehicles.
As has often been the case with regulating Delhi's air pollution, the lead is again being taken by the courts.
The last big leap the courts forced on the government was shifting the city's public transport to CNG from diesel.
The advantage gained from that over more than a decade has been negated by an increase in the number of vehicles on Delhi's roads.
The government's decision to put out an easy-to-read air pollution index has helped citizens digest the complicated science of air pollution.
But the ministry of road transport and highways, it seems, is still to figure out a way to solve Delhi's pollution problem.
The image is used for representational purpose only; Photograph: Reuters