Jio's disruptive strategy, including free voice services and data at throwaway rates, apart from offering all services free for six months, triggered a consolidation in the telecom sector, says Surajeet Das Gupta.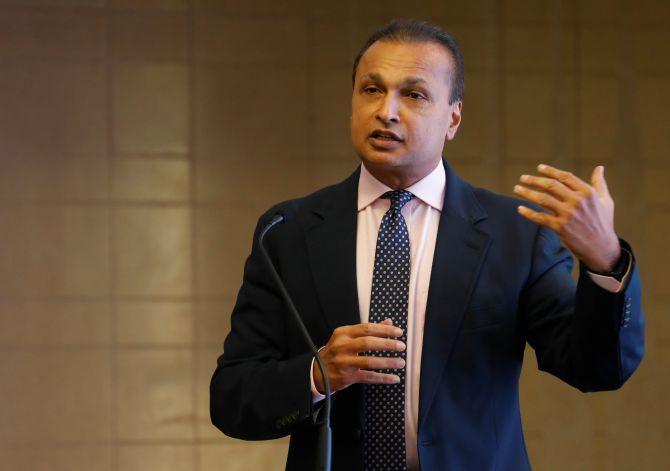 When the estranged Ambani brothers agreed to a family settlement on June 18, 2005, Reliance Infocomm (later renamed Reliance Communications or RCom), the telecom business of Reliance Industries set up by their father Dhirubhai Ambani, went to the younger sibling Anil.
More than 12 years later, RCom has decided to get out of wireless - a business which gave the company a bulk of its revenue, but also plenty of pain.
It will also draw the curtains on a significant chapter in India's telecom history.
For many years, RCom was seen as a leading player in the mobile telecom market. So, what went awry for the Anil Ambani company?
The latest trigger has been Mukesh Ambani's aggressive telecom foray with Reliance Jio, the company that is in the race to buy some of RCom's assets.
Jio's disruptive strategy, including free voice services and data at throwaway rates, apart from offering all services free for six months, triggered a consolidation in the telecom sector.
Not many had expected this to happen so soon; most players thought they would have enough time to restructure and spring back.
From Tata Teleservices to Sistema and Telenor to RCom, all of them took a significant hit as users rushed to avail of Jio's lucrative 4G services.
RCom saw its subscriber market share plunging from 9.54 per cent in June 2016 (before Jio's market entry) to 5.20 per cent in October 2017.
Its revenue market share, which was under 6 per cent in the second quarter of 2016-17, slid to less than 4 per cent by the first quarter of 2017-18.
With the writing clearly on the wall, RCom in October 2017 announced it was closing down its 2G and 3G services. In just a month, the company lost over 10 million customers.
Simultaneously, rivals Jio, Airtel, Idea-Vodafone (which are getting merged) and BSNL together gained over 13.5 million subscribers.
The impact of Jio on RCom was serious — while its debt burgeoned to over Rs 45,000 crore, interest payouts rose, and the company's losses crossed Rs 2,390 crore in 2016-17.
The company registered a loss of Rs 2,821 crore in the September 2017 quarter amid lenders' deadline to restructure debt or face proceedings at the National Company Law Tribunal (NCLT).
In the meantime, RCom had pegged its survival hopes on a three-way merger – first with Shyam Sistema (which took place) and then with Aircel to substantially reduce its debt and give the merged entity a fair chance as the fourth-largest player with a reasonable market share.
However, the proposed deal fell through.
The fate that the company has seen in the recent times seems to belie its past.
With a market share of over 17 per cent, RCom had been on a roll as the clear number two in 2010. It had launched GSM services two year earlier.
When Anil Ambani had got the telecom company as part of the family settlement, it was primarily a CDMA player dealing in a technology that was slowly losing traction.
The move to the GSM technology, along with attractive tariffs (60 per cent lower than competition), was rolled out across India in just 12 months.
The company's ambition was to hit 100 million soon. Its approach had been equally aggressive with 3G services as well - it had shelled out over Rs 5,800 crore to buy 3G spectrum in 13 circles, including in expensive Delhi and Mumbai circles.
But competition was turning fierce, with the number of players doubling from seven to 14 as the erstwhile communications minister A Raja issued new licences in 2008.
In 2012, RCom lost the number two slot to Vodafone, slipped to number four within two years, and further down in 2016 when its market share shrunk to less than 10 per cent.
By the time Jio entered the market, RCom was already at the lower end of the heap.
Analysts say one key reason was the huge debt burden which nearly doubled in the past eight years - from around Rs 25,000 crore in 2009-10 to Rs 45,000 crore, according to CLSA estimates.
That debt pile would have been okay if the company was also rolling in commensurate revenues and income.
But its net-to-Ebitda ratio, which signifies loan paying capacity, nearly doubled in the same period.
Also, despite its customer base increasing, the overall revenues of the company did not really grow in sync (from Rs 20,000 crore to Rs 22,000 crore between 2011-12 and 2016-17) which meant the company's average revenue per user (Arpu) was not growing despite 3G services.
The problem, analysts say, is also that RCom was able to put only a minimal fresh capital expenditure into business in the past three years.
This was at a time when the big boys were pumping in Rs 15,000 or more annually to increase their coverage, as well as to get LTE 4G-ready for taking on Jio.
RCom was hamstrung by the fact that lenders were worried it might have no choice but to keep costs on a close leash.
Some argue that RCom delayed its monetisation programme, leaving it with little room to fight the battle.
But others say that with the obvious need for more towers as players move to increase 4G coverage and plan for the upcoming 5G in 2020, the more you held on would have translated into that much higher price.
They say no one knew that Jio would change the market so fast. They also point out that RCom did get into deals with Jio, bringing it cash.
Analysts point out that in 2013, RCom was reportedly close to a deal to merge its direct-to-home business with Sun TV in which it would have kept a 26 per cent stake, valued at Rs 1,500 crore.
But, this year, Anil Ambani sold the DTH business and got no cash, with the buyer taking only its debt.
Two years earlier, the company was also in talks with private equity fund TPG and Tillman to sell its tower and fibre assets for over Rs 30,000 crore.
That is more than what it is expecting to get from the sale of spectrum, tower and fibre assets.
Photograph: Danish Siddiqui/Reuters