'In plain simple English, these practices amount to a looting of our country's future by some in the business community, in cahoots with some lenders,' says RBI Governor Dr Urjit R Patel.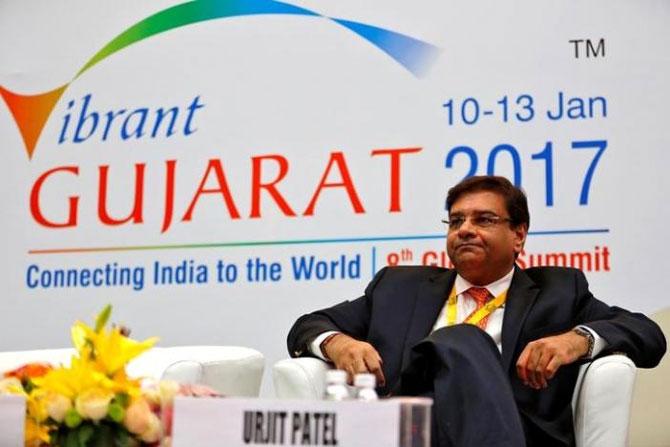 IMAGE: Reserve Bank of India Governor Dr Urjit R Patel
There has been a tendency in the pronouncements post revelation of the fraud (at the Punjab National Bank) that the Reserve Bank of India supervision team should have caught it.
While that can always be said ex post with any fraud, it is simply infeasible for a banking regulator to be in every nook and corner of the banking activity to rule out frauds by 'being there'.
If a regulator could achieve such perfect outcomes, it would effectively imply that the regulator can do anything that banks can do, and by implication, can simply perform the entire banking intermediation activity itself.
What is needed is that various mechanisms to deter frauds and other irregularities are in place and have bite so that fraud incidence is low and magnitudes contained.
Indeed, frauds have happened at banks in regimes with varied levels of banking regulatory quality and in both public and private banks.
In the specific case at hand, the RBI had identified, based on cyber risk considerations, the exact source of operational hazard -- through which we understand now how the fraud had been perpetrated.
In particular, the RBI had issued precise instructions via three circulars in 2016 to enable banks to eliminate the hazard. It turns out ex post the bank had simply not done so.
Clearly, the internal processes at the bank failed in allowing the operational hazard to remain in place in spite of clear instructions to close it.
As we have stated in the RBI's only press statement on this case to date, this was essentially an operational failure at our second largest public sector bank.
The RBI will undertake actions against the bank, but this set is limited under its BR Act powers over public sector banks.
Let me now turn to an issue of greater magnitude and more significance than the most recent banking fraud. Its magnitude is larger than Rs 8.5 lakh crores of stressed assets on bank balance sheets and its significance stems from several practices in promoter-bank credit relationship that need immediate attention.
The RBI's Financial Stability Report of June 2017 (Section VII. Frauds, Para 3.36) clarifies that there is a link between bank frauds and this stressed assets problem:
'One of the emerging risk to the financial sector is increasing trends in frauds in commercial banks and financial institutions. During the last five financial years, frauds have increased substantially both in volume and value terms.'
'During this period, while the volume of frauds has increased by 19.6 per cent from 4235 to 5064, the value (loss incurred) has increased by 72 per cent from Rs 97.5 billion (Rs 9,750 crore) to Rs 167.7 billion (Rs 16,770 crore).'
'Share of frauds in (loan) advances portfolio continued to be high at 86 per cent of the frauds reported during 2016-17 (in terms of amount involved)...'
'In a number of large value frauds, serious gaps in credit underwriting standards were evident. Some of the often seen gaps are liberal cash flow projection at the proposal stage, lack of continuous monitoring of cash flows and cash profits (EBITDA), lack of security perfection and over valuation, gold plating of projects, diversion of funds, double financing and general credit governance issues in banks.'
'Moreover, almost all corporate loan related fraud cases get seasoned for 2 to 3 years as NPAs before they are reported as fraud.'
The broad conclusion that has been universally reached is that enterprises in India have over and over again received excessive credit during loan growth cycles, which is followed soon after with repayment problems.
Rather than resolving stressed credit problems swiftly, banks -- either through loan-level 'fudges' or refusal to recognise the true asset quality of the credits -- have allowed promoters in charge of enterprises to have a soft landing.
This soft landing has comprised of even more bank lending so as to keep the accounts artificially in full repayment on past dues, protracted control for promoters over failed assets, and effectively granting them the ability to divert cash and assets, often outside of our jurisdictional reach.
The RBI has been clamping down on the failure to recognise asset quality as non-performing as per its norms by requiring that banks, whose 'divergence' exceeds by 15 per cent of the true non-performing assets as per the norms, disclose the divergence.
However, ultimately there also needs to be a framework in place for time-bound resolution of the underlying stress in assets.
I have chosen to speak today to convey that we at the Reserve Bank of India also feel the anger, hurt and pain at the banking sector frauds and irregularities.
In plain simple English, these practices amount to a looting of our country's future by some in the business community, in cahoots with some lenders.
As safeguards of your deposits at banks, and starting with the Asset Quality Review of banks announced by the Reserve Bank in 2015 -- since ably conducted by our supervisory teams and as acknowledged objectively by experts of reputed multilateral agencies -- we are doing all we can to break this unholy nexus.
I see what we have undertaken for cleaning up the credit culture of the country -- in particular, the comprehensive regulatory overhaul announced by the RBI on February 12 for prompt recognition and resolution of NPAs at banks -- as the Mandara mount or the churning rod in the Amrit Manthan or the Samudra Manthan of the modern day Indian economy.
Until the churn is complete and the nectar of stability safely secured for the country's future, someone must consume the poison that emanates along the way.
If we need to face the brickbats and be the Neelakantha consuming this poison, we will do so as our duty; we will persist with our endeavours and get better with each trial and tribulation along the way.
Edited excerpts from a speech 'Banking Regulatory Powers Should Be Ownership Neutral' by Reserve Bank of India Governor Dr Urjit R Patel, on March 14, at the Gujarat National Law University, Gandhinagar.