Of all the tremors to rock the start-up world of late -- Snapdeal's layoffs, Stayzilla's shutting down, Flipkart's frequent devaluations -- nothing will match the rumble at ShopClues for poignancy.
Illustration: Dominic Xavier/Rediff.com.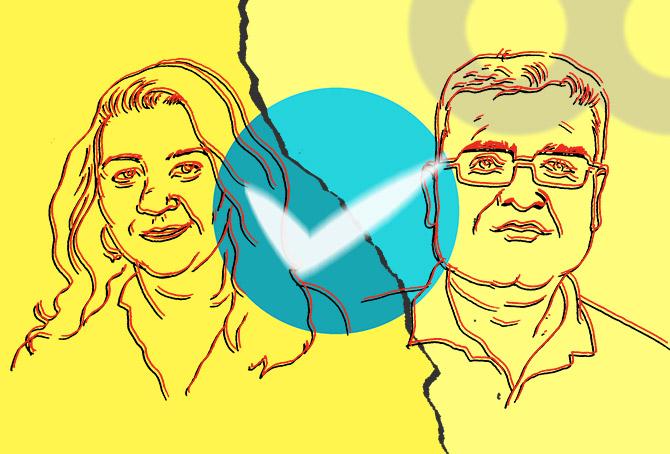 Sandeep Aggarwal was quick to delete the Facebook posts in which he accused his wife, Radhika, of various things, of which the relevant one is that she blocked him out of ShopClues, the e-commerce marketplace they built together.
The rest should never really have been a part of public discussion.
"It was one of those weak moments when I ended up using a public platform to vent out," says Sandeep.
He may not have heard the modern aphorism: dance like no one is watching, email like one day it may be read aloud in a deposition.
Imagine, then, how far a Facebook post can travel.
And Aggarwal made two, whose screenshots would be ensconced on the hard drives of journalists covering start-ups.
It was out of character for a person whose default response to a problem, honed during a decade of being a Wall Street analyst, is to open a spreadsheet and look at data.
Of all the tremors to rock the start-up world of late -- Snapdeal's layoffs, Stayzilla's shutting down, Flipkart's frequent devaluations -- nothing will match the rumble at ShopClues for poignancy.
For this is a story where the personal stakes are as high as the business interests and involves children: Radhika and Sandeep's two sons, aged 13 and seven.
Sure, ShopClues is valued at more than a billion dollars, mostly because it has tried to carve a special place for itself among the e-commerce marketplaces.
Its unofficial self-description is 'digital Karol Bagh', after the middle class shopping haven in west Delhi.
That involved getting a huge number of small traders on its network, and may have insulated the company from the fate that has befallen those that mirror Amazon.
No wonder, then, the ShopClues board moved swiftly to protect it from the battle that Sandeep, who claims to be the only genuine founder of the company, is waging against Radhika, who has chosen to keep a dignified silence. And those who have known the couple are dazed at the turn of events.
Radhika was 19 when she met Sandeep, a couple of years her senior, at a college in Indore. Till recently, he used to joke that he has known Radhika longer than her parents have.
Radhika is tall and has the crisp, refined manner of an Army child who has gone to a bunch of convent schools.
Sandeep, of medium height and build, is a wizard with numbers, which pepper his rapid-fire speech.
Growing up, Radhika was sure she will not marry someone from the armed forces; she had moved enough cities already. She wanted to settle down in one place and live there.

She got half of her wish.
She did not marry an Army man, but the one she did marry moved countries within a year of their wedding. And they kept moving cities every two years, until they came back to India in 2011 to set up ShopClues and live in Gurugram.
This was to be the settled life Radhika yearned for.
They raised $4 million in Series A funding in March 2012, when Nexus Venture came in as an early investor.
They raised another round, Series B, of $5 million in early 2013, when Helion came in and Nexus made a pro rata investment to preserve its equity percentage.
Then Sandeep got arrested by the US Federal Bureau of Investigation in San Jose, California, on charges of insider trading. He was later released on bail and came back to set up Droom, an online marketplace for cars and two-wheelers.

Meantime, Radhika and Sanjay Sethi, who became the CEO after Sandeep stepped down, took ShopClues from strength to strength.
Everyone thought Sandeep and Radhika will be the unique couple to have two highly-valued startups in the family. Few had an inkling they had been drifting apart for a while.
They will no doubt be able to tide over this crisis. All the three protagonists here are over 40 and seasoned pros.
The business may also be able to get over it. The board, led by its main investors -- Nexus, Helton, and Tiger Global -- has put its faith in Radhika and Sanjay.
Noting that ShopClues has grown 30 times, the board said: 'It is very disappointing to see an ex-founder, who disassociated from the company for his criminal wrongdoings, is now engaged in a personal vendetta on a public forum.'
Now someone needs to speak up for protecting the children.