Vipul Ambani, a runner who participated in city marathons, never wore his last name on his sleeve, was easy-going, mild-mannered and always smiling. Yet, why did he join a luxury jewellery company, wonders Pavan Lall.
Illustration: Dominic Xavier/Rediff.com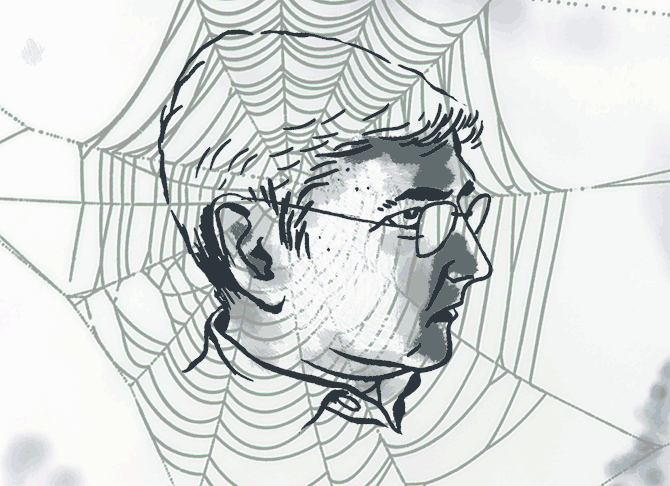 When 48-year-old Vipul Ambani, chief financial officer for Firestar International, was arrested by the Central Bureau of Investigation in connection with the Nirav Modi-Punjab National Bank fraud case, it sent ripples through corporate circles in Mumbai.
On the face of it, Ambani had always seemed to be an unusual choice as CFO for Firestar Diamonds.
For starters, he had no experience in the jewellery trade, but what took his friends and colleagues by surprise was why he would need to work for anyone but himself or his relatives, given his last name and background.
After all, he's one of the two sons of Natubhai Ambani, younger brother to Reliance patriarch Dhirubhai Ambani, and first cousin to India's richest man, Mukesh Ambani.
In fact, in an earlier stint, between 1991 and 1994, he was even executive assistant to the then managing director of Reliance Industries.
CBI officials who have been interrogating him, told a special court that Ambani was aware of the fraudulent and illegal letters of undertaking issued by Punjab National Bank in the Rs 11,400-crore fraud.
CBI has also alleged that the LoUs were being made in Firestar premises and that there were "deliberate acts of omission by him by not protesting the issuance of such fraudulent LoUs".
This charge would now dispel any notion that, as some of his well-wishers believed, Ambani had been taken in by Nirav Modi's chicanery, and was unaware of what was going on.
But these are still charges and CBI would need to prove them with evidence.
Ambani, who lives on Altamount Road, a preferred address for India's super-rich, grew up in south Mumbai, and like the children of many industrial families attended the Cathedral & John Connon School.
Later, he studied science at St Xavier's before he went on to get a degree in chemical engineering from the University of Massachusetts, Amherst.
Professionally, he's a self-described entrepreneur who set up a fixed income intermediation business with diversification in equity intermediation and a future focus on investment banking, corporate finance and private equity for a company called Tower Capital & Securities, where he was CEO.
It started with the aim of tackling India's debt markets as opposed to the equity markets, but Ambani's vision was likely ahead of its time and, according to most finance professionals, it hardly ever took off or made waves in the financial capital.
In fact, one investor, who declined to be named, said: "Four or five years ago, he brought me a deal that was so small that it was hard to be rude to a friend to explain that we didn't look at such structures."
In April 2014, he joined Firestar International as president (finance and corporate development), which largely meant driving the team for Modi's store expansion plan.
He'd sit in at Firestar's Kamala Mills office in a ten-by-ten-foot cabin, five doors down from Modi's own private office that had a dining room, lounge area with a luxury all-white marble shower-equipped bathroom and even an aquarium larger than most cabins in his office.
When once asked how Modi ran his business, he said that the jeweller was in a constant rush, and that it gave him "palpitations to think of how Modi wanted to reach 100 stores, when just opening five or 10 was an uphill journey".
Ambani, a runner who participated in city marathons, never wore his last name on his sleeve, was easy-going, mild-mannered and always smiling.
A family man with two children, he stayed clear of the media glare and was rarely pictured at glitzy launches or Page 3 events.
At the odd corporate event that he attended, the understated Ambani would be kitted out in a blue suit with a shirt and no tie.
It's not that Ambani didn't enjoy rarer pursuits -- he took the family out for a skiing holiday in 2010 and enjoyed shooting pictures of wildlife in Africa.
Yet, the question that begs to be asked is, why would he join a luxury jewellery company of all things?
One school of thought would suggest that perhaps the entire notion of the business caught his entrepreneurial fancy and he was indeed taken in by the grand vision that Modi may have sketched out for him.
Modi, of course, also brought other "brand name" employees to get what he didn't have -- credibility and social networks.
Examples are Aparna Chudasama, the sister-in-law of BJP politician Shaina NC, and one of socialite Shobhaa De's daughters.
Maybe Ambani felt the pressure of living in the high-stakes business world of Mumbai where money talks, and relationships can be as transient as deals that happen every day.
Modi's lure of an initial public offer, lucrative stock options, what must have been a substantial salary and the opportunity of achieving what no Indian had done -- building an international luxury business -- may have sucked him into a heady vortex he couldn't get out of.
Even so, why did Ambani not catch a whiff of Modi's shenanigans earlier?
He was the company's CFO and could access all financials, bank details and investment plans. Or did he?
To be fair, one must consider that Modi was secretive, a highly compartmentalised thinker who may have kept even those like Ambani in the dark until much later.
A Cathedral schoolmate who declined to be identified said, "I was surprised that he had joined Nirav Modi, because he didn't fit the profile of the high-life type of flashy cars, expensive art and big marketing schemes.
"I was surprised that he didn't see through it, because most of us around him did."