While moving towards the new technology is compelling and inevitable, powering 5G would also mean massive initial investments for telcos, says Surajeet Das Gupta.
Illustration: Uttam Ghosh/Rediff.com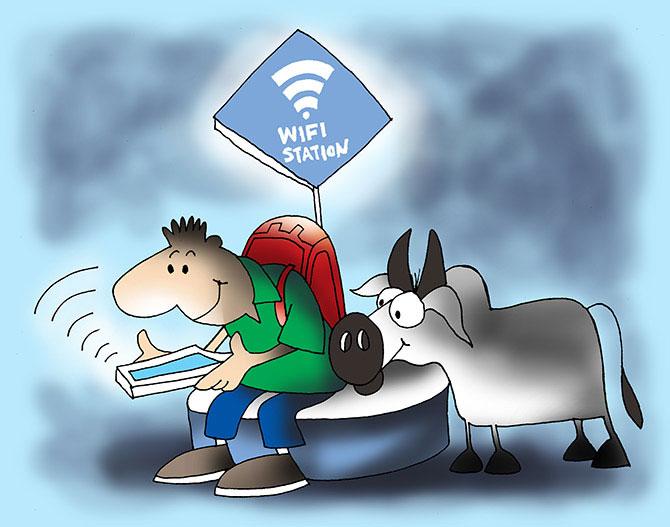 For the uninitiated, 5G, the next generation mobile technology, is not only about higher speeds, which was the case when consumers moved from 3G to 4G services.
It represents a fundamental shift in technology far beyond just mobile phone connectivity at higher speeds, low latency and better battery life.
5G will connect anything that is connected to the internet, which includes vehicles, devices at home, smart city infrastructure, machines in factories, doctors doing surgery remotely from some other city, and will enable industrial automation at a new level.
With speeds of an average 10 gigabits a second (it varies according to the amount of spectrum) it could be 100 times faster than your 4G, enabling consumers to download and watch 4K and 8K 3D videos, enjoy virtual and augmented reality amongst others.
Moving towards the new technology is compelling and inevitable.
Ericsson's Nitin Bansal, head of network solutions, points out that the cost of producing 1 GB of data on 5G is one tenth that of 4G.
But powering 5G would also mean massive initial investments for telcos.
They will have to buy more spectrum as well as put in new electronics underlying the 4G network.
It is in this context that the government in India is putting in a road map for 5G services for which a high-powered committee has been set up.
This road map, which is still under discussion, broadly envisages earmarking the 5G spectrum band which the Telecom Regulatory Authority of India (Trai) promises to do by June this year, followed by trial runs by most telcos on their networks in restricted spots in 2019 and possibly limited commercial launch by 2020.
Full 5G services, committee members say, would be possible only by 2023.
Rajan Mathews, director general of Cellular Operators Association of India (COAI), says: "We expect some applications to develop that are powered on 5G by the end of 2019 for commercial launch, and scientific institutes in India are already working on them.
"They could be remotely controlled electric power metres in cities or autonomous tractors powered by 5G."
The international road map is way ahead, with the first commercial launch of 5G services to be rolled out this year in the US, followed by China and South Korea. Nokia, for instance, has tied up with China Mobile to develop a 5G network for industrial users.
As many as 50 operators across the globe have already started or shortly plan to start commercial trial runs for 5G - the standards for 5G have been completed six months ahead of the deadline.
So how prepared are Indian operators? T V Ramachandran, president of the Indian Broadband Forum, which has telcos and online companies as its members, says: "With 5G standards finalised, India has a golden opportunity to catch up with the world."
Ericsson, which conducted a live 5G service demonstration last year with speeds of 5.7 GHz at an event, is already talking to telecom operators rolling out 4G networks to offer them upgraded software to enable 5G.
Jio says its 4G network is already 5G-enabled.
Bharti Airtel, on the other hand, has just conducted lab testing on 5G in collaboration with Huawei.
It has also signed an agreement with South Korean S K Telecom to work towards the evolution of 5G.
And many telcos are rolling out MIMO technology, which increases efficiency and is a precursor to 5G, on their 4G network.
But neither Bharti Airtel nor the Vodafone-Idea combine has the money to splurge on 5G as they are financially under stress.
And most of them are making massive investments (Bharti Airtel is putting in Rs 26,000 crore) in the next 12 to 24 months to upgrade its legacy networks to 4G.
Also, unlike countries like China and the US where nearly all mobile towers are back-hauled through fibre, the case is different in India.
This is crucial because to carry huge amounts of data that 5G will generate in a reliable manner at high speeds you cannot have a microwave back-haul.
But in India, only 20 per cent of the 450,000 towers are powered by fibre.
And only one player, Jio, has over 70 per cent of its towers back-hauled by fibre.
Adding to the problem is 5G technology requires at least double to triple the amount of towers than 4G. This is because 5G is spectrum-heavy, and that is currently only available at higher bands (over 3 GHZ).
But while higher bands can handle huge amounts of data, their coverage is much shorter than lower bands, hence the need for more (and smaller) towers.
To maximise investment, telcos will have to build a market that goes beyond just mobile phone users.
Says a senior executive of a leading telco: "Revenues in 5G will not come from the masses. For them, 4G and its enhanced versions will be enough for downloading and seeing movies.
"The bulk of the revenues will come from new applications that support 5G - like industrial automation, connected cities, health and agriculture."
Trai is still in consultation on which band will India choose for 5G spectrum and the choice seems to be for bands over 3 Ghz, for which many vendors are available (China and US are moving in the same direction).
Telcos, however, say they will require a minimum of 100 Mhz per operator in the sub-6 GHz spectrum and more than 100 Mhz in the higher bands to make 5G a reality.
That is multiple times more than what they require for 3G or 4G services.
That is why the more important issue, say telcos, is how spectrum for 5G services will be priced.
It cannot follow the template of previous spectrum auctions, when the premise was revenue maximisation.
Some have even suggested that in the initial limited commercial launches spectrum should be priced administratively rather than through the auction route.
The gap between India and the globe on 4G was much lower than when 3G was adopted.
On 5G, however, India has some catching up to do.