The multi-brand strategy could drive profitability to a 25% profit margin in the next five years from 17% now.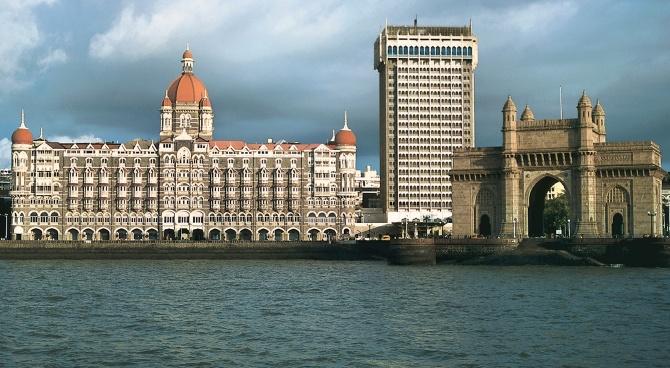 IMAGE: The Taj Mahal Palace and Tower, Mumbai. Photograph: Kind courtesy taj.tajhotels.com
Within about 100 days of joining as the managing director and chief executive officer of Indian Hotels, Puneet Chhatwal got an 'almost unanimous' decision in a meeting to go back to a multi-brand approach.
The development comes within a year of another strategic decision taken by the company's then MD and CEO Rakesh Sarna to have all its hotels under a single brand -- Taj Hotels Palaces Resorts Safaris.
Sarna's decision overturned the multi-brand strategy unfolded in 2008 -- under the then MD and CEO Raymond Bickson -- that could not last even a decade.
"We evolved this strategy in a meeting we had. It was an almost unanimous decision, as 30 out of 35 people immediately agreed that it was not the right way forward," says Chhatwal, referring to the company's single-brand strategy.
The company, he adds. had seen the most expansion in the upscale, mid-scale and economy segments and expected the trend to continue.
"I do not know exactly what happened before. But one thing is clear. The multi-brand strategy launched 13, 14 years ago was the right way forward," Chhatwal tells Abhineet Kumar, announcing that the multi-brand strategy could drive profitability to a 25 per cent profit margin in the next five years from 17 per cent now.
The 117-year-old Tata enterprise continued with its flagship brand, Taj, for over a century before it launched its upscale chain of hotels called Gateway in September 2008 and Vivanta By Taj two years later.
These were geared to grab the opportunities in upscale hotels, so much so that it divided the segment further into upper-upscale (Vivanta By Taj) and upscale (Gateway).
The company operated in the budget segment through a separate brand, Ginger.
Bickson abruptly quit Indian Hotels in August 2014 and was replaced by Sarna who made the shift to the single-brand strategy (this excluded Ginger).
At that time, the company believed it would be difficult for it to beat competition in the upscale and mid-scale segments, so it wanted to bank on its legacy of luxury.
Changing strategy has been a legacy with the three Tata group chairmen, too.
While Bickson was a key appointment of Ratan Tata, Sarna was so for Cyrus Mistry.
Chhatwal is also considered to be one of the key appointments of present Chairman N Chandrasekaran.
Chhatwal expects a 3 to 4 per cent growth in profitability coming from new hotels in the next five years, benefitting from rising revenue per available room, an industry performance matrix.
Demand for hotels is outpacing supply, leading to rising tariffs.
The company plans to grow its inventory to 24,000 rooms in the next five years from 16,000 now. Most of this is expected to be on management contract for luxury and upscale segments.
In the budget segment, it is expecting to add hotels through long-term contracts.
It expects another 3 to 5 per cent growth in profitability through improving operational cost efficiency and bringing down interest costs.
As part of this plan, the company has decided to monetise its non-core assets, which include 100 residential apartments in Mumbai and elsewhere, as well its land bank.
"We must address diverse customers and price points," says Chhatwal.