From lack of big reforms to regressive tax policies, the Modi govt has surrendered its initial momentum, says Shishir Asthana.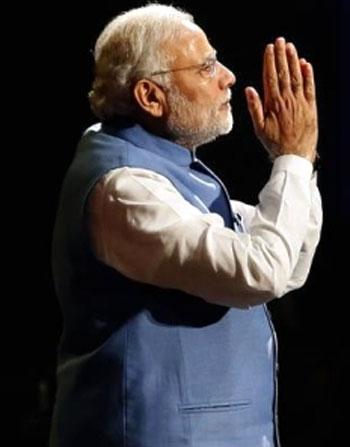 It started with a trickle but now there is a flood of criticism regarding the economic policies of the Narendra Modi-led government. The sudden surge in criticism can be linked to investors losing money in India vis-a-vis other countries, especially China. However, it is not only market pundits who are unsympathetic on government's pace of performance but also their well-wishers.
Arun Shourie, the most popular and competent minister under the Vajpayee government launched a scathing attack on Modi government's functioning. A major part of the attack was on the directionless reform process of the government.
Arun Jaitley and the finance ministry he heads, in particular, are in the line of attack for the way they have managed the economy, especially after a decisive election victory.
Prime Minister Narendra Modi in his election speeches raised hopes of a quick turnaround and a pick-up in business activity. But as Patricia Hewitt, head of UK India Business Council pointed out, "you campaign in poetry, and govern in prose". Modi, she said, is brilliant at campaigning in poetry, as one of the world's great political campaigners. But government is both about the vision and strategy and about the execution, which is governing in prose. It is the execution that is missing.
Key bills are stuck in Parliament and the government is seen running about like headless chickens. Marc Faber in an interview with Business Standard has pointed out that there was lot of hope with the election of Modi that India would essentially have wide-ranging reforms. Now, "we have a kind of an awakening that reforms will take a lot of time and that many will not be implemented. Some reforms will be accompanied by new regulations".
The government has clearly failed to capitalise on the initial momentum that followed the elections. Arun Jaitley continued to go slow by taking up the challenge of maintaining the fiscal deficit inherited from his predecessor. He wasted the first year of the government by holding back on spending in order to meet the fiscal deficit target.
Modi, on his part, was busy trying to win state elections rather than riding the momentum by announcing and implementing key reforms. T N Ninan pointed out in his column in Business Standard that Modi's decision to start slowly on his reform agenda may have turned out to be unwise. He ignored warnings that the window of political opportunity invariably closes within a year of a new government's life, and preferred to hasten slowly till important state elections had been won. The BJP has gained, but Modi's government may pay the price.
Apart from losing the initial momentum, the lack of a blockbuster Budget also did not go down well with the investors. Jim O'Neill, former chairman of Goldman Sachs Asset Management Company said in an interview it seemed that after the Indian budget, there was kind of no good story left because though there was nothing wrong with the Budget, there was nothing particularly eye-catching about it, either. There was no 'wow' factor, he said.
Investors are not only worried about the pace of the economy but are also confused about the numbers. The new set of GDP numbers are cause for confusion. Neelkanth Mishra, India Equity Strategist, Credit Suisse told Business Standard that, for global investors, the new GDP series has compounded the problem of tracking economic momentum. There aren't enough comprehensive and reliable high-frequency indicators that investors can rely on. That the Reserve Bank of India (RBI) and the finance ministry face the same problem is no solace - it actually increases investors' concerns!
Faber adds that the recent gross domestic product (GDP) numbers that were reported by the government do not match numerous economic indicators. And so, he suspects that the economy is actually weaker than what the government has reported. The economy is probably growing at maximum 5 per cent per annum. The industrial production has been poor and there hasn't been much improvement on that front either.
When GDP numbers are not trustworthy, investors typically rely on corporate earnings. But here, too, the recent numbers that have been announced do not reflect the growth that the GDP numbers are showing.
As if a lack of clarity on numbers was not bad enough, the government's policy actions, especially in terms of MAT on FIIs, have completely dampened investor spirit. Jaitley's rhetorical speech claiming that India is not a tax haven on tax claims, which experts feel are wrong and will not stand in the court of law, has left already-upset investors with a sour taste in their mouths.
Little wonder, then, that investors are putting their money where their mouths are – and it is not in India.