Mallya failed to repay loans worth Rs 7,200 cr, did not pay salaries, did not deposit PF, and did not pay income tax. It is still a mystery why banks continued to pour money into the airline when it was on life support
IMAGE: Mallya fancies himself as the Richard Branson of India. Photograph: PTI.
The swish set of Mumbai and Delhi were taken aback last December to receive an all-expense paid invitation from Vijay Mallya to celebrate his 60th birthday in Goa. Most of the invitees had written off the chairman of the UB group following the collapse of Kingfisher Airlines and the sale of his spirits business to Diageo.
At Panjim airport, one of the invitees said, ushers led them to waiting cars and then to Mallya's bungalow in South Goa, where the world's best wine was served and the party went on till the wee hours.
"No one could say Mallya had gone bust," said an invitee asking not to be quoted. "He was still the King of Good times. The party's budget could easily have run into a few crores of rupees."
It was this lifestyle that made many angry, especially Indian banks. Ask the head of an Indian bank and he will paint an entirely different picture. Mallya failed to repay loans worth Rs 7,200 crore (Rs 72 billion), did not pay salaries, did not deposit provident fund, and did not pay income tax. It is still a mystery why banks led by IDBI Bank and State Bank of India continued to pour money into the airline when the airline was on life support. The Central Bureau of Investigation (CBI) is probing why IDBI Bank lent Rs 950 crore to the airline when it had almost shut shop.
Mallya, who fancies himself as the Richard Branson of India, launched his airline in 2005 to celebrate the 18th birthday of his son Siddharth. The liquor baron and Rajya Sabha member to boot soon started making headlines. The airline had the best in-flight services. In June 2007, Kingfisher took over rival Air Deccan. Soon Mallya was in merger talks with bigger rival Jet Airways.
"Mallya was going too fast at a time when the airline was losing money. The airline's underlying assets were far lower than its liabilities, a red flag," said an oldtimer from a rival airline. "Soon, the money he made from his liquor business was going down the drain, and no one had a clue how to stop the bleeding."
In return for thousands of crores, banks were offered a bungalow in Goa and the airline's two-storey headquarters in Vile Parle as collateral. The banks also received as collateral the Kingfisher brand name even as the group started litigation after the airline folded up in October 2012. Mallya moved the Calcutta high court and received a stay against UCO Bank from labelling him a wilful defaulter.
As Kingfisher Airline was collapsing Mallya started talks with British liquor giant Diageo to sell United Spirits. He finally sold the company in 2012 in a complex transaction for $2.1 billion. Mallya also sold almost half his stake in his beer business to Heineken. When asked at the time of the Diageo deal Mallya said the proceeds of the sale would not go to banks.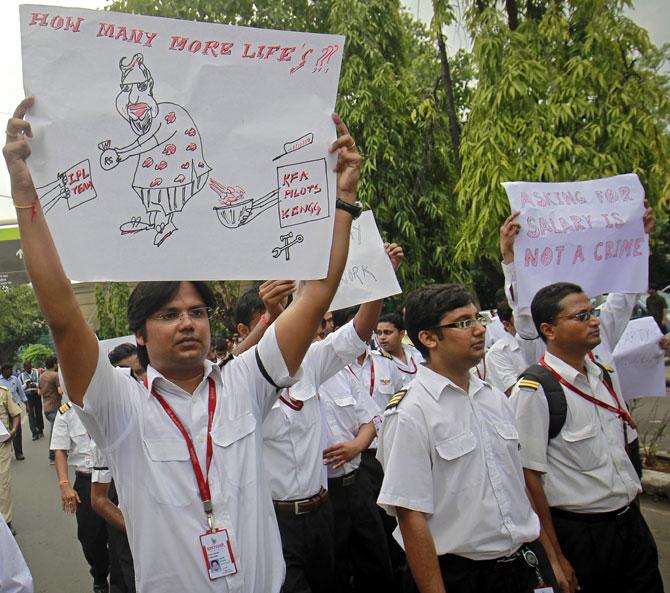 IMAGE: An employee holds a poster with an illustration of Vijay Mallya during a protest march against the company in Mumbai October 5, 2012. Photograph: Danish Siddiqui/Reuters.
UB group insiders said within five years of its launch, it was clear Kingfisher Airline would not make money. "Almost all suppliers were unpaid, including fleet operators. One fine day the airline did not have money to pay salaries," said a former employee.
What infuriated employees was as the airline sank Mallya was seen cheering his Bangalore team at IPL cricket matches or was seen at race course fashion shows. After Kingfisher Airlines shut shop in 2012, banks woke up to see Rs 7,200 crore loans turn sticky.
This was within a year of IDBI Bank and State Bank of India converting their loans into equity at a premium. In return for loans, a dozen government-owned banks received a dud stake worth 24 per cent in the airline.
"This was the most public rip-off ever and the finance ministry just kept sleeping. No one asked a question. Not even the Reserve Bank of India," said a management consultant.
Diageo found holes in United Spirits' balance sheet and asked Mallya to resign in April 2015. Mallya refused and threatened to spill the beans about the deal, particularly the due diligence conducted by Diageo. Early this month, Diageo agreed to pay him non-compete fees of $75 million. This is apart from buying out Mallya's South African breweries and paying off a loan taken by a UB group company from Standard Chartered Bank.
Mallya announced he will retire in England but by then banks, the CBI and the Enforcement Directorate decided to probe where did the money from the airline go.
In his defence, Mallya said on Sunday banks held Rs 2,500 crore of securities and he was not absconding. "Despite pledging blue-chip securities and depositing significant amounts in court, a successful disinformation campaign has ensured my becoming the poster boy of all bank NPAs," Mallya said. As multiple investigations unfold, the question is where will the King of Good times celebrate his next birthday?